First of all, we need to know what is Grey-listing technology and then, we read about how we bypass it.
What is Greylisting?
Greylisting (Or graylisting) is a method of defending e-mail users against spam.
Any email from a sender that is not recognized by a mail transfer agent (MTA) using greylisting will "temporarily reject." If the mail is legitimate, after a delay, the originating server will try again and the email will be accepted if enough time has elapsed.
It is a new popular feature for spam fighting, similar to whitelisting and blacklisting. Each time a mailbox receives an email from an unknown contact (IP), that mail is rejected with a "try again later" message. This means that all mail gets delayed at least until the sender tries again. This is where spam messages fail because they are not RFC compliant and will not be resent later.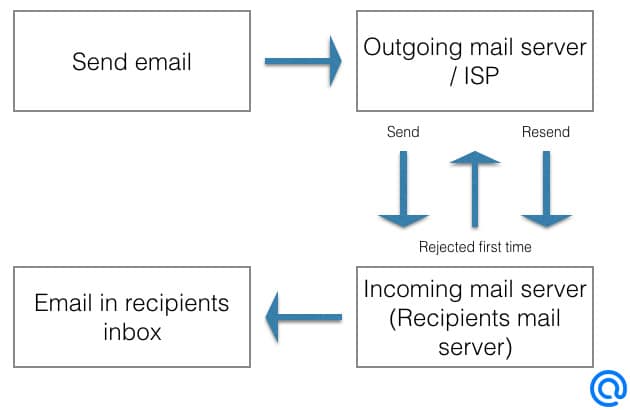 A mail transfer agent (MTA) using greylisting will "temporarily reject" any email from a sender it does not recognize. If the mail is legitimate, the originating server will, after a delay (15-30 minutes), try again and if sufficient time has elapsed, the email will be accepted. If the mail is from a spammer it will probably not be retried since a spammer goes through thousands of email addresses and typically cannot afford the time delay to retry.
What is Anti-Greylisting Technology?
Anti-greylisting in the validation process is the technology of deliberate pauses between multiple validations try to simulate the behavior of a well-configured email server in order to prevent IP blocking.
How Anti-Greylisting Technology Works?
As mentioned above, greylisting is an anti-spam technology used by mail servers to prevent spam. The receiving mail server tells the sender, to please retry to send the email again in (X) minutes. A well configured mail server will attempt to resend an email on different intervals, until it's accepted or rejected by the receiving mail server. There are many types of greylisting, but the most common is time-based greylisting as mentioned above.
Each mail server has a different time they greylist the sender for, per email, normally between 1 and 30 minutes. DeBounce deploys break-through anti grey-listing technology. When it encounters any greylisting, it will wait 30 minutes and retry to validate those specific emails. This reduces the amount of "Unknowns" received back. So you wait a little long for your results when validating them, but your results will be a lot better. It doesn't matter how many greylisted email addresses you upload, whether it's 1 or 100,000. The processing is only delayed by 30~60 minutes in total if you use as a service for email verification. Email validation takes more time using anti-greylisting, but it's worth it.