Today, there are tons of marketing channels and mediums. But since the beginning, only one marketing tactic has worked for all kinds of businesses. You guessed it right; this is the email marketing tactic. One of the best and most influential of all marketing types, email marketing has been the number one choice of marketers all around the globe. The effectiveness of any marketing campaign lies behind the execution and design. These things are easy to achieve while using the right email marketing platform.
In this article, you'll be exposed to basic information about email marketing, you'll get to know how to choose email marketing software, and then you'll explore the best email marketing software for 2023.
What is Email Marketing?
As the name suggests, email marketing uses emails to promote products, services or enable customer relations. There are tons of marketing tactics, but none of them provides a return on investment as high as $38 for every $1 spent.
Email marketing has helped businesses to create long-lasting relationships with their customers, and using this channel, businesses often convert leads into customers. There are many email marketing software in the market, developed by the best software development agency and this makes it hard to choose a single product. So below are some tips on how to choose the right software.
How To Choose The Right Email Marketing Software?
Look At Deliverability
One of the most important things to look at in email marketing software is its deliverability. This refers to the number of emails the software can successfully deliver out of a specific batch. Today spam filters are much more accurate, and this can stop you from reaching your audience's inbox.
While choosing an email marketing software, always choose the ones with high deliverability numbers, as this will increase your chances of getting noticed and making an impact with the email marketing campaign.
Reusable Designs And Templates
No one likes to create and write email templates for everything, and that's the reason for having reusable designs and email templates. Today, most email marketing software comes with templates, and while choosing software, it is better to look at the number of marketing templates that come with the software.
Reusable designs and marketing templates can help your employees cut down on redundant work and shift their focus on more productive tasks.
Analytics
To get an idea of the campaign's success, you'll need some sort of reporting and analytic services. While in the market for email marketing software, try to find software that comes with prebuilt analytics and reporting modules.
Finding such software will free you from the report generation and visualization parts. Moreover, powerful analytics engines can provide better insights and reports than ordinary people can make. Hence, it is a suitable idea to look for email marketing software that helps you understand the campaign using analytics.
Currently, you know how to choose an email marketing software, but doing everything on your own will look pretty intimidating, so we've eased this for you by curating a list of top email marketing software to use in 2022.
Ten Best Email Marketing Software
HubSpot
One of the pros in the marketing industry, HubSpot provides a suite of tools in the marketing segment, and one of them is the email marketing software. HubSpot's marketing software enables marketers to deliver high-quality content and graphics-rich emails that make an impact.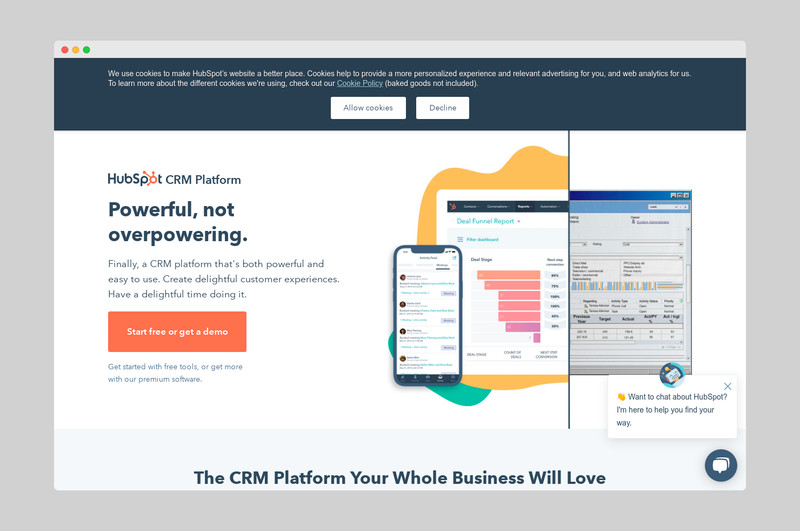 HubSpot comes bundled with many templates, layouts, and assets that you can customize. Moreover, the data from the email marketing tool is added to HubSpot's powerful analytics engine to provide real-time analytics and to report on the marketing campaign's performance.
Hubspot claims to have a 99% delivery rate, which is exceptional and industry-leading. With all the features Hubspot provides, it charges $50 for its email marketing product.
NotifyVisitors
NotifyVisitors is one of the best email marketing software for Shopify stores and small to large businesses. It provides fast, easy, and cost-effective ways to engage your customers and increase your ROI.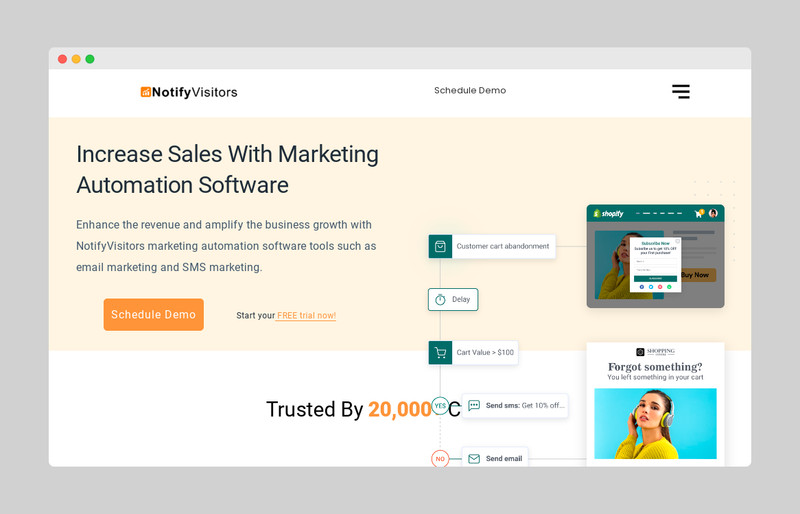 It features intuitive design tools that make it simple to create beautiful and engaging email campaigns from scratch. This powerful platform also offers comprehensive reports to optimize your email performance with valuable data analysis. NotifyVisitors is a powerful tool that can help any business effectively reach its intended audience and make the most out of its email marketing efforts.
Moosend
Moosend is a familiar name in the marketing industry. It is an email automation tool that a business can use to curate a spectacular mailing list, create campaigns, and automate marketing tasks.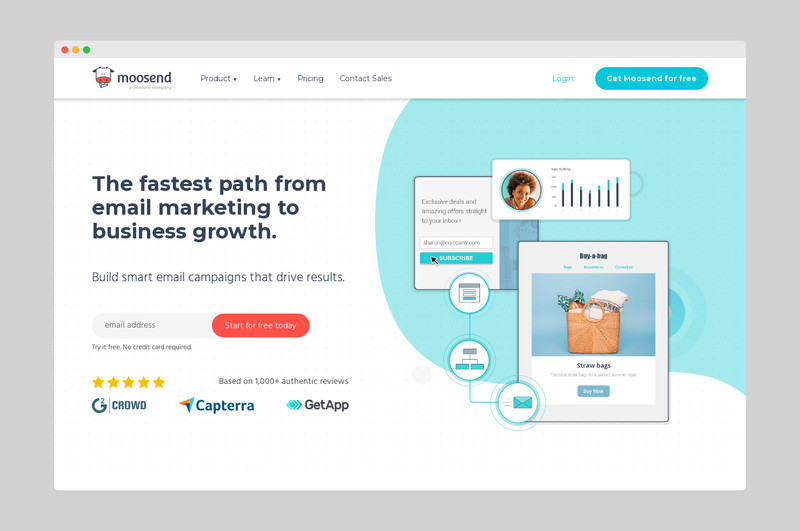 Moosend comes with a drag-and-drop builder that further eases down template creation and campaign management. Moreover, you can automate email sending, follow-through, and lead engagement. This automation basically waits for a rule-based trigger event, and when that happens, the emails are sent.
Moosend offers multiple features like a landing-page builder, forms inside emails, customer support. So when you sign up for the email marketing software, you get tons of other benefits too. The software is available for free with some basic features, but you can unlock the true potential of this marketing software by paying $8 per month. The charges go up as your list builds up more, so for more extensive lists, the pricing is quite variable.
ActiveCampaign
ActiveCampaign is a machine learning tool for email marketing. With its intellect, ActiveCampaign can help you in creating impactful and revenue-generating email marketing campaigns.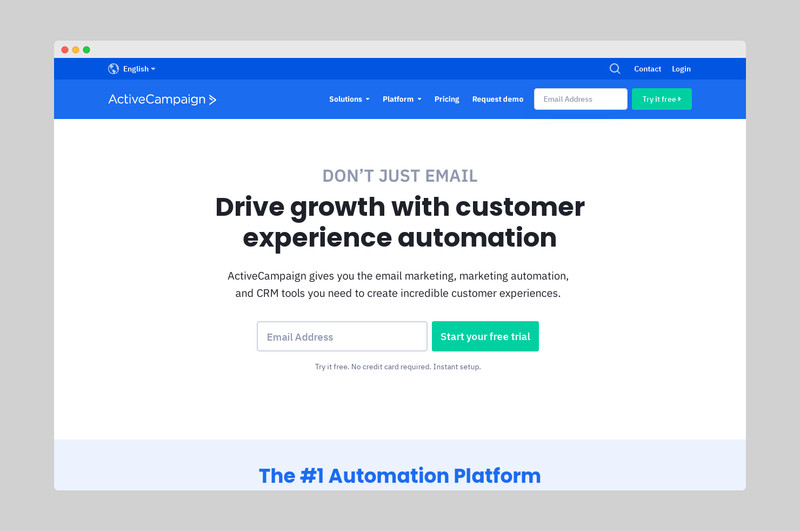 It comes with predictive actions and leads scoring that helps marketers understand their leads in a better way. Moreover, the lead scoring segment ranks leads with the highest to lowest, so marketers can focus more on the top leads and do something different to revive leads that stay at the bottom of this list.
ActiveCampaign has quickly made it to the mainstream because of its 850+ integrations with CRMs, websites, and other tools. ActiveCampaign has multiple plans to ensure a more extensive client base, and the plans start from $9/month that can go up to enterprise plans of $229/month based on the feature list.
Sendinblue
Sendinblue is the best email marketing software for smaller enterprises. It offers multiple services, and that has made it famous. One of the popular features of Sendinblue is the drag-and-drop email template builder that has helped lots of small business owners to create bespoke templates. Moreover, automation features can help you schedule emails, follow-ups, and other lead engagements.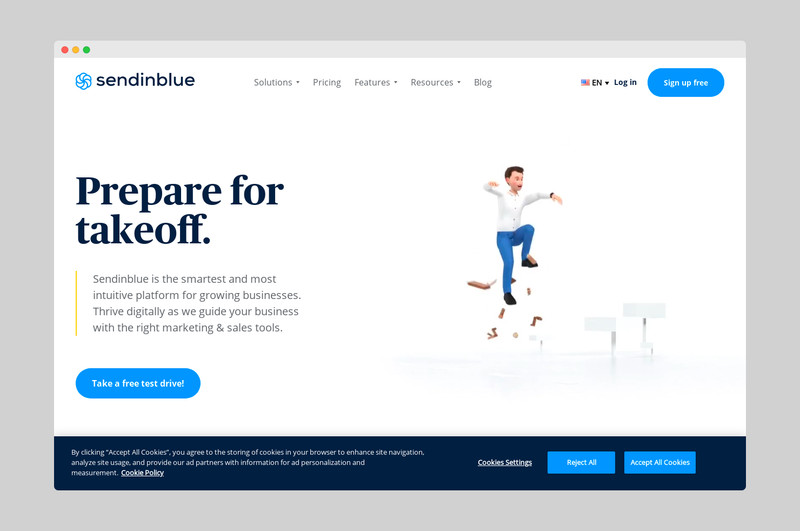 The free plan is targeted at small businesses and offers 300 free emails every day and an unlimited contact list. Moreover, the platform also helps you to create intuitive landing pages, forms, Facebook advertisements, and ad retargeting ads on the target audience. If you are looking for paid plans, the paid plans start from $25/month and go up to customized pricing for large enterprise-level plans.
If you are an early-stage business, the basic free plan will cover everything you need, but if you want to do A/B testing, the $25 Lite plan is also pretty good.
Omnisend
Omnisend is a marketing tool that has helped multiple large-scale eCommerce businesses to connect with their clients. It is an email marketing tool with numerous features that can connect SMS marketing, Google Ads, Instagram, Facebook Ads, and even push notifications. Omnisend is a multi-channel marketing tool with fantastic designs and ready-made templates.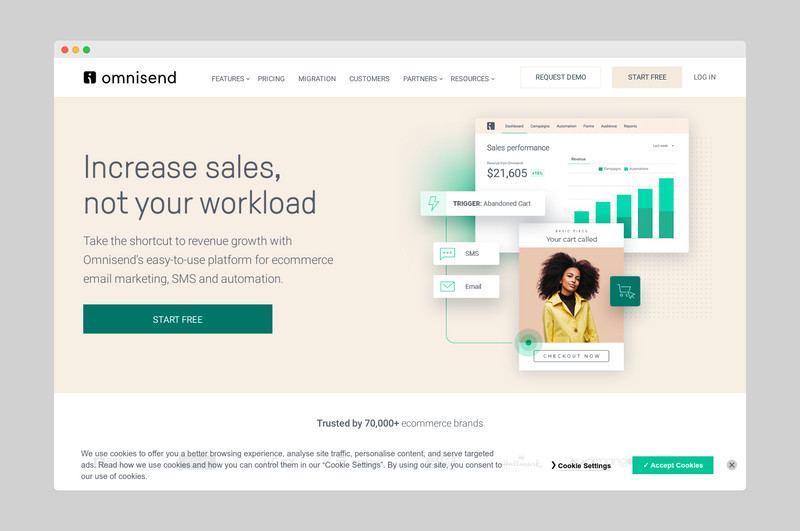 Using Omnisend, you can drive impactful marketing campaigns, and you can provide dynamic discount codes to your clients using the email marketing features. The survey and polling feature of Omnisend is designed to help businesses understand their clients better and also provides analytics for campaigns.
Omnisend's pricing model starts from $16/month and goes up to $720/month, and the features and bandwidth also changes.
GetResponse
GetResponse is an automated email marketing tool that can help businesses to run campaigns and grow revenue.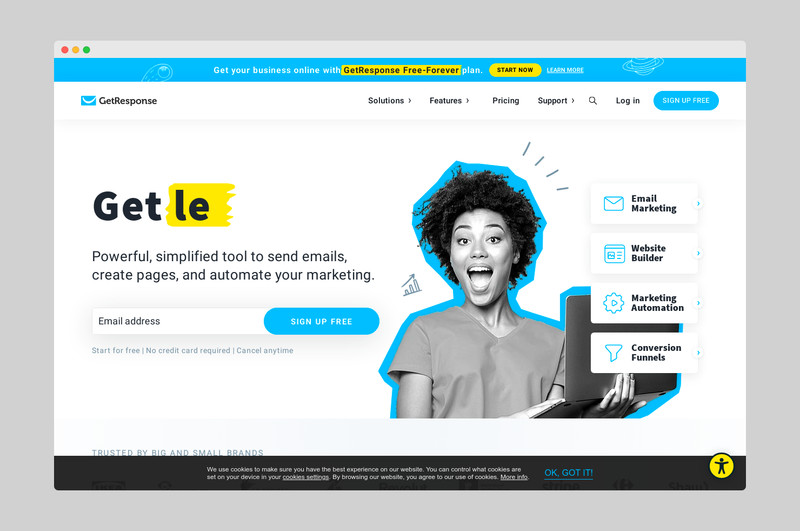 GetResponse is different than the other marketing software on this list, and it comes with a wide variety of features. It has a landing page builder and advanced audience segmentation engine that helps businesses to break down their audience and target them more effectively. GetResponse is not just an email marketing software, it also extends into the funnels segment.
Using this tool, you can generate funnels for everything ranging from webinars to sales and leads. You create all these funnels fully automated because of GetResponse's remarkable technology.
GetResponse software packages start from $15/month and go up to $99/month. But the company also offers enterprise tiers to match the high demand of more prominent companies.
ConvertKit
If you are a blogger or a social media influencer, ConvertKit will be really helpful to your company. This marketing platform is focused on creating new leads using custom email templates and other tactics.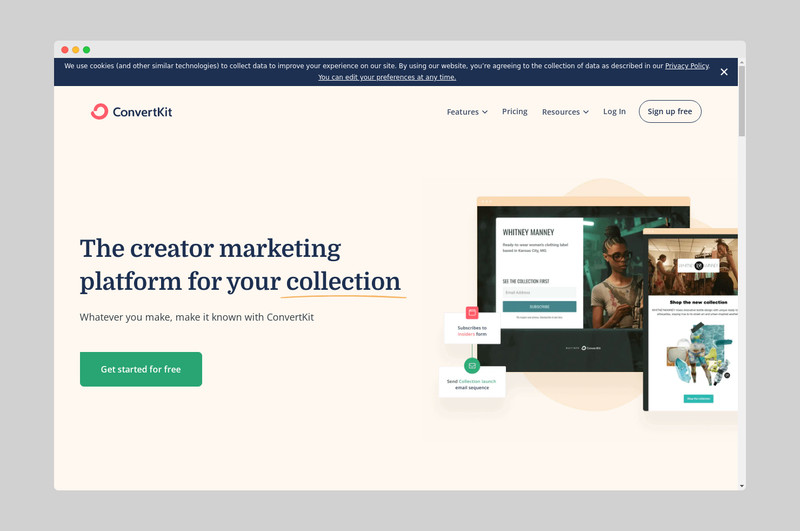 To ease down the work of influencers, the marketing platform offers email automation services that are rule-based. These automated emails are dispatched once an event is triggered. Moreover, setting up the automation emails is really easy combined with the visual workflow editor.
ConvertKit is aimed at individuals who want to develop and market their own brand. It is a good fit for people like influencers, educators, creators, and bloggers. The software lags many features if you plan to use it for commercial purposes. Aimed at a smaller audience, ConvertKit weighs on the heavier side of the price scale, with the plans ranging from $29/month to $79/month.
AutoPilot
As the name suggests, it is an automatic email marketing software that has helped thousands of businesses. Autopilot is an intelligent marketing tool that can help marketers identify the right leads at the most crucial times.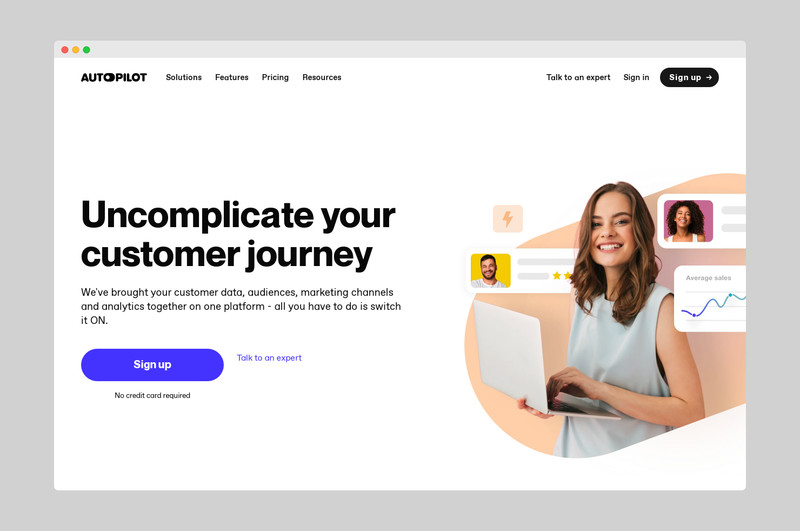 AutoPilot is relatively easy in terms of developing email automation. It makes the work fun by adding emojis, stickers, and other quirky elements. This marketing software features collaboration techniques that make it easy to work in a team and use the product.
Its pricing starts from $49/month, which is quite feasible and justifies the platform's features.
MailChimp
MailChimp is another industry leader, just like Hubspot. This software is often used to create eye-catching customized emails for your audience. Anyone who has used email marketing software knows the hurdles that come with them, and Mailchimp solves many of them.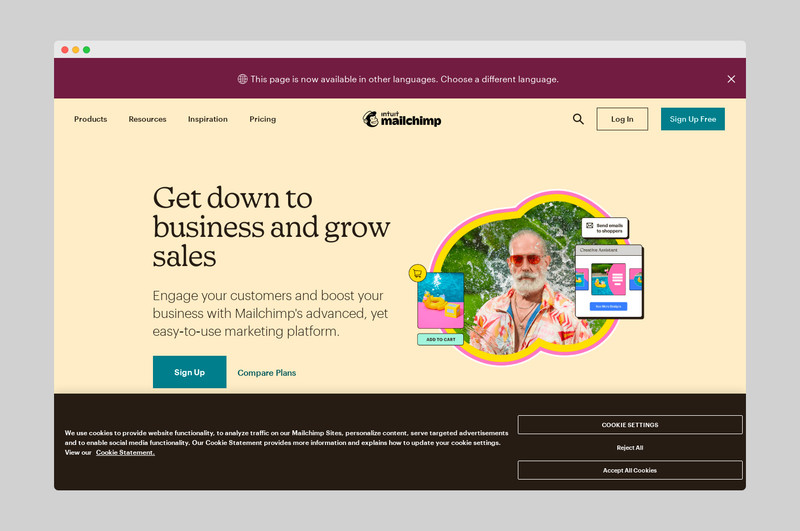 MailChimp has one of the best drag-and-drop email builders on this list, and it also features intelligent contact list segmentation. With Mailchimp, you can create, organize, send and track a lot of marketing campaigns at once, and this is one of the best features a large organization can ask for.
MailChimp offers custom pricing brackets that start from $9.99/month and go up to $299/month.
Drip
Running email marketing campaigns for eCommerce stores is quite challenging. But worry not, Drip is here to help you. It is one-of-a-kind email marketing software that focuses on smaller eCommerce businesses.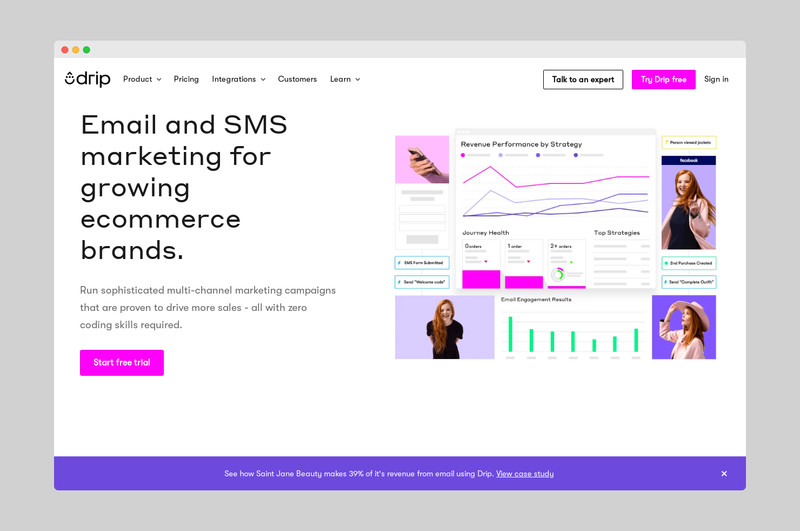 If you are having a small eCommerce store, Drip can lower your costs by providing SMS marketing services too. Like all the other software on this list, Drip also allows you to create bespoke email templates and automate the sending part so that no one gets missed out.
At $19/month, Drip is priced reasonably for the combined email and SMS marketing services it provides.
Let's Wrap Up
Email marketing is good, and it is pretty compelling. Many of today's big businesses have held their levels because of email marketing channels. If you are looking to grow your business in a sure-shot way, email marketing will surely help you. Use any of these email marketing software to step up your marketing game.