I'm sure you've noticed that there are companies with compelling email marketing campaigns that score the prestigious email marketing ROI: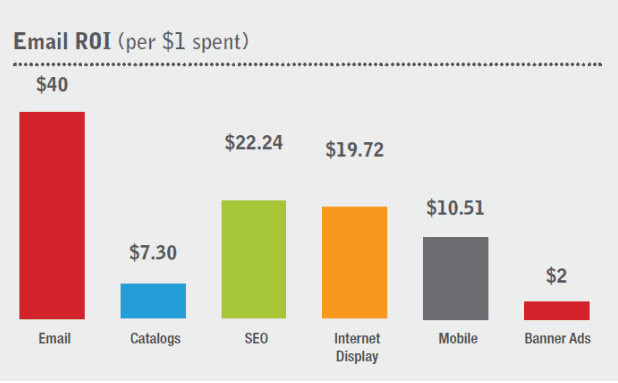 (
Source
)
I'm also sure that you've noticed some brands try too hard to optimize their email marketing campaigns - and fail miserably, more often than not. A personalized email campaign and beautiful content are nothing without some spot-on customer experience.
The reason behind this is the fact that email marketing campaigns need to be checked, tested, and optimized to perform. A non-optimized campaign will bring low CTR, low ROI, and a conversion rate that won't be anything to write about.
However, in some cases, this is easier said than done. So, let's go ahead and see what an email marketing checklist is and why you need one.
Email Testing Checklist: What You Need to Know
An email marketing checklist doesn't have to be overwhelming or have too many components. This could be counterintuitive and not help you achieve anything. As with any marketing checklist, there are some staples you need to apply.
After all, having specific rules in place will ensure that you know precisely how to reach your end goal. It can also help you understand why an email marketing campaign didn't perform as well as you would've liked.
So, when it comes to email testing, let's see what an email marketing checklist consists of.
Check and Test Your Goals
Email marketing is nothing without specific, attainable goals. A welcome email campaign will differ from an abandoned cart campaign. And the more you test, the better.
Before even setting your goals, the first step would be to invest in a robust email marketing platform that will carry all of the essential features - an intuitive email builder, A/B testing options, or lead generation features like landing pages and subscription forms are top of the list. Some of the most popular platforms, like Moosend and other Active Campaign alternatives, carry these features.
Now, it's time for you to use them correctly. What is your aim? Do you need more sales, a better CTR, or brand awareness? Different goals call for different copy, content, and design.
Ensure that your platform can give you extra segmentation and personalization capabilities. You don't want to miss out on targeting users at their funnel stage; missing out means you can't nudge them in the right direction.
Let's assume you've decided on your goals and are ready to start creating. What is the primary metric that expresses the intent of your campaign? If you're going for awareness, you need email opens. If you're going for a sale, you need the famous email ROI.
Also, clarify the following:
Is your audience comprised of mobile-first users?
Is your email offering an incentive in the form of an ebook or something equally "heavy" for a mobile device?
Are you talking to someone above or below a specific age?
What is the email client the majority of your subscribers use?
You'll see why you need to answer those questions in a tick.
Personalization Tests Go First
I'm sure we all have received an email with faulty personalization at some point or another. It's not the email marketer's fault - sometimes, things fall into the cracks.
But sometimes, a little mistake can go a long - and wrong - way.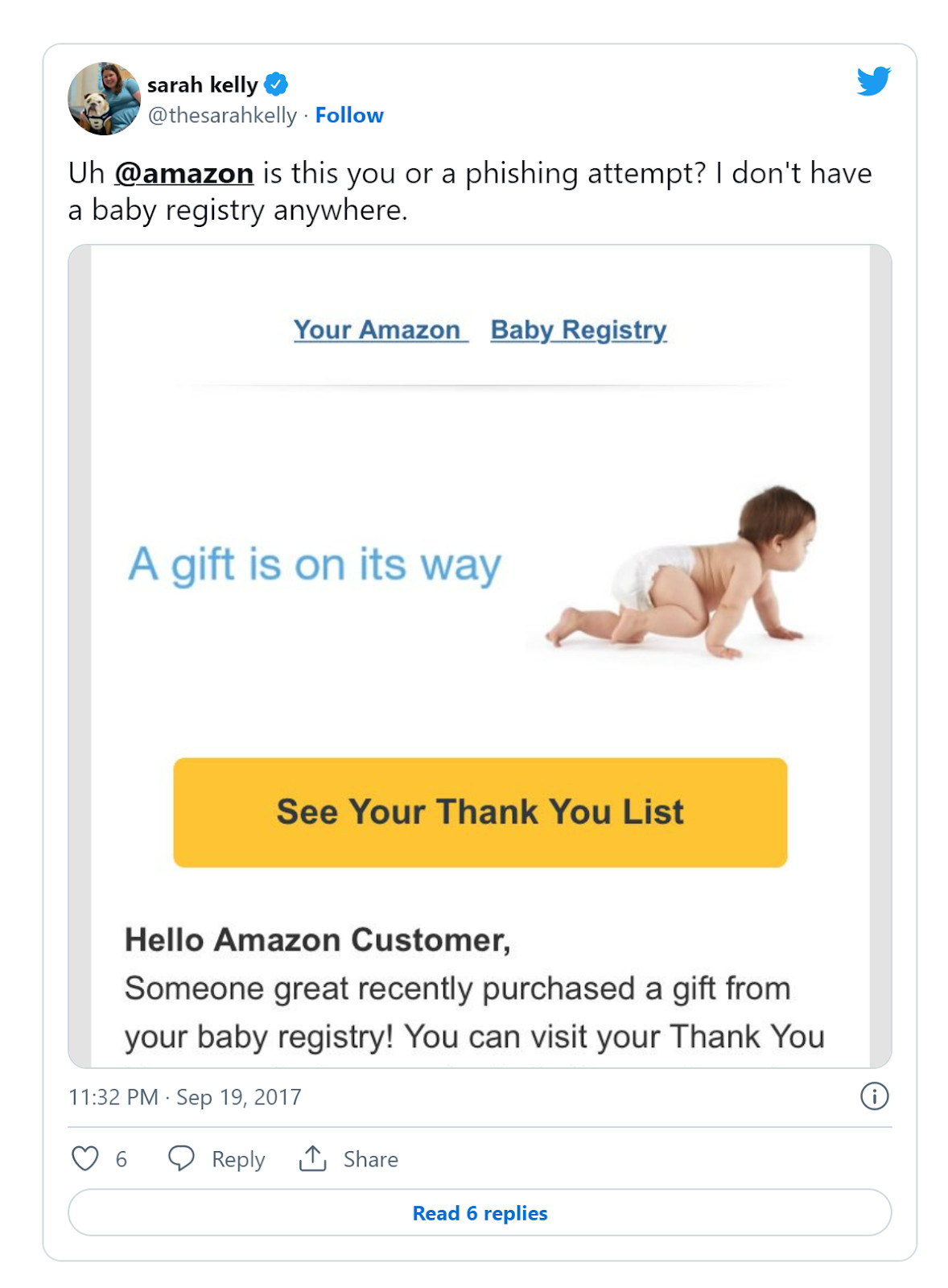 (
Source
)
Of course, this case was an actual glitch, but users were concerned and began flagging the email as a phishing attempt. So, as you understand, this didn't go as planned.
You need to ensure that the recipients won't see a simple "Hey, [First Name]" but will experience your email's contents as they should. Their information should look natural, not spammy, and be the ones the users willingly gave to you.
Not ensuring your personalization is on point is one of the worst mistakes you could make with your email campaign.
Let's see what you'll need.
A crystal clear understanding of your data. Including how you obtained that data, the points through which they came, and the ways to use them in your content. A welcome email cannot include a buyer's behavior on your website, as it's meant to make an excellent first impression. That data is useless in that case. However, a retargeting email needs to include some of the "fun times" a user had on your website.
Your personalization fields should be specific. You also will need to understand why you use X fields on Y campaigns. A welcome email series will need to include variables that an abandoned cart or an upsell email campaign won't.
Don't stop creating email testing campaigns and sending them to your marketing team for proofreading before showing them to the world. This practice will save you from a lot of mistakes down the line.
Test Your Email Clients
Suppose you're using video marketing, GIFs, or other forms of moving images in your email. In that case, you should ensure the look and feel of your email campaign is the same for various email clients.
You see, Gmail, iOS, Outlook, and various other email clients differ in how they display your email campaign. And videos in email marketing campaigns are pretty hard to get right.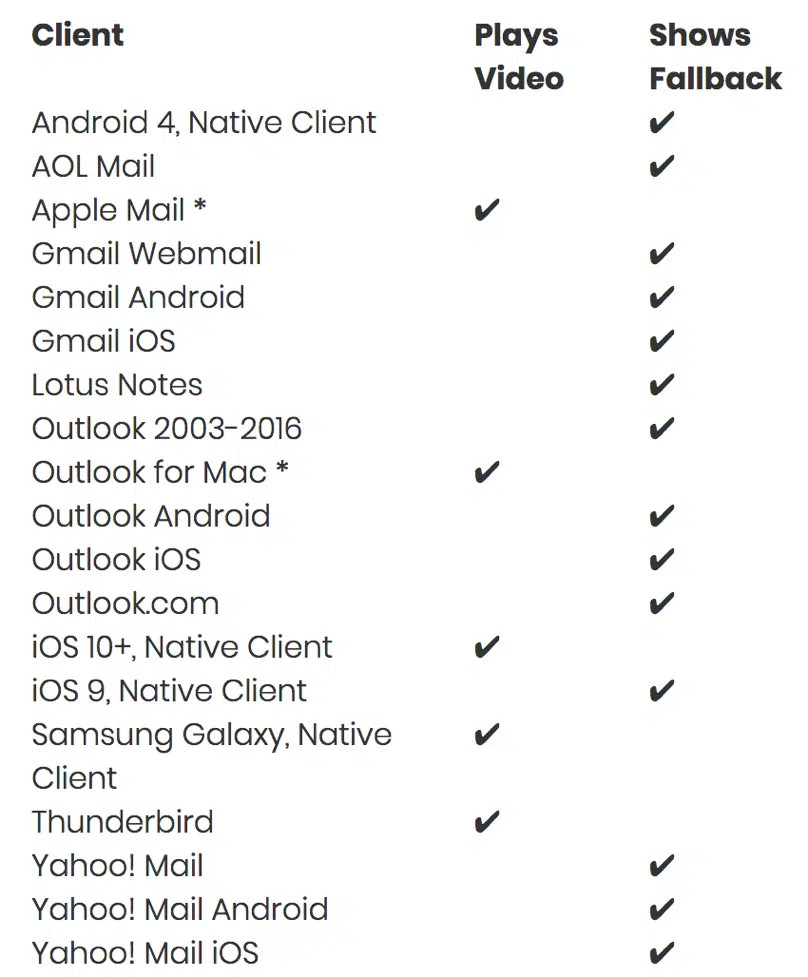 (
Source
)
So, suppose you want to include a testimonial video in an onboarding email campaign. In that case, you must ensure that the display is correct. Not testing how your email looks in various email clients means you risk sending emails with broken elements, making you look like a spammer at best.
What are the steps you need to follow?
Segment your list according to the email client. Ensure that your email will look pristine on at least the top three of your email clients. Ideally, it would be best to have your email campaign cover all bases and clients; a Gmail user might be less interested in your product than an Outlook user.
Ensure you understand how your email looks across various devices. Are your users mobile-first? In that case, you need to test for mobile before anything else.
If the content of your email runs smoothly, then it's time to move to the next part.
Test Additional Components
Let's assume you have decided on the design and copy and are happy with the result - at least the surface-level result. What happens next?
Of course, producing content is not easy, and it can save the day to reach your campaign's goal, but sometimes the devil is in the details. So, it's time to test the additional components of your campaign.
Where do your links lead?
What is the CTA like? Is the color appropriate? Is the wording actionable?
Are your UTMs in place and running? How responsive is your email?
A faulty link could, again, mark you as a spammer. But even if not, leading to a 404 page or a page that doesn't satisfy the user's intent is another factor that can harm your ROI.
Users won't bother to look for the right link for your CTA. And if your CTA is not a natural continuation of your original copy, things will be even more difficult for the point you're trying to make.
Also, ensure the colors of your brand and the intent behind your email campaign flow together correctly. It's common knowledge that colors elicit specific types of emotional responses. However, if your brand's colors are subtle pastels, using bold reds won't do, even if we're talking about a huge sale.
Ensure your brand's tone flows well with the colors you'd like to use. And if you're unsure of how to proceed, ask your audience. A form or a survey can go a long way when you don't know the color scheme that you could choose. Not to mention that asking for your audience's honest opinion is an atypical form of testing.
If you're using UTMs, this would be the perfect time to check them and see where they could lead your audience. Create branded short links. Generic URL shorteners are a no-go, as they could harm your deliverability.
If you're sure you've got all of the above in check, now it's time to test how responsive your email is. Various email marketing platforms allow you to preview your email on any screen. That way, you can figure out the details that could not show correctly, the GIFs that could be stuck on the first frame, and so on.
Test the Subject Line
Of course, testing the subject line is a non-negotiable practice in this day and age. And you need a subject line that will stand out in a full inbox.
Think of your email subject line as the first step of a fantastic PR plan. In 50 characters or less, you have a unique chance to reach out, introduce yourself, and provide value.
You must test again to ensure all of the above are in place. Your subject line should be able to portray your brand's unique characteristics without babbling. Typos, spam trigger words like "SAVE $$$," or even a long subject line that doesn't display correctly could harm your open rate.
Make sure you keep your email subject line short and sweet and add urgency where needed. A sales email needs a subject line that is more "active." On the other hand, a welcome email doesn't - not really.
Don't forget to experiment and create different subject lines for different segments and the various stages of your sales funnel. It would help if you used the action that triggered your campaign in your subject line.
For example, a phrase like "Welcome! We've been expecting you" is perfect for when the user first signs up. A "Where did you go" will go a long way for an abandoned cart sequence. Bake these elements into your subject line and test it.
Some Real A/B and Multivariate Testing Magic
Another non-negotiable element of email testing is the much-beloved method of split testing or A/B testing.
A/B testing allows marketers to test various versions of their email. If done correctly, it's one of the most surefire tools to determine what made or broke your email marketing campaign. The reason behind this is that without testing, marketers are bound to use trial and error techniques. And without the proper A/B testing tool, your overall content strategy could fail.
A/B testing is creating two versions of the same content piece - in our case, the email - that differ in one key component. After you make the two versions, you split your audience - or a segment of your audience - into two categories and determine which part will receive each version. Let the test run for some time, but remember to change only one variant - you'll see why in a tick.
Once your results are in, you'll know exactly what your audience prefers.
A/B testing can be used in various elements and is a powerful tool to help you understand your prospects, their preferences, and perhaps what they prefer in your competitors' content.
You can A/B test your email subject lines. Determine whether your audience likes more fun language, a heartfelt "We missed you!", seeing their name on the subject line rather than the email's greeting, or some cute emojis. The same goes for your preheader and the contents of your email.
Your copy could be more in volume, or a plain-text email might not be well-received in the end. Your images could look perfect, but your audience might loathe them because they block out the true purpose with impressive colors.
Lastly, your CTAs and send times could be way off, and changing something as simple as the color of a button or the day of your campaign could increase your KPIs and, eventually, boost your website traffic and sales.
Of course, A/B testing is not the only type you should invest in. There's also the multivariate testing type, which is a little more complex.
With multivariate testing, you can simultaneously test several components of your email. It can be a powerful method, but it takes a lot of insight to determine the winning combination.
First, marketers need to understand why they're performing a multivariate test and what issues they're trying to resolve. Determining that will show you what you need to test in the first place. So, pick out your test email and start changing the original version. Find the elements you'd like to change, create versions with different CTA buttons - from the color to the actual copy -and create an email with plain text and a different version with pictures; the sky is the limit.
After that, pick out the segments that will receive the different versions of your email. Make sure to divide your audiences equally and understand what makes each one different from the next. Also, you will need to ensure you're on board with how each audience will help you boost your metrics and reach the end goal of your email marketing campaign.
If, for example, you need to change your upselling campaign, the segment that hasn't made their first purchase from you yet is a no-go.
Allow your multivariate test to run for as long as needed - you don't want to get hasty with the results. Analyze, consult your data, and apply whatever takeaway you find helpful in real-life cases. This will help your outreach strategy and email marketing campaigns immensely.
Multivariate testing and A/B testing allow you to understand your audience better. The data may surprise you, but you'll learn how to create content pleasing your marketing strategy and audience's eye.
Always Track Your Campaign's Performance
After all of the above, it's highly about time you sent your first tested and optimized email campaign out to the world. But what happens now? Are we done?
Short answer: No. After you've sent your campaign, gather data and see how your audience responds to your content. Using a data-driven attribution model to understand the outcome of your email testing will help you evaluate the results in a way that will make sense for future campaigns.
And always make sure to share the data with the rest of your teams. Your customer support and sales team will find your information quite beneficial; testing your email marketing campaigns can provide unique insights into how your users interact with your brand that can be used across departments.
The Takeaway
There are billions of things email testing can help with. Apart from A/B testing content and responsive templates, email testing can help with send times, dates, even the sender name, and whether using a no-reply email address is a good practice.
Hint: It's not.
In any case, email testing is essential for every business, from SMBs to Enterprise ventures. Just pick the proper methods and tools to help you, and give it a shot.
The results will most likely surprise you!