According to research, email marketing offers the highest return on investment among all marketing strategies. To put it into perspective, you can get $36 for every $1 spent on email marketing campaigns. However, maintaining a clean, relevant, and verified list of emails is crucial to getting that ROI. This is where the best email verification tools play their part! But picking the one that ticks all the boxes can be tricky without costing an arm and a leg. In this blog post, we'll cover 14 of the best ones in the market right now, helping you pick the right one. Let's get started.
What is An Email Verification Service?
An email verification service helps businesses like yours keep their email lists clean and relevant. This lets you connect with the right people and develop an effective communication channel with your email subscribers. As a result, you can avoid investing your email marketing resources in the wrong places. Email verification services keep your email list clean by:
Purging your list of invalid email addresses and so-called spam traps
Removing subscribers that don't open your emails
Removing duplicate email addresses
And more
Why Use an Email Verification Tool?
Here are the three main reasons why you should use a good email verification tool:
To Get Accurate Metrics
Invalid email addresses affect the accuracy of your marketing metrics. You won't get a clear picture of your campaign's performance with them.
Improve Deliverability
When your email list is cluttered with outdated contact information, it may look spammy. Your ESP (Email Service Provider) will notice this, which could affect your sender's reputation. As a result, your emails may end up in your subscribers' junk folders.
Easier List Cleaning
No matter how careful you are with your list-building efforts, having some inactive email addresses is inevitable. And if you have a decent-sized email list, removing these email addresses can be a pain. A good email verification tool will help you keep your list clean and relevant without hassle. Now, not all of these tools are worth investing in. Plus, you want to get the one that offers the exact features you need. Let's review the 14 best options to help you pick the most suitable one for your email marketing workflows.
Name
DeBounce
ZeroBounce
Clearout
Emailable
NeverBounce
QuickEmailVerification
Kickbox
Proofy
BriteVerify
Verifalia
Bounceless
MillionVerifier
Email List Verify
Xverify
TrustPilot Rating
4.9
★★★★★
4.9
★★★★★
4.3
★★★★☆
3.8
★★★✬☆
3.4
★★★✬☆
-
-
4.8
★★★★✬
3.7
★★★✬☆
-
-
4.7
★★★★✬
4.7
★★★★✬
-
TrustPilot Reviews
1,205
The most reviewed tool on the Market
1,053
7
257
3
-
-
280
1
-
-
129
33
-
Ease-of-Use (1-5)
5
4.5
4.5
5
5
4.5
4.5
5
4
4
4.5
4.5
4
4.5
Performance (1-5)
5
4.5
5
4.5
4.5
4.5
4
4.5
5
4.5
4
5
4.5
3
Accuracy (1-5)
4.9
4.9
4.5
4.9
4.5
4.9
4.9
4.9
4
4.5
4
3.5
4.5
4.5
Coverage (1-5)
5
4.5
5
5
5
5
4.5
4.5
?
?
4.5
4.5
?
5
Security (1-5)
5
5
5
4.5
5
4.5
5
4.5
4.5
4
4.5
4.5
4.5
5
Versatility (1-5)
4.9
4.9
4.5
4.9
4
4
4
4.5
4
4.9
4.5
4,5
4
3.5
Enterprise Ready
✔️
✔️
✔️
✔️
✔️
✔️
✔️
✖️
✔️
✔️
✔️
✔️
✖️
✖️
Free List Sampling
✔️
✔️
✖️
✔️
✔️
✔️
✔️
✔️
✔️
✔️
✔️
✔️
✔️
✔️
Bounce Ratio Estimate
✔️
✖️
✖️
✖️
✖️
✖️
✖️
✖️
✖️
✖️
✖️
✖️
✖️
✖️
Deep Catch-all verification
✔️
✔️
✔️
✔️
✔️
✔️
✔️
✔️
✖️
✔️
✔️
✖️
✔️
✔️
Toxicity check
✔️
✔️
✔️
✖️
✔️
✖️
✖️
✔️
✖️
✖️
✔️
✖️
✖️
✖️
Inbox placement tests
✖️
✔️
✔️
✔️
✖️
✔️
✔️
✖️
✖️
✖️
✔️
✖️
✔️
✖️
Blocklist monitoring
✖️
✔️
✔️
✔️
✖️
✔️
✔️
✔️
✖️
✔️
✔️
✖️
✔️
✔️
Multi-User Setup
✔️
✔️
✔️
✖️
✖️
✖️
✔️
✖️
✔️
✔️
✔️
✔️
✖️
✖️
Bulk Verification API
✔️
✔️
✔️
✔️
✔️
✔️
✔️
✔️
✔️
✔️
✔️
✔️
✔️
✖️
Native integrations
✔️
✔️
✔️
✔️
✔️
✔️
✔️
✖️
✔️
✖️
✔️
✔️
✔️
✖️
Number of integrations
115 + WordPress + CRM + Zapier
9 native or 40+ via Zapier
111
90
85+
28
30
only API
6
4000+ apps (via Zapier)
14
15
9
?
Pros
Easy-to-use, Free to get started, Money-back guarantee, great accuracy and Performance, Flexible pricing, High security standards
24/7 customer support, 100 free monthly validations, Detailed Status Codes, Unknown results are free, never-expiring credits
60-day money-back guarantee, 24/7 Customer Support, Single and bulk email finder feature, fast valiation, never-expiring credits
250 free credits, Unknown results are free, never-expiring credits
Easy-to-Use, automated list cleaning, high accuracy, never-expiring credits
Preferred currency selection, Powerful API, Credits never expire, Custom plans available
High security, Easy to integrate, with other tools, High accuracy, Easy to use
Role email detection, High-risk detection, Free bulk trial plan with 500 credits,
24/7 support, functional API, Easy integration with other validity tools
Flexible pricing, , Domain Verifier, Multi-user setup, High accuracy (enterprise and ultimate plans)
500 free credits, , Email finder, Bulk finder, Support for various list formats, In-depth reports
Credits never expire , Duplicate removal, Easy to use, 100% Money Back Guarantee
100 verifications for free, Using CSV, XLS, TXT and other list formats, never-expiring credits
Blacklist monitor, auto-correction for misspellings, 24/7 support
Cons
No Major Con.
Slightly higher price than some competitors, Some features are difficult to use, Long validation time
Lack of IP reputation verification, Unclear reports, 60-day, list storage time in the cloud
Slightly higher price than some competitors, Complicated API documentation
Fewer plans to choose from, high prices, customer support only via email or live chat, non-responsive support
No spam trap detection, Big files proceeding time is much higher, limited features
Fewer features, complicated pricing, Low performance (long waiting time for verification), No 24/7 support
No monthly plans, Lack of integrations, Support only via form or chat, reports aren't as detailed as competitors
Difficult initial setup, Fewer integrations, Lack of Disposable Email Detection, Lack of spam tests,
No 24/7 support, Difficulties with API
Confusing pricing, Limited integrations, complaints about customer support, Expensive pay-as-you-go plans, Customer support not available for US time zone
Poor catch-all detection, problem with Yahoo email verification, unresponsive customer support
Difficult API setup process, Limited integrations, Problems with spam traps. UX issues,
No money-back, No monthly subscription or free trial, Low versatility, only basic features, Can be slow
Designed for
Enterprise, E-commerce, Startups
Marketers, Agencies, Software As A Service
Freelancers, Bloggers, Enterprise, E-commerce, Startups
Enterprise, Marketers, E-commerce
Enterprise, Non-profits, Startups
Agencies, Startups, SMBs
Marketing agencies, SMBs, enterprises
SaaS, web devs, enterprises
Marketers, Sales, CRM professionals, enterprise
email marketers, marketing agencies, enterprise, big businesses,
Startups, SMBs, Freelancers
SMBs
SMBs with both small and large email lists
Affiliate Marketers, E-commerce, Retailers, IT, Sales
Price for 5,000 emails
$10
$39
$35
$30
$40
$35
$40
$16
$40
$28.90
$22.90
$37
$15
$40
Price for 100,000 emails
$90
$390
$350
$420
$400
$320
$800
$149
$600
$389
$449.45
$129
$169
$400
Price for 1,000,000 emails
$500
$2,250
$1,100
$1,800
?
$1,350
$4,000
$699
?
$1,490
$4,490.45
$369
$599
$1,500
Are monthly plans available?
✖️
✔️
✔️
✔️
✔️
✔️
✖️
✖️
✖️
✔️
✔️
✔️
✔️
✖️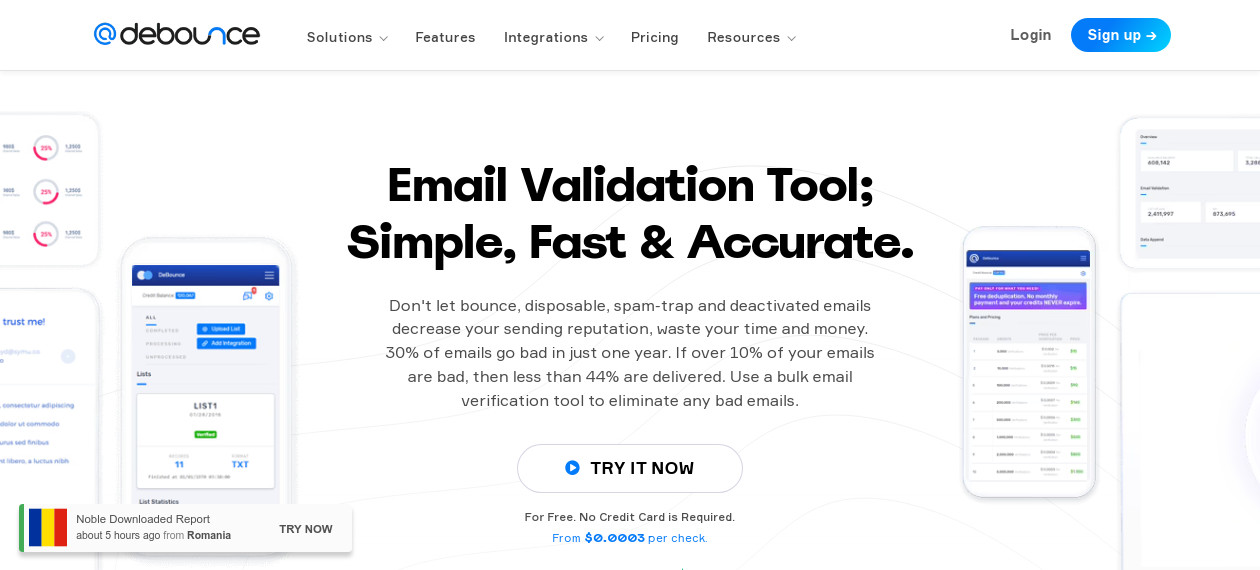 DeBounce is at the top of our list for good reasons. The email verification tool has every feature you need to keep your email list clean and high-quality. Despite the comprehensive set of features, DeBounce is affordable, which makes it a perfect solution for businesses of all sizes. Let's look at the most prominent features it has to offer.
Top Features and Benefits of DeBounce
Powerful Email Validation Tools
Minimize bouncing using an SMTP check
Catch-All Domain Checker (Catch-all domains accept emails from all kinds of emails, real or fake)
Syntax Eliminator (Removes emails with invalid syntax)
Email deduplication (Removes duplicate emails automatically)
Email verification API (Verify emails on your platform with DeBounce API)
Selectable download options
Spam trap removal
Team account
Domain confirmation (Removes invalid, inactive, and parked domains)
And more!
Detailed Reporting

DeBounce doesn't only provide a comprehensive email verification service, but it also provides in-depth reporting.
Access from Dashboard
DeBounce lets you upload, clean, and manage your email lists with a user-friendly dashboard.
Restless API

To verify your email list, connect DeBounce's API. It gives you 100 free verifications to test the API.
Integration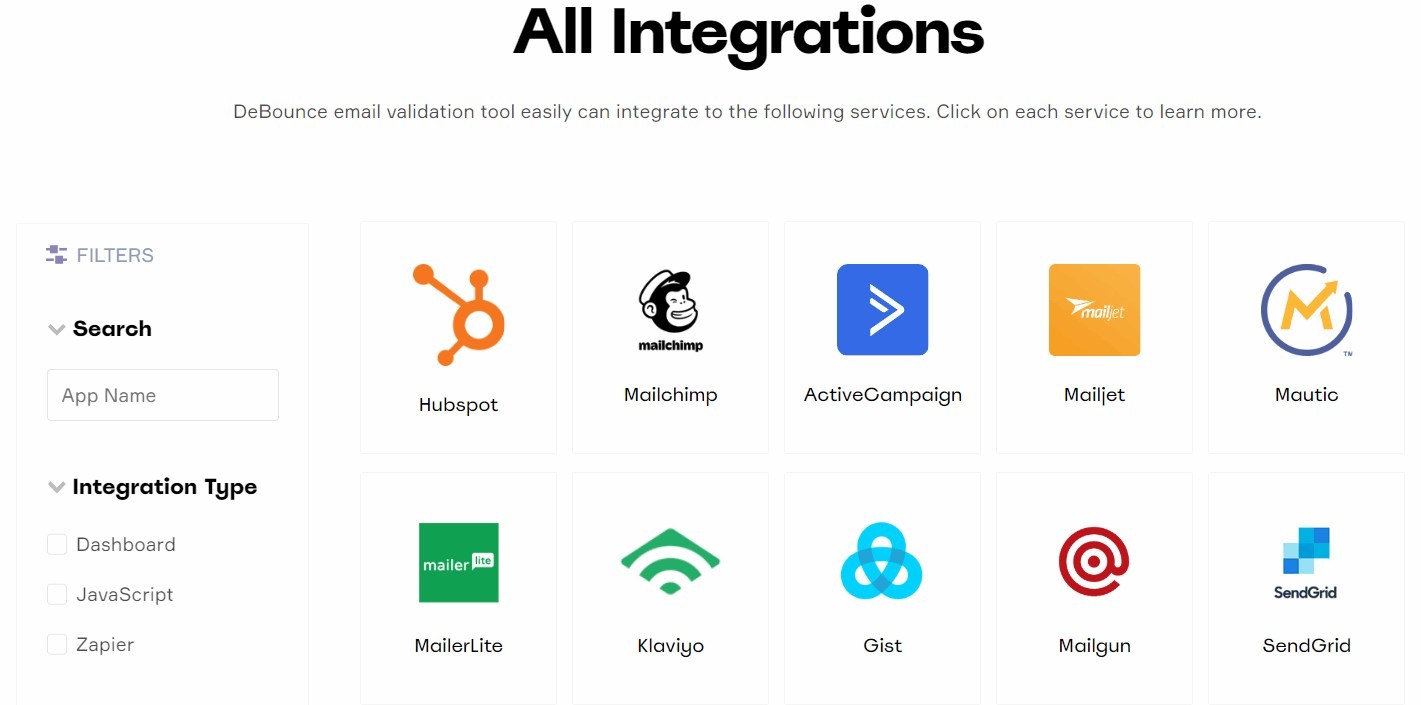 You also won't have to worry about integrating DeBounce into other software. The platform supports 115 tools, including CRMs/ESPs, WordPress (Plugin), and Zapier.
The Most Reviewed Platform
DeBounce is the most reviewed email validation tool with over 2,000 reviews on various platforms. Check out recent reviews on TrustPilot below:
Unique Solutions
Lead Finder: Find email addresses of prospects for cold-emailing purposes.
Real-Time JavaScript Widget: Validate input emails on all your website forms easily.
Data Appending: Add contact information to your existing records and improve engagement.
Email List Monitoring: Validate email lists on a daily basis without manual action - all automated.
Pricing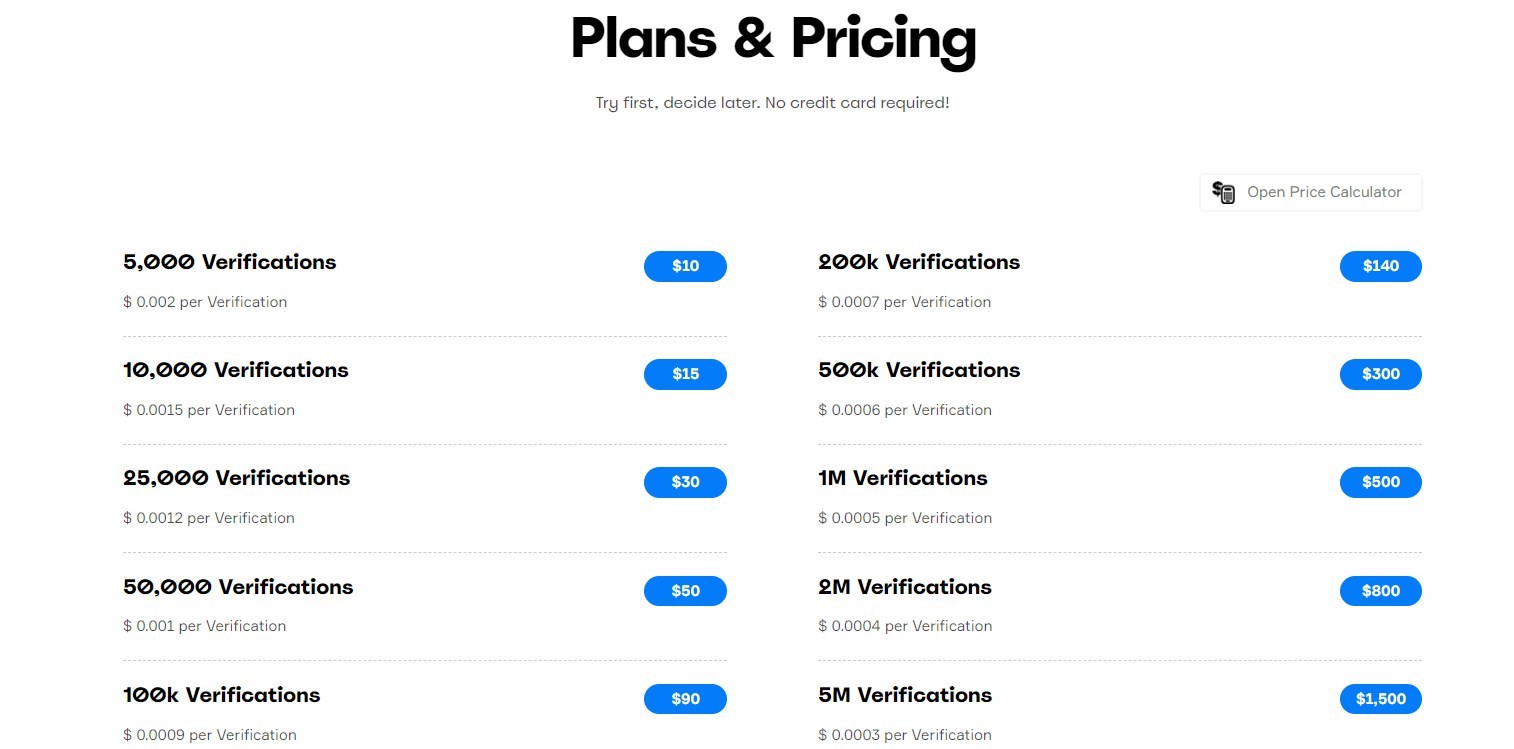 DeBounce has a pay-as-you-go pricing model. The cost depends on the total number of verifications. For instance, for just $10, you can verify 5000 emails.
Verdict
DeBounce is an all-in-one email verification and validation tool designed for businesses of all sizes. With the credits-based payment model of DeBounce, you don't have to pay more than you should.
ZeroBounce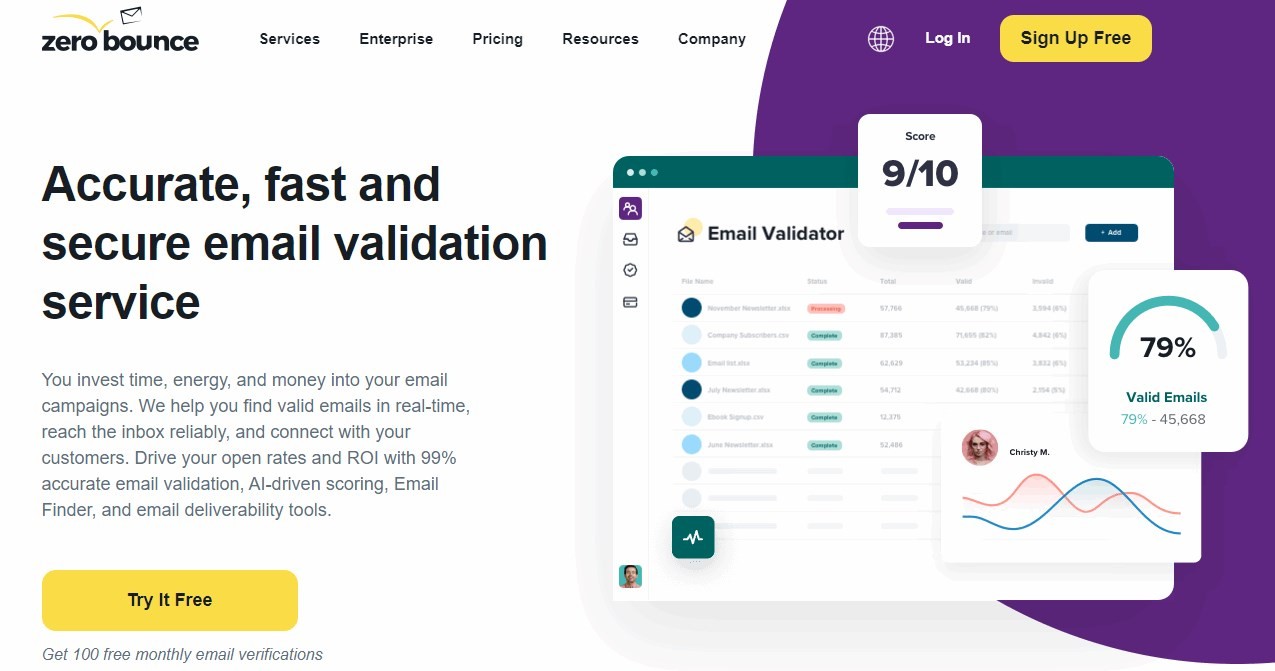 ZeroBounce is one of the most popular and reliable email verification tools out there. It offers the tools and features to keep your email lists clean and relevant.
Top Features and Benefits of ZeroBounce
Email Bounce Validator
ZeroBounce checks if the emails sent to your email list will bounce. Once identified, you can remove these emails from your list. However, note that it won't address all bounce issues as some temporary issues may also cause "Soft bounces."
Abuse Email Detection
Some email recipients report emails as spam when they're not. This can damage your reputation with the ESP, or worse, get your account banned. ZeroBounce lets you know which email addresses are prone to fall under this category, helping you keep your list clean of recipients who abuse this privilege.
Gender Identification
Sometimes, it pays to know the gender of your email subscriber. If you've given a subscriber's name to ZeroBounce, it'll tell you their gender, helping you segment your lists.
MX Record Detection
MX record detection lets you check if the emails you upload to ZeroBounce are real or fake. However, the MX record detection should be available for those emails that utilize this feature.
Real-Time Verification
With this feature, every time someone submits their email address on your website, ZeroBounce will automatically verify it.
Potential Areas of Improvement
Slow
ZeroBounce may be a little slow to verify emails in bulk. For instance, you may have to wait over half an hour to get 100k emails verified.
Interface
The dashboard of ZeroBoune may not be as user-friendly as some users like.
Pricing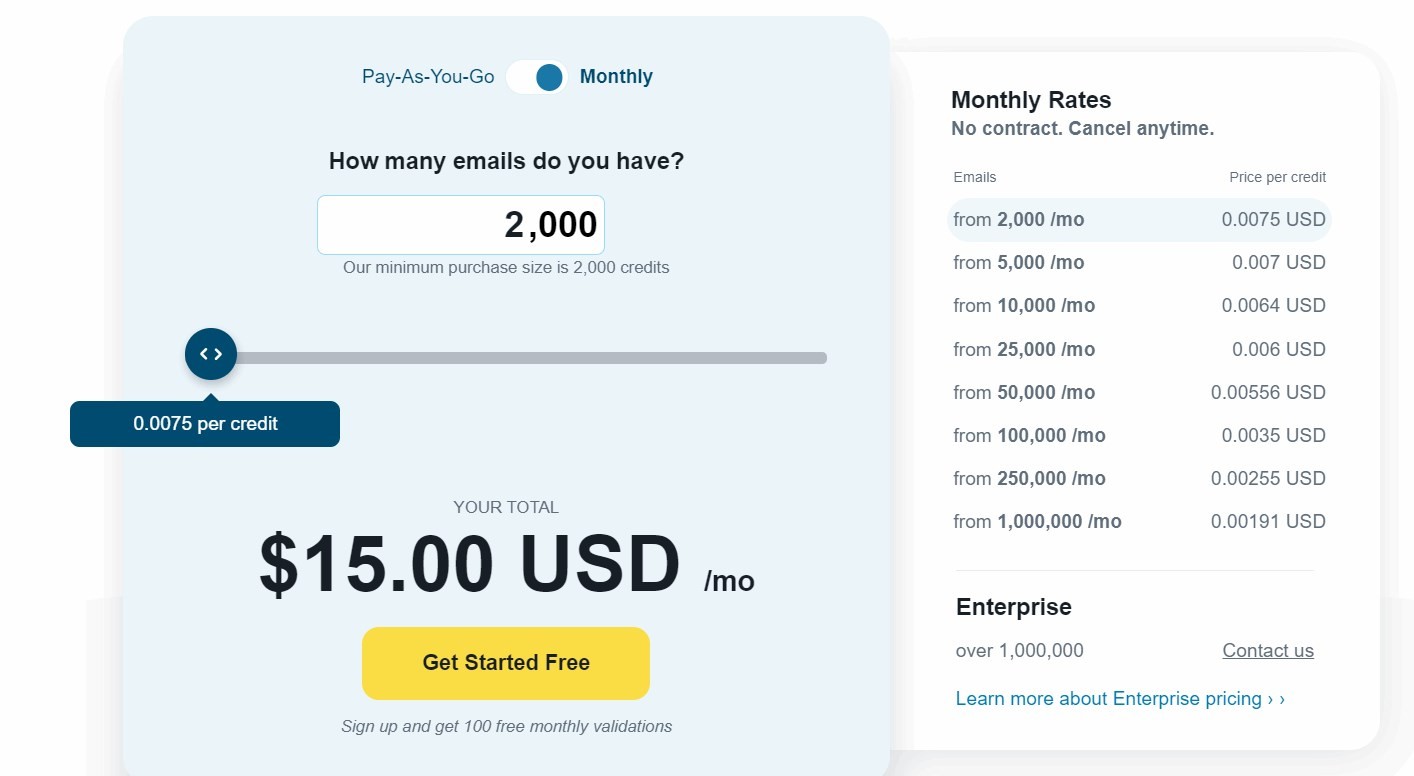 The pay-as-you-go pricing model of ZeroBounce makes it suitable for small businesses. If you want to manage up to 2,000 emails, you'll have to pay $15. However, the minimum purchase size is 2000 credits. And as your email list grows, the pricing increases: E.g., 3000 emails will cost USD 21/month. This can be a bit high, especially when you don't have a highly engaging email list.
Verdict
ZeroBounce may not be ideal for everyone because of its user interface, pricing model, and slow verification speed.
Clearout
Clearout is a relatively new player in the bulk email verification arena. The company is ideally suited to e-commerce businesses, startups, bloggers, and freelancers. Clearout does justice to its name, clearing email lists of spam, invalid, and inactive email addresses.
Key Advantages of Clearout
Fast Performance
Clearout offers a fast and reliable email verification service. It offers bulk email verification for more than 1 million emails in a single go.
Keeps Email Lists Clean
The service identifies spelling errors, duplicate emails, and typos to keep your email list clean and targeted.
Clearout for Sheets
The "Clearout for Sheets" plugin lets you verify email addresses within Google Spreadsheets in real-time.
Monitors Blocklists
The software also monitors blocklists and lets you know about risky email addresses, helping you understand your list better.
60-Day Money-Back Guarantee
The email verification tool comes with a generous 60-day guarantee. You can try it out for 60 days and get a refund if it doesn't satisfy your needs.
Areas of Improvement in Clearout
Accuracy
Clearout's accuracy may not be as high as other top service providers. This is a crucial factor as your email list's health depends on the software's accuracy in detecting non-performing addresses.
List Storage Limitations
Clearout doesn't let users store email addresses in the cloud for over 60 days. This can be inconvenient as you'd have to re-upload the addresses every 60 days.
Pricing

Like most email verification services, Clearout also has a pay-as-you-go pricing model. However, you're not only charged for email verifications. For instance, it charges 4 Credits for every non-role-based email found. The good thing is that you can calculate the exact amount you'll have to pay by entering the number of emails. Note that Clearout also offers 100 free credits, so you can check the tool out before buying any credits.
Verdict
Improved accuracy and some additional features could make this tool a great fit for small businesses.
Emailable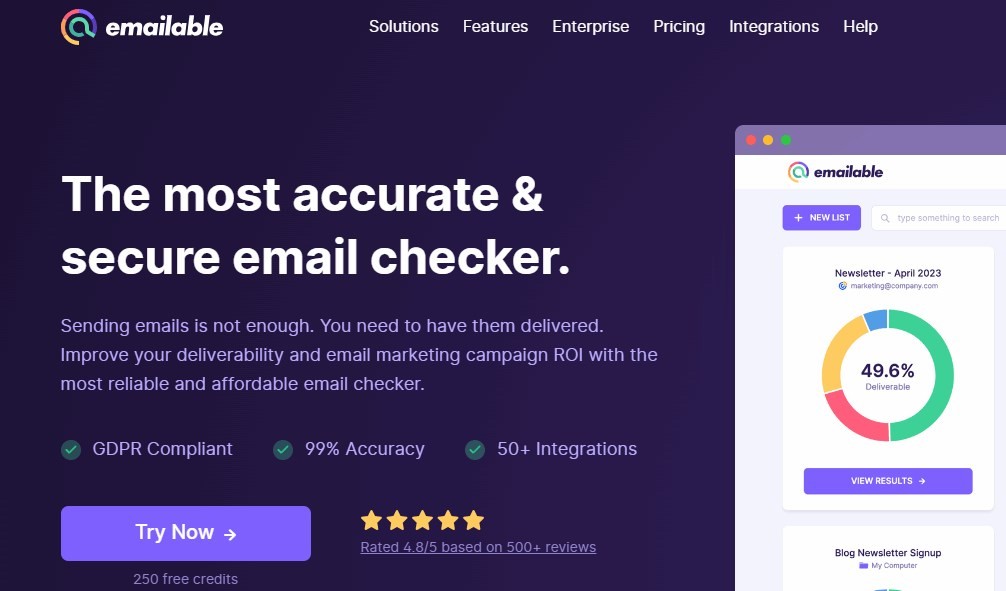 Emailable is another reputable email verification service you can invest in. The company was established in 2017, which means it's been around for a while. Let's discuss some key advantages Emailable has to offer.
Key Features of Emailable
List Cleaning Features
Mailable keeps your email list clean with typo detection, MX record detection, and misspelled domain detection. Moreover, the anti-greylist technology overcomes the temporary rejection of emails by some servers, allowing for accurate email verification. Its email verification solutions include:
Bulk email verification
Single email verification
Real-time email verification with a widget
Monitoring for automation
API for developers
Deliverability optimization
Ease of Use
There are mixed opinions on the ease of use of this email verification service. Overall, Mailable's dashboard is fairly easy to navigate and use.
Accuracy and Speed
Emailable guarantees 99% accuracy and deliverability, which is impressive. On top of that, the software offers quick validation of emails. Overall, there seems to be a general consensus on that. However, users also report occasional inaccuracies resulting in soft and hard bounces. Plus, the service may not be as quick as some users may like.
Additional Features
Mailable also offers some attractive additional features, including:
250 free credits that never expire
Unknown results are free
Real-time results
Flexible billing options
Auto-correction to fix misspellings (Of major domain names)
Areas of Improvement in Emailable
Customer Support
The customer support of Emailable may not be the best in the market.
Toxicity Check
Emailable's toxicity check might not be as robust as its competitors.
Pricing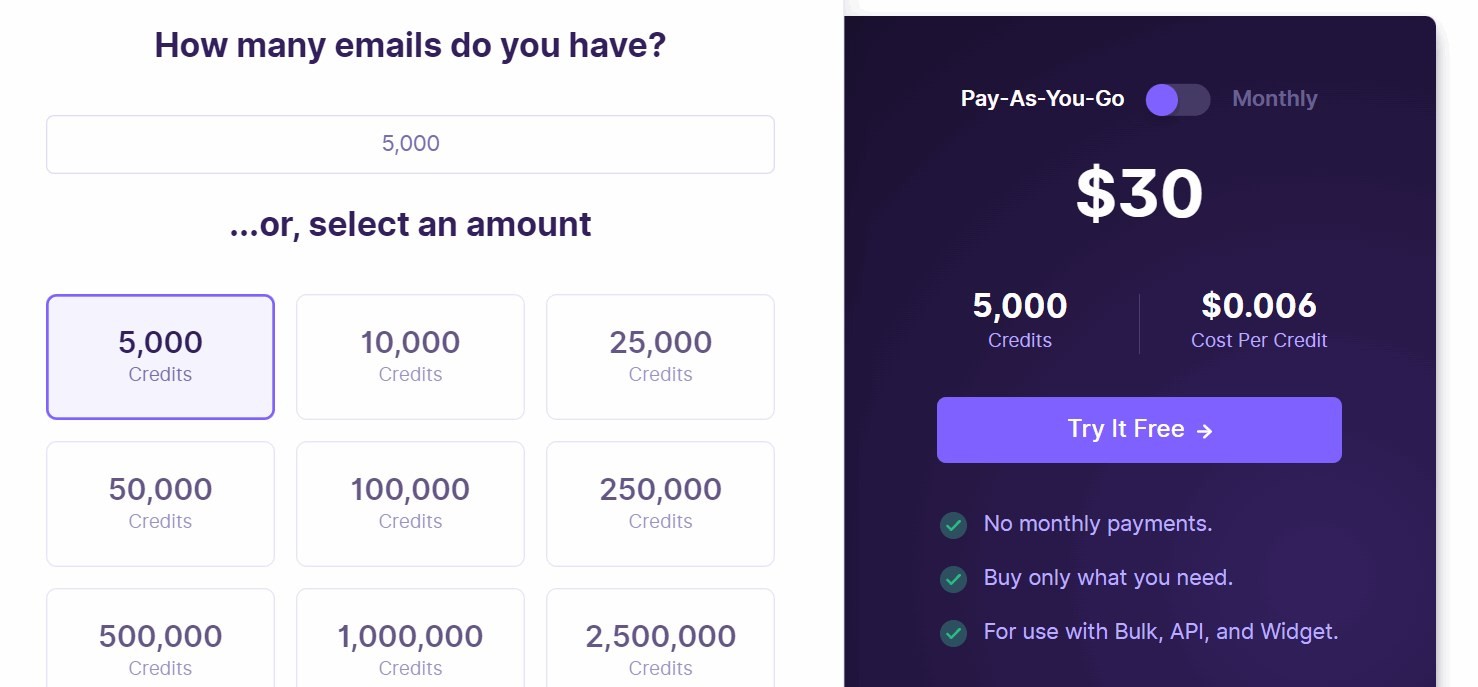 Emailable has two pricing models:
Pay-as-you-go
Monthly
You can save 15% with a monthly subscription. Overall, the price of Mailable's services can be a bit high. Plus, 5000 is the lowest credit purchase limit.
Verdict
Emailable is a reliable email verification tool, but there's still some room for improvement.
NeverBounce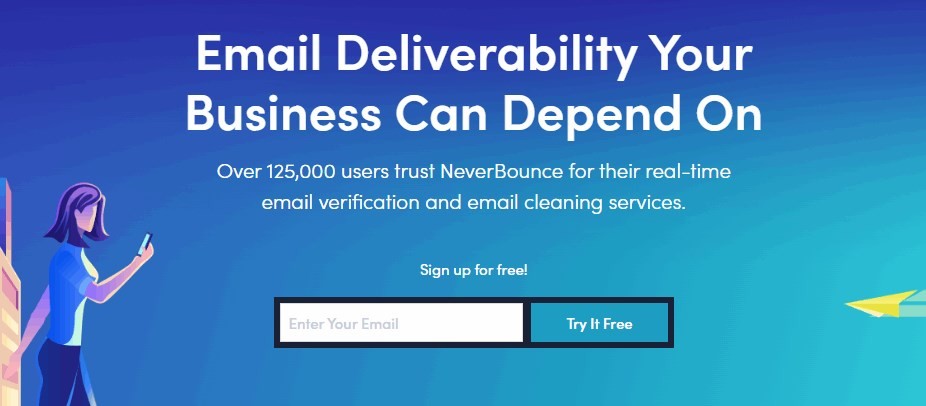 NeverBounce is another reliable email verification that has been around since 2014. The platform appeals mainly to enterprise-class clients and startups. We added this tool to our list because it offers a range of effective email list cleaning and verification features. Companies like Doordash, Uber, Dell, and Indeed trust NeverBounce with their businesses, making this service a reliable option.
Key Advantages of NeverBounce
Bulk Email List Cleaning
A reason you may want to consider NeverBounce as an email verification service is that it maintains the quality of your email list by removing emails that:
Have typos
Are outdated
Are spam traps
Have syntax errors
And more
You can do all that either by uploading your list to the NeverBounce dashboard or using their API for real-time cleaning.
Real-Time Email Verification
Real-time email verification of NeverBounce filters out the wrong email addresses right off the bat. Here's how it works:
Someone lands on your site and fills out a form
NeverBounce checks the address right there
If the address passes the test, it's added to your list
Otherwise, NeverBounce asks the user to submit a different address
Accuracy
The accuracy of an email verification tool needs to be near 100%. Otherwise, the service isn't worth investing in. Your email list will still have a decent number of invalid or inactive email addresses, skewing your marketing metrics. Unfortunately, the accuracy you get with NeverBounce is around 92%. Compared to its alternatives like DeBounce, it's low. The good thing is that NeverBounce can be pretty good at removing bounced emails.
Speed
If you have a lot of emails on your list, the speed of verification will matter. Slow verification may affect your workflows. NeverBounce lets you verify 10k emails in one minute, making it one of the fastest services in the market.
Areas of Improvement in NeverBounce
Pricing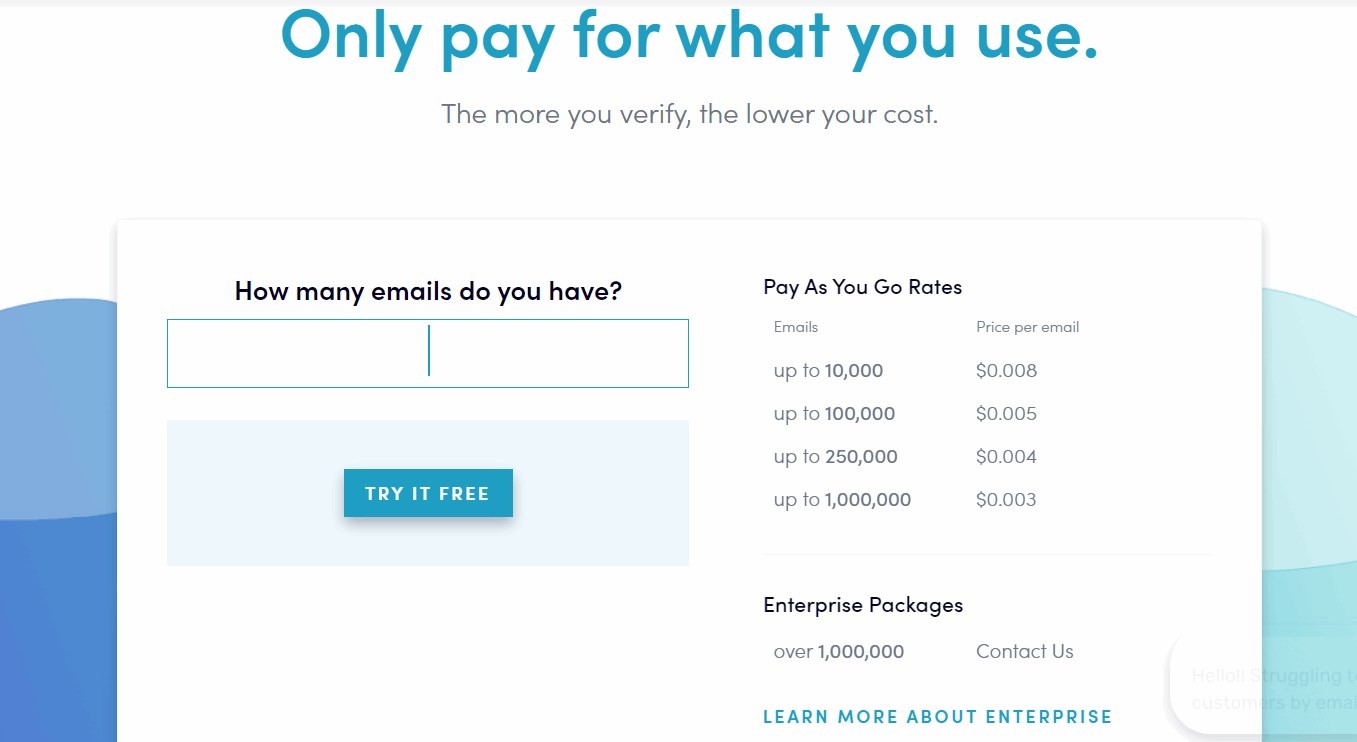 Although NeverBounce works for small email lists, it's not the most affordable service in the market. The price per verification tends to be higher than its competitors.
Accuracy
The accuracy of verification is in the low 90s, which isn't the best.
Pricing
The genuine pay-as-you-go pricing approach makes NeverBounce stand out from the competition. The service is great for businesses with small email lists. Note that the verification price per email varies depending on the total number of emails. For instance, if you have a list of 100,000 emails, the per-email price would be $0.005. Whereas if your list is 10,000, you'll pay $0.008 per verification.
Verdict
NeverBounce is a reliable email verification service, but improvements in accuracy and pricing could make it better overall.
QuickEmailVerification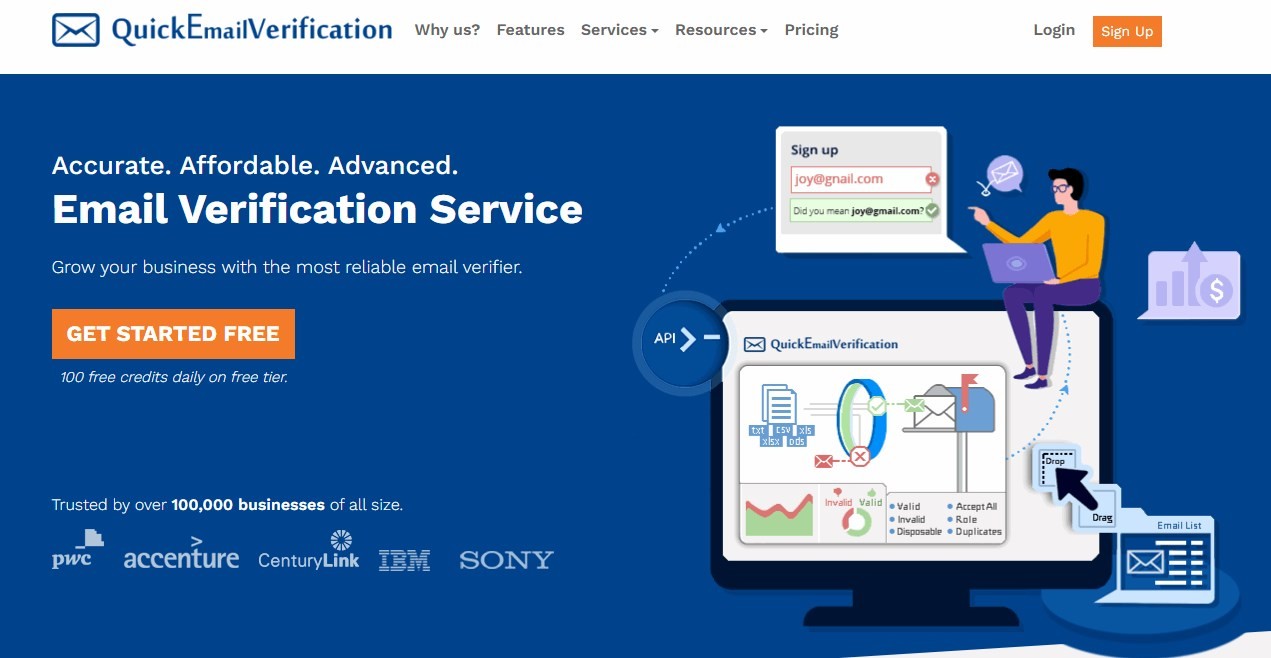 QuickEmailVerification has been around since 2014, making it one of the most experienced players in the market. The email verification tool also offers free tools related to technical email setup, which helps it stand out. The people behind this platform chose a literal name for their service, targeting businesses that need "Quick" email verifications. Let's dive into its key advantages to see if it's the right fit for your email list.
Key Advantages of QuickEmailVerification
Accuracy
As mentioned before, accuracy is something you can't compromise when it comes to selecting an email verification service. Impressively, QuickEmailVerification boasts an accuracy of around 99%, making it one of the most reliable options in the market.
Coverage
Another impressive feature of QuickEmailVerification is its coverage. The software lets you check multiple emails simultaneously, without any limits. So, if you have a big email list, QuickEmailVerification could be the way to go.
Speed
Ironically, contrary to what the name might suggest, QuickEmailVerification may not be as fast as some of its competitors. For instance, it may take about a minute to check only 1000 emails. So, if speed is something you're after, you might want to look elsewhere.
Areas of Improvement in QuickEmailVerification
In addition to being slow, QuickEmailVerification could be improved in the following aspects:
Multi-User Setup
There's no multi-user setup option as of now
Spam Trap Detection
Unlike most of its competitors like DeBounce, QuickEmailVerification lacks spam trap detection.
Pricing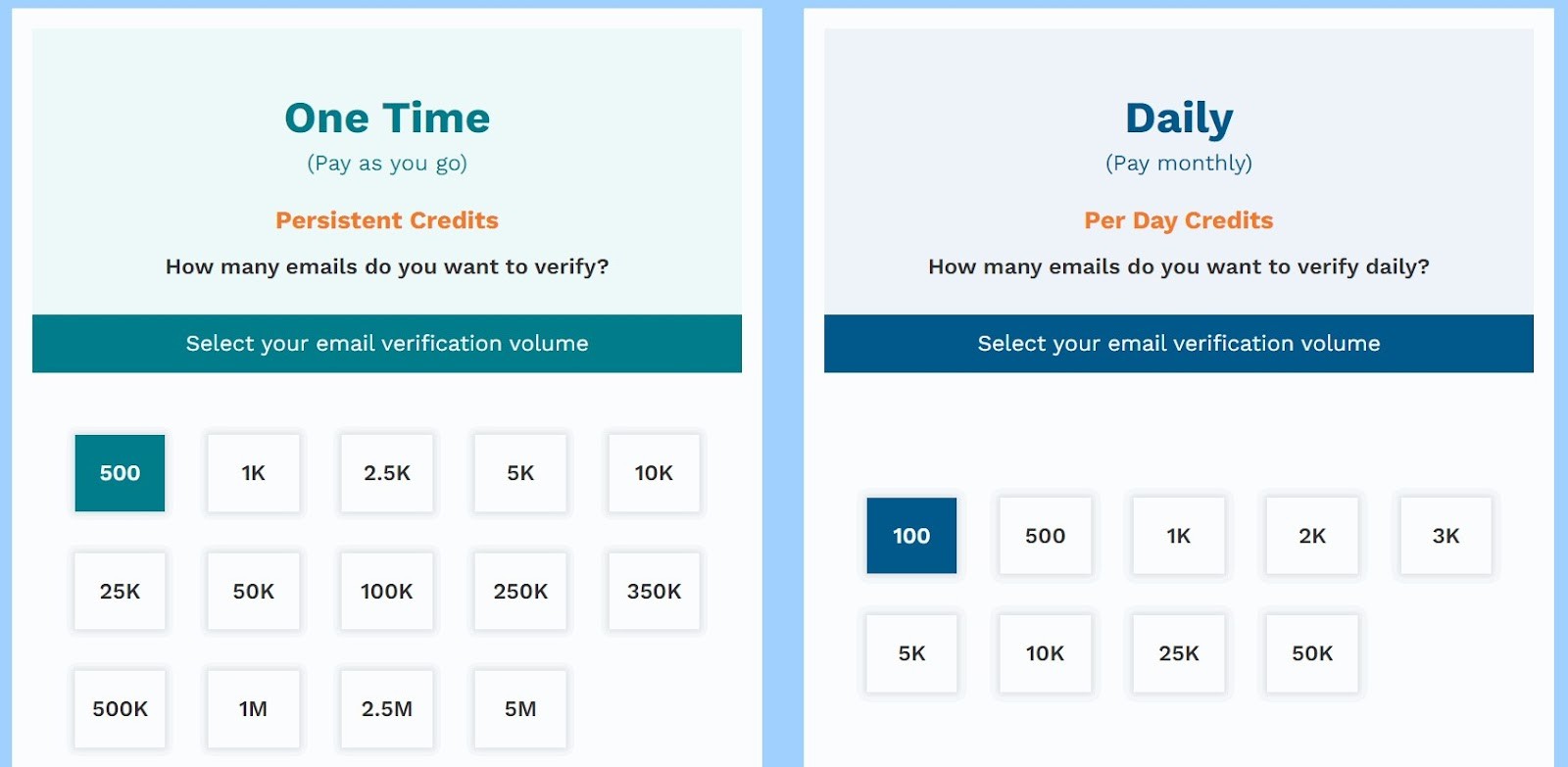 QuickEmailVerification has two types of pricing models: Pay-as-you-go: For instance, if you need to verify 500 emails, you pay $4 one-time. If you want to verify 500 emails daily, you can go with the monthly plan, which costs $25.

This means if you need email verification regularly, the monthly plan will be more cost-effective.
Verdict
High accuracy and coverage make QuickEmailVerification one of the stand-out email verification tools out there. However, consider its slow speed of verification and the lack of spam trap detection before selecting it.
Kickbox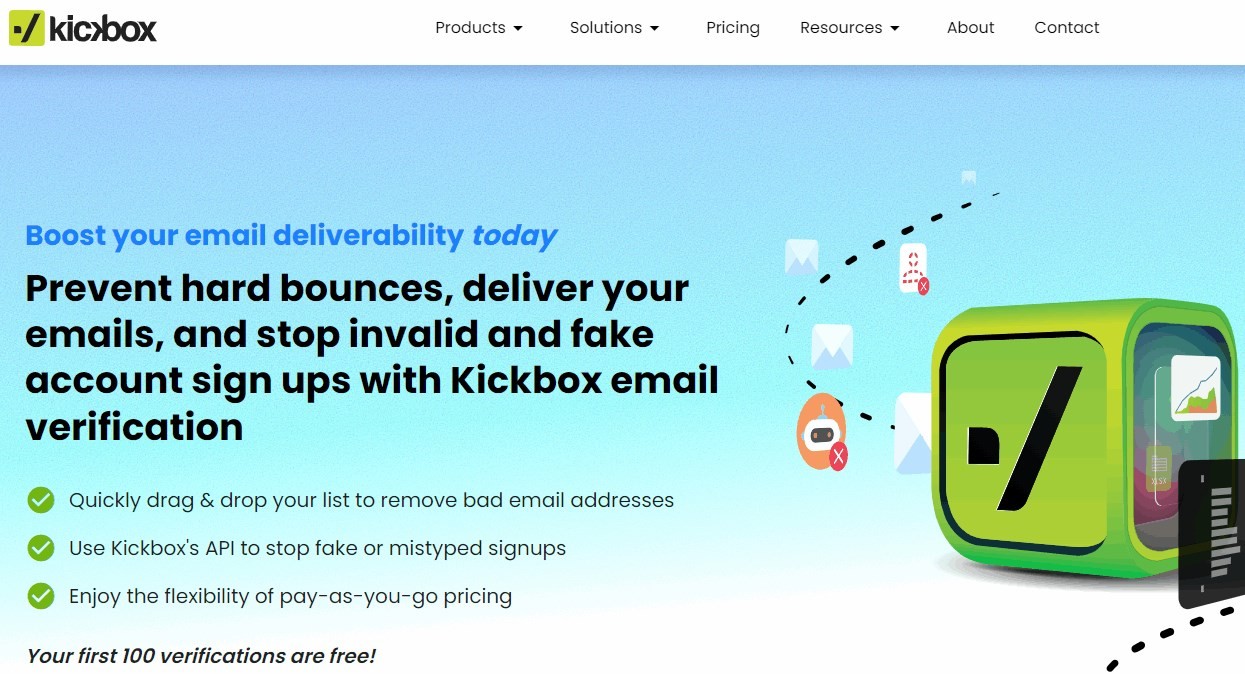 Kickbox, founded in 2014, is another popular and trustworthy email validation platform. The platform lets you verify your emails either through the API or by using its drag-and-drop tool. Let's dive into the most prominent advantages of this tool.
Key Advantages of Kickbox
Accuracy
Probably the most stand-out benefit of Kickbox is its 99% accuracy in identifying invalid email addresses. With that kind of accuracy, you won't have to worry about bouncing and deliverability.
Speed
Kickbox doesn't disappoint when it comes to getting the job done quickly. With Kickbox, you'll be able to verify hefty email lists without wasting time.
Ease of Use
Kickbox has an intuitive and user-friendly dashboard, providing a pleasant working environment.
Security
You also don't have to worry about your data and information with Kickbox. The email verification platform is GDPR, CCPA, and Privacy Shield compliant.
Areas of Improvement in Kickbox
Non-Definitive Spam Detectors
Kickbox may mark some email addresses as "Risky" without explaining why. This can be an issue when 50% of your list gets marked as "Risky". The team behind Kickbox may want to provide a little more information about their spam filters.
Support
Kickbox doesn't offer 24/7 customer support, which can be a major turn-off for most customers. Even if the tool is perfect, customers might need some guidance every now and then.
Pricing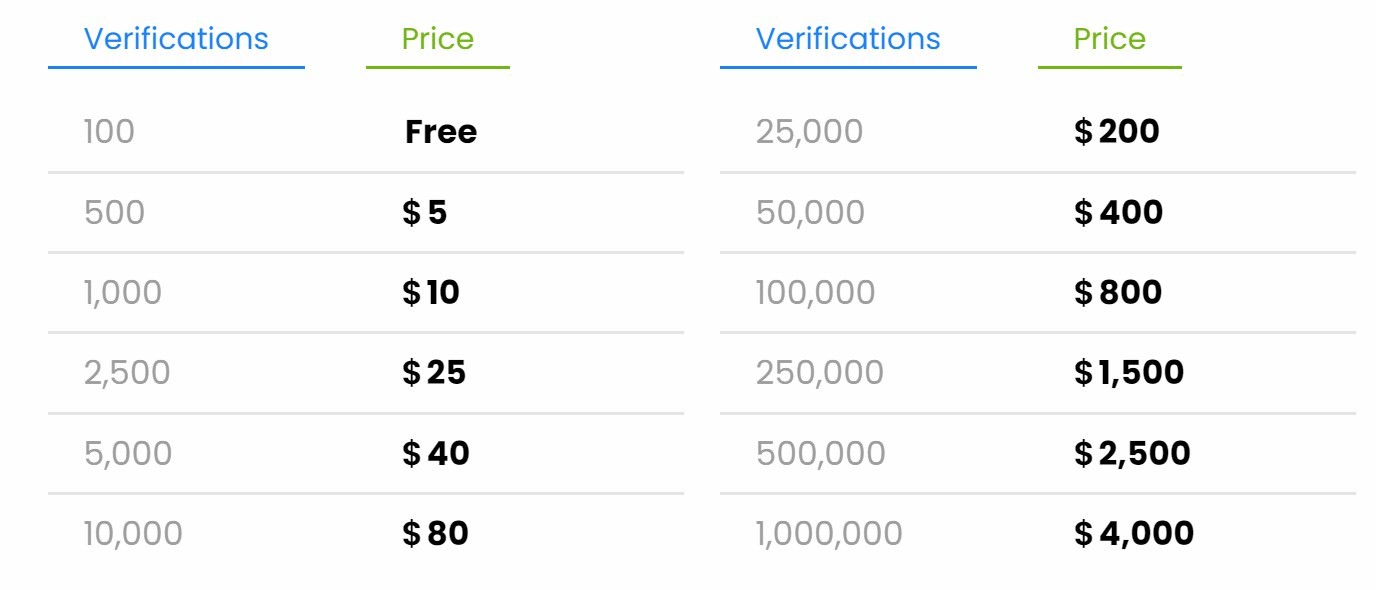 Kickbox has flexible pricing options, which makes it suitable for businesses of all sizes. If you have an email list of up to 100, you can get them verified with Kickbox for free. For 1,000 emails, the platform charges $10. However, as your email list grows, Kickbox becomes pretty expensive. For instance, for 1M email addresses, you'll have to pay $4000.
Verdict
Kickbox offers a reliable email verification service with a focus on security and accuracy. However, it needs improvement in some aspects, including customer support and pricing.
Proofy.io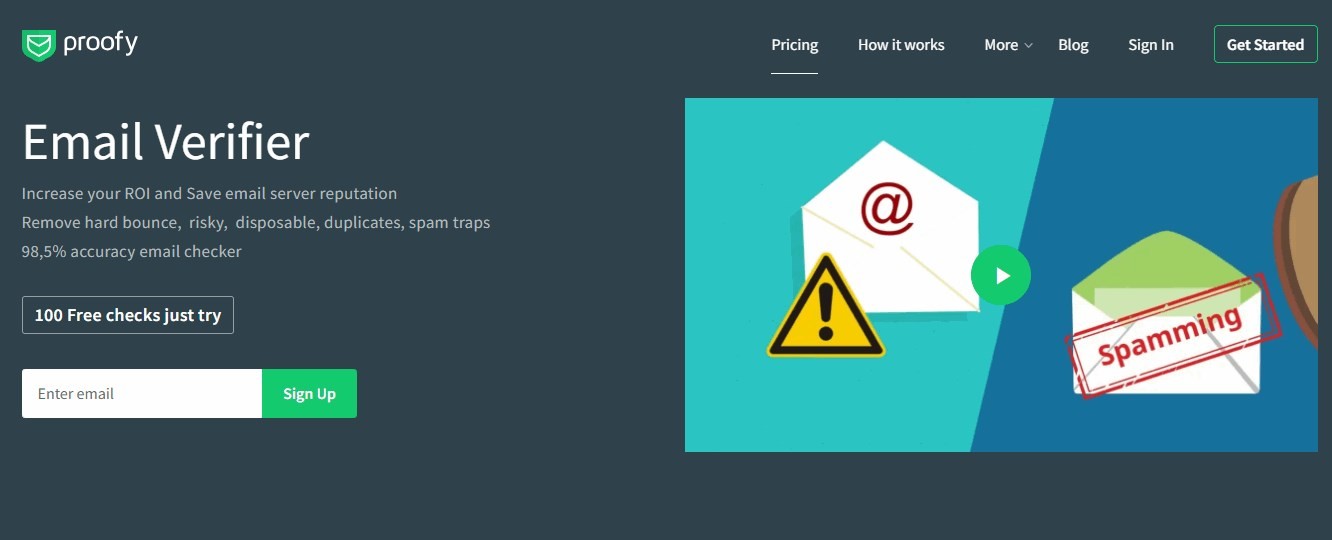 Proofy.io is touted as one of the most affordable email validation APIs out there. The platform has a range of helpful features that cater to individual email marketers, agencies, and small business owners. Let's see if this email verification platform is worth the investment.
Key Advantages of Proofy.io
Ease of Use
Proofy.io has a straightforward dashboard with easy-to-use features. This makes the platform ideal for people who are still new to email verification.
Decent Accuracy
The accuracy of Proofy.io's email verification is decent, however, it may not be the best in the market.
Generous Free Plan
The free plan is where Proofy.io stands out in the crowd. You get a generous 500 email credits for free. If you have a bigger email list, use these credits to check the quality of Proofy.io's services.
Speed
You can expect Proofy.io to verify around 100k emails in about 45 minutes. The speed of verification is up there with the top service providers like ZeroBounce and NeverBounce.
Areas of Improvement in Proofy.io
Integrations
The lack of integrations in Proofy.io makes working with the API the only good option.
Reporting
Detailed reporting is another aspect Proofy.io lacks.
Pricing

Like most competitors, Proofy.io gives some free credits to let you test its services before going for a paid plan. The plans start from 1000 email checks, which just cost $5.

As you pick the more costly plan, the per-verification cost decreases. The good thing is email credits don't expire.
Verdict
Proofy.io's budget-friendly plans make it an attractive choice for solopreneurs, startups, and small business owners. However, detailed reporting and some integration options could make the platform more appealing.
BriteVerify

Founded in 2009, BriteVerify is one of the oldest players in the game. Brands like Shutterstock, TripActions, and J.D. Power use and trust their services. But, is this email verification service suitable for your business? Let's find out.
Key Advantages of BriteVerify
Bulk Email Verification
BriteVerify stands out when it comes to verifying emails in bulk, allowing you to verify up to 1 Million emails per file. The process is easy too. You can either upload .txt or CSV files or import them from an email marketing platform like Mailchimp.
Real-Time Verification
BriteVerify's API verifies emails right at the source: Whenever there's an email typed into your mobile, website, or PoS forms.
Multi-User Accounts
The platform lets you add as many user accounts as you want. This can come in handy if you work in teams.
Accuracy
Although BriteVerify claims an impressive 98% accuracy, third-party reviews tell otherwise.
Speed
BriteVerify claims to verify 4000 emails per minute, which may be incorrect. However, the software does offer impressive speed. You can expect to verify over 10k email accounts in about 25 minutes.
Areas of Improvement in BriteVerify
Important Features
BriteVerify lacks some features that might be important for some users, including blocklist monitoring, toxicity check, and deep Catch-all verification.
Spam Tests
A limited number of spam tests doesn't make BriteVerify look so good in this competitive market.
No Duplicate Checks
BriteVerify doesn't identify and remove duplications in bulk email lists, so you'll have to find another way to remove them.
Pricing
BriteVerify has two pricing models:
Pay-as-you-go: It is suitable for businesses that need to verify their email lists once in a while.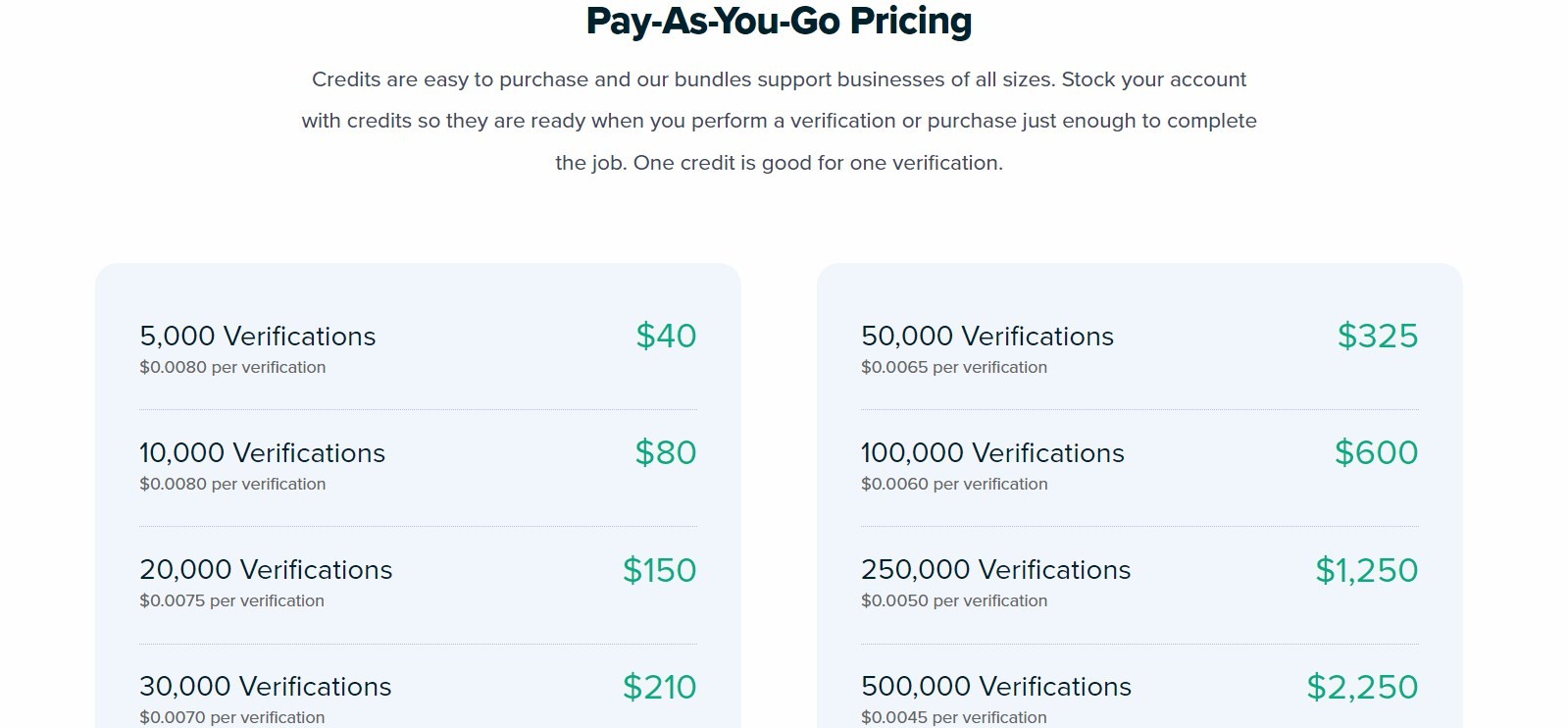 Monthly Subscription: It's a suitable option if you need email list verification on a consistent basis.

Verdict
BriteVerify is one of the oldest tools with reliable email verification features. However, it lacks some features, which can prove to be a deal-breaker for advanced users.
Verifalia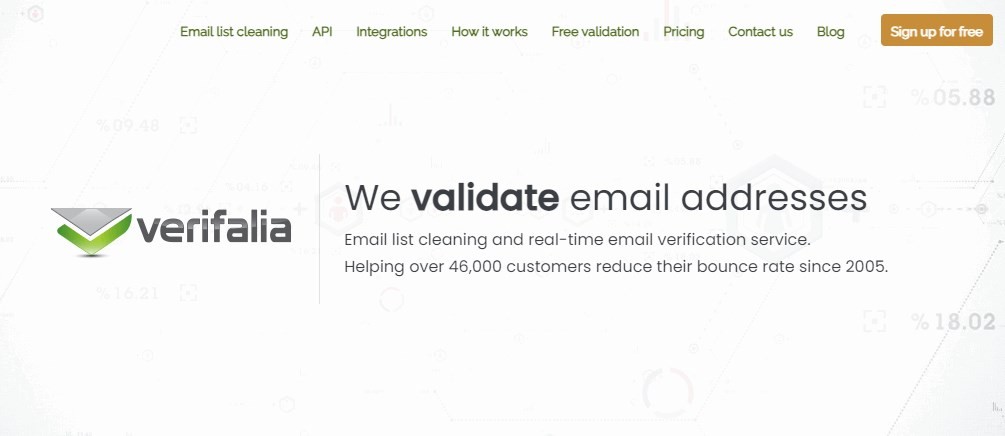 Verfialia is an Italian email verification service that has helped more than 35000 clients keep their email lists clean. If you want accurate and reliable information about your email list, this could be a great option. Let's quickly look at its prominent features and benefits and see if it's worth trying out.
Key Advantages of Verifalia
Email Verification Features
Bulk Email Verification: Verifalia can verify files up to 100 MB in size, which turns out to be 40 million records. Syntax and Domain Checking: It'll check if the emails are connected to a legitimate domain and are formatted correctly. Disposable Address Detection: Email addresses from disposable account providers like Mailinator get flagged. Real-Time API: Integrate Verifalia's API with applications to verify addresses in real time.
Accuracy
Verifalia claims to accurately verify 99% of the emails on a list. However, the third-party and customer reviews tell a slightly different story. Expect the accuracy of the tool to be around 86%. Interestingly, the tool's accuracy depends on the plan you're on. This could be a turn-off as you'll have to invest more to get better accuracy. On the other hand, other services offer uniform accuracy across all plans.
Speed
Your Verifalia plan determines how fast you can verify emails with the software. This means the free plan would be the slowest. Roughly, you can expect to verify 10k email addresses in about 50 minutes.
Areas of Improvement in Verifalia
Ease of Use
Verifalia may not be the easiest-to-use email verification tool out there.
Customer Support
As a customer, you may face delayed responses and a lack of 24/7 customer service.
Pricing

The pricing model of Verifalia is a little more complicated than what you usually see. First, it's not based on credits. There's a monthly, quarterly, and yearly subscription. Although you can purchase additional credit packs whenever needed.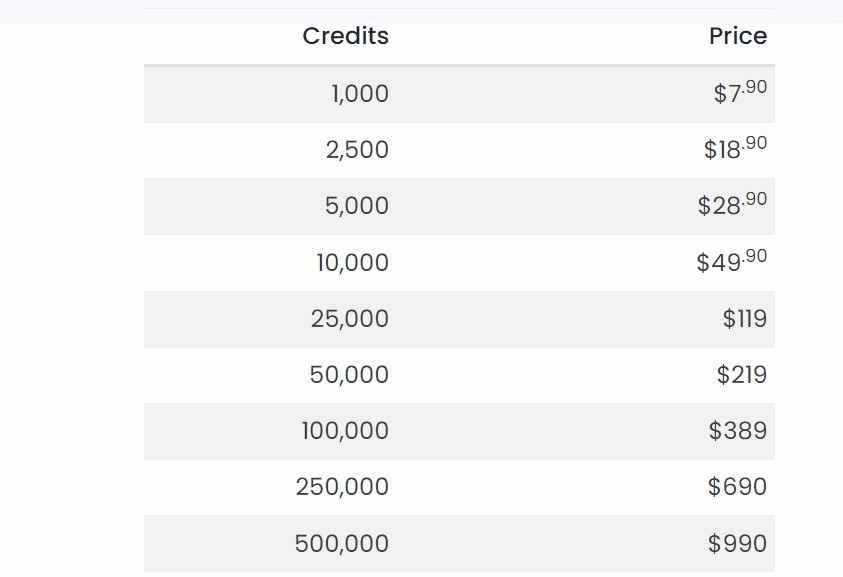 Second, as mentioned before, the speed of verification depends on how expensive your subscription plan is. Thirdly, high-quality validation requires 2 credits per email check. In other words, you can pay more to get higher-quality email verifications.
Verdict
Overall, Verifalia offers high-quality verification checks, although at higher prices. The service has flexible pricing plans, making it suitable for small and large businesses alike.
Bounceless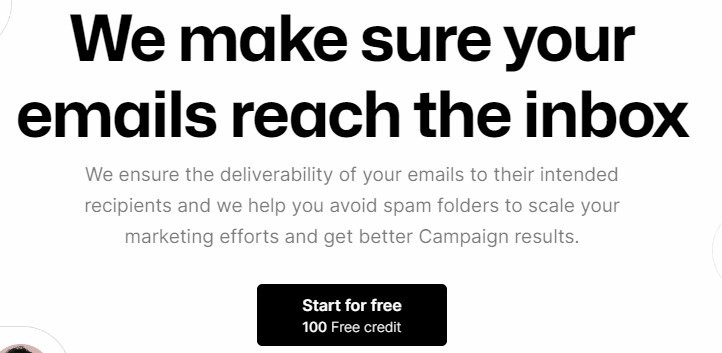 Bounceless is another email verification service you can trust. The service is suitable for freelancers, startups, and SMBs.
Key Advantages of Bounceless
Bulk Finder and Email Finder
Bounceless's email finder lets you find email addresses based on a lead's name and company domain. With the bulk finder, you can explore up to 20k domains simultaneously.
In-Depth Reports
You also get detailed reports on the IP and domain status of email addresses on your email list.
List Format Support
Unlike many of its competitors, Bounceless supports a variety of file formats. You can upload CSV, XLSM, XLS, and XLSX file formats to verify your email lists.
Blocklist Monitoring
Blocklist monitoring lets you know every time you're blocklisted as a sender so that you can get the issue resolved. The tool helps with email deliverability.
Inbox Placement Test
This test evaluates your email content, spam triggers, engagement history, and more to identify what affects the placement of emails in a receiver's inbox.
Areas of Improvement in Bouneless
Accuracy and Speed
Two of the most important features of any email verification service are its accuracy and speed of verification. Unfortunately, Bounceless may lack a bit in both departments, especially when compared to industry leaders.
Customer Support
The customer support of Bounceless may not be readily available all the time.
Pricing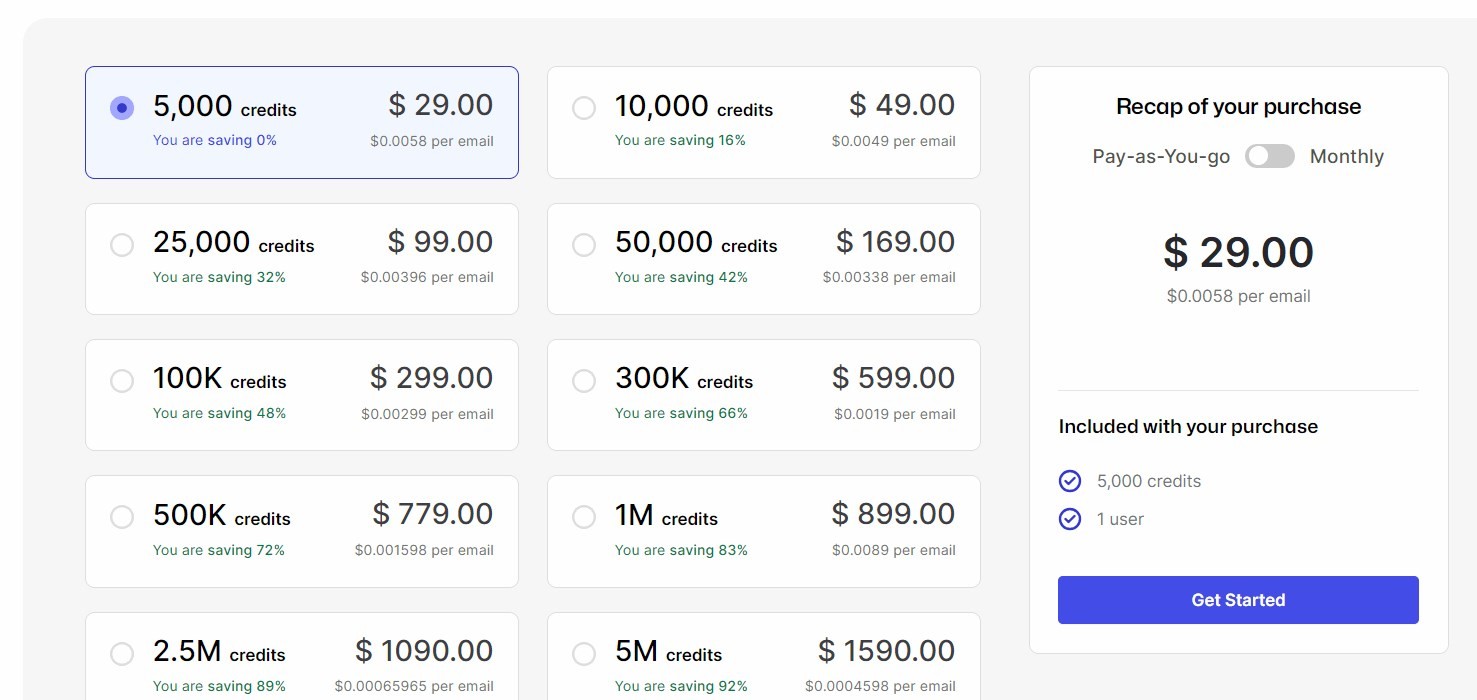 Bounceless has two types of pricing plans:
The credit-based pricing starts from $29 per 5000 emails, which can be a bit high for startups and solopreneurs. The monthly plan is suitable for businesses with more regular email verification, especially because you can save $14 on it.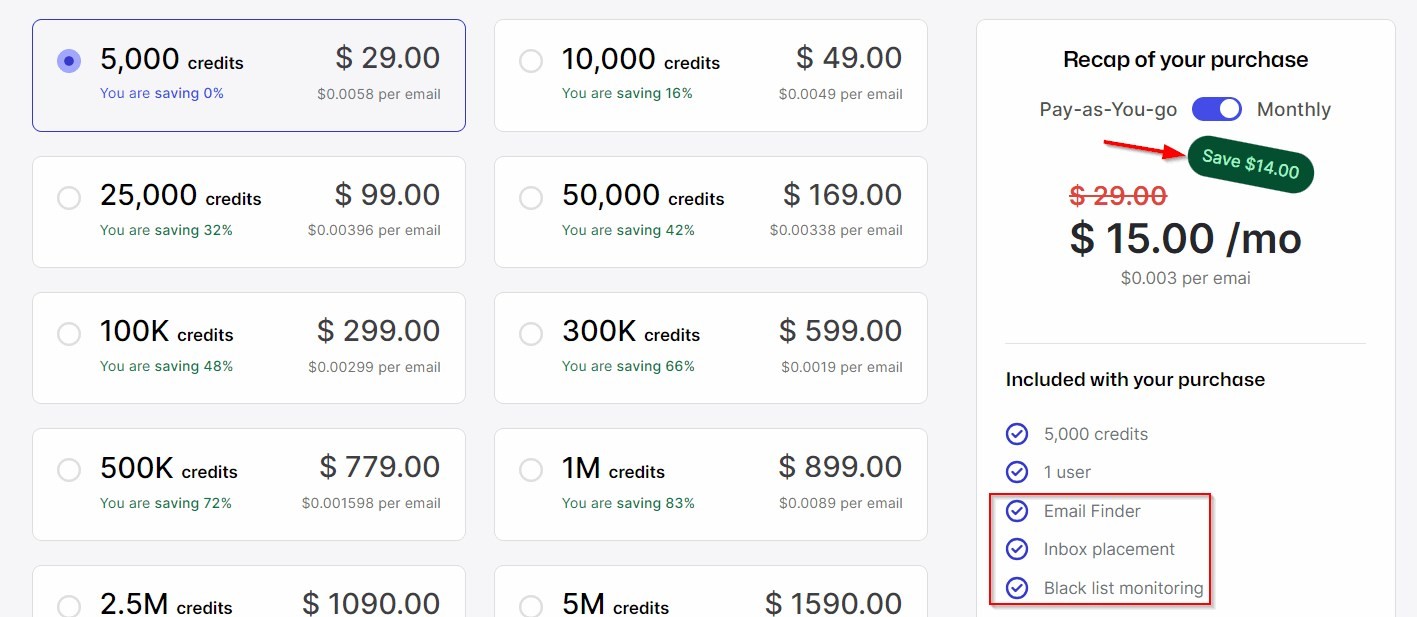 There aren't a lot of pricing packages to choose from nor can you create customized packages based on your needs.
Verdict
Bounceless offers effective and reliable email verification services, but it does lack in some aspects like customer support and flexibility in pricing.
MillionVerifier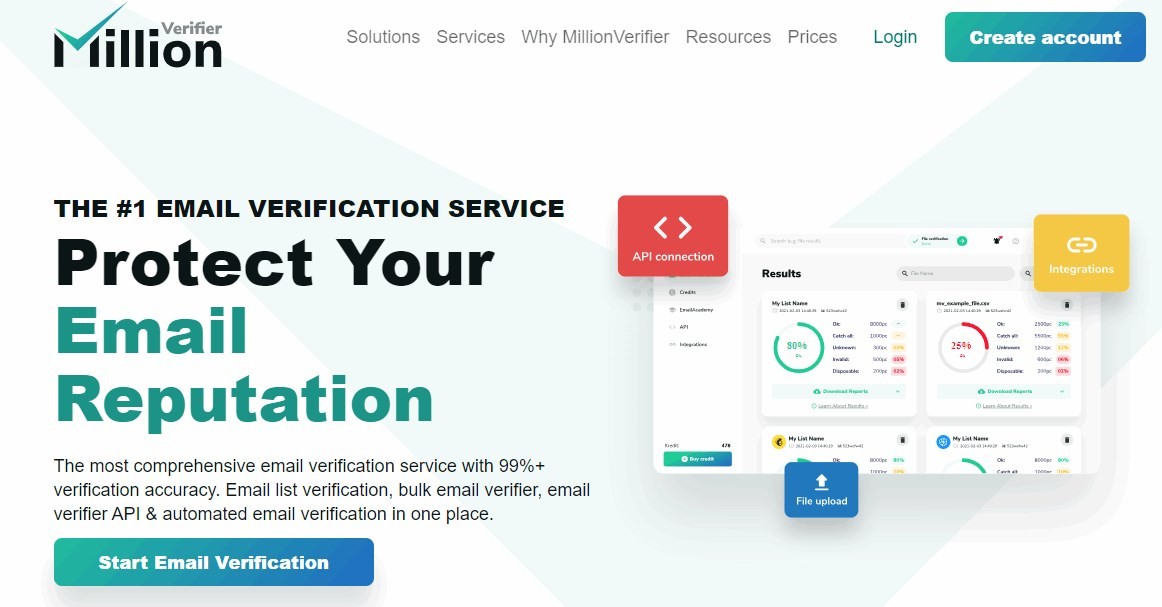 Based in Hungary, MillionVerifier is a reputable email verification service designed for small and medium-sized businesses. From performance to security, the service offers everything you need as a business owner.
Key Advantages of MillionVerifier
Speed
Efficiency is where MillionVerifier stands out. The service can verify 1 Million emails in 6 hours, making it a perfect choice for large businesses.
Security
The security of your data should be at the top of the priority list of your email verification service. MillionVerifier is rated high in this department, so your data will be in safe hands.
Ease of Use
The user interface of MillionVerifier is simple and intuitive. However, it may not be as advanced and sophisticated as other services.
File Support
The platform lets you verify email addresses saved in the following file formats:
Areas of Improvement in MillionVerifier
Catch-All Detection
Catch-all domains accept all types of emails, be they fake or real, damaging your email marketing metrics. MillionVerifier's catch-all detection may not be up to the mark.
Blocklist Monitoring
BLocklist monitoring is another important feature that's lacking in this email verification service.
Pricing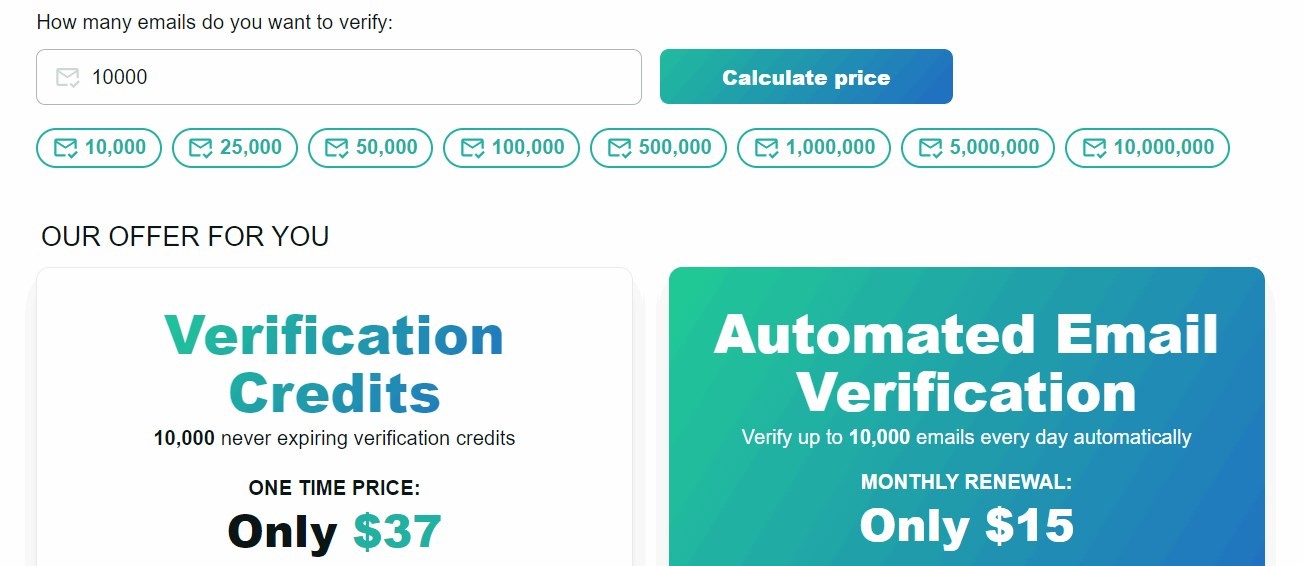 MillionVerifier has a simple credit-based pricing model and a monthly subscription. 10k email credits cost $37 (One-time). Whereas, the cost of 2k credits is just $4.9 (One-time). Impressively, the credits never expire, meaning that you can use them whenever you want. The monthly subscription costs less, with just $15 per month for 10k emails per day.
Verdict
MillionVerifier is a cost-effective and versatile service. However, it lacks features like blocklist monitoring and catch-all detection.
EmailListVerify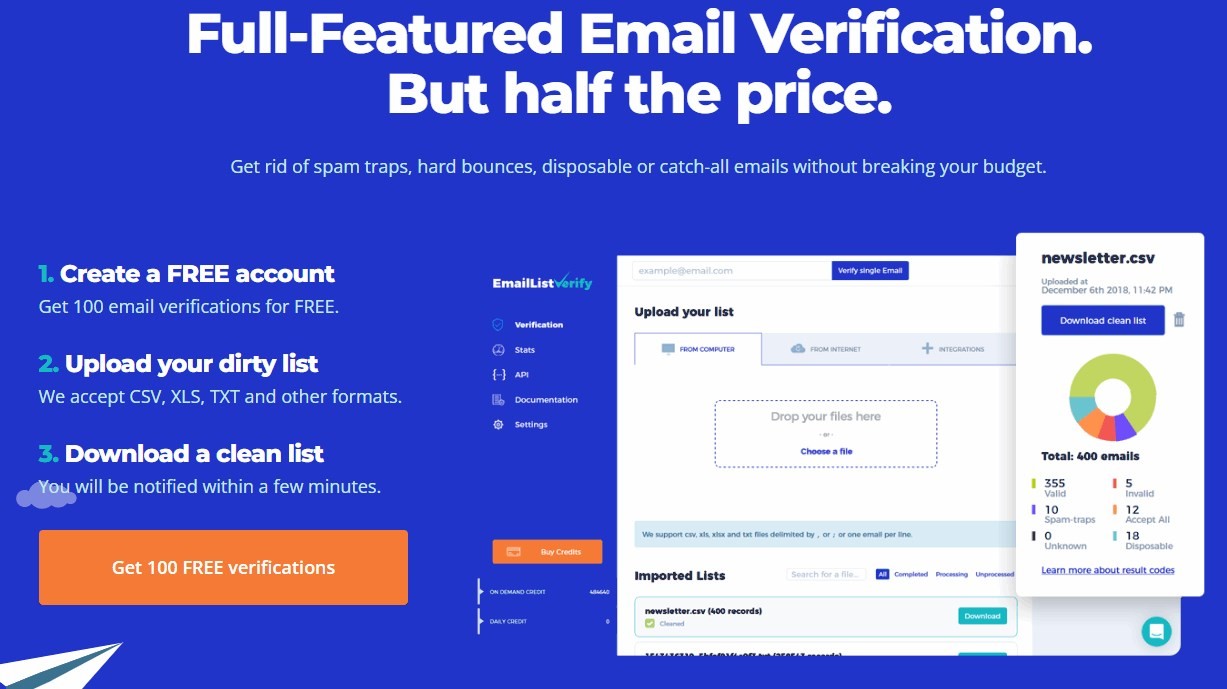 EmailListVerify is one of the most affordable options on our list. Like most tools, it targets small to medium-sized businesses.
Key Advantages of EmailListVerify
The tool offers versatile features to keep your list clean and high-quality.
Domain and SMPT Validation
The tool verifies the validity of email addresses and SMTP servers. This keeps your emails from bouncing due to invalid addresses on your list.
Spam Trap Checker
This feature helps you keep your email list free of spam, improving the overall performance of your campaigns.
Disposable Email Cleaner
If you don't already know, disposable emails are used temporarily for one-time purposes. Why are they bad? They bring your engagement rates down. EmailListVerify has this disposable email cleaner to eliminate these temporary emails from your list.
Catch-All Domain Checker
Catch-all domains can significantly impact your bounce rate. EmailListVerify detects these domains on your list, helping you reach relevant people only.
Accuracy and Speed
According to customer reviews, the accuracy of EmaillistVerify is not 100%. As for speed, the company claims to verify 100k emails per hour per customer. However, the actual speed of verification may vary depending on the size and quality of your email list.
Areas of Improvement in EmailListVerify
Limited Features
EmailListVerify is one of the most affordable options in the market. The obvious trade-off is limited features.
Spam Trap Detection
The spam trap detection may not be 100% accurate as well. The tool may flag real emails as spam traps.
Pricing
EmailListVerify has both pricing models:
Monthly subscription

Pay-As-You-Go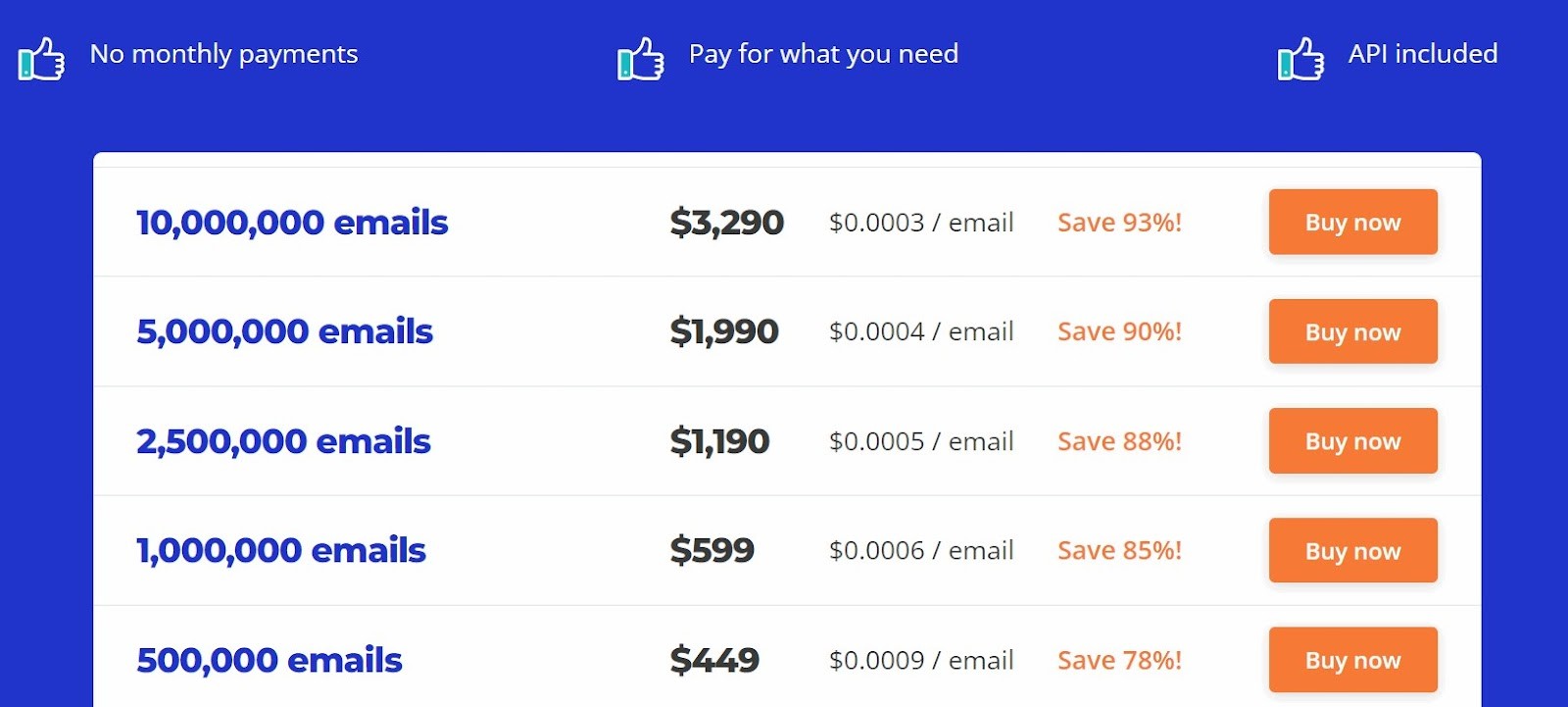 While the latter lets you pay for what you need, it can get pricey if you have a large list. The service offers a 30-day money-back guarantee, allowing you to test the tool without risking your investment.
Verdict
EmailListVerify is an affordable yet reliable email verification tool designed for small and medium-sized businesses. However, the lower price also means fewer advanced features.
Xverify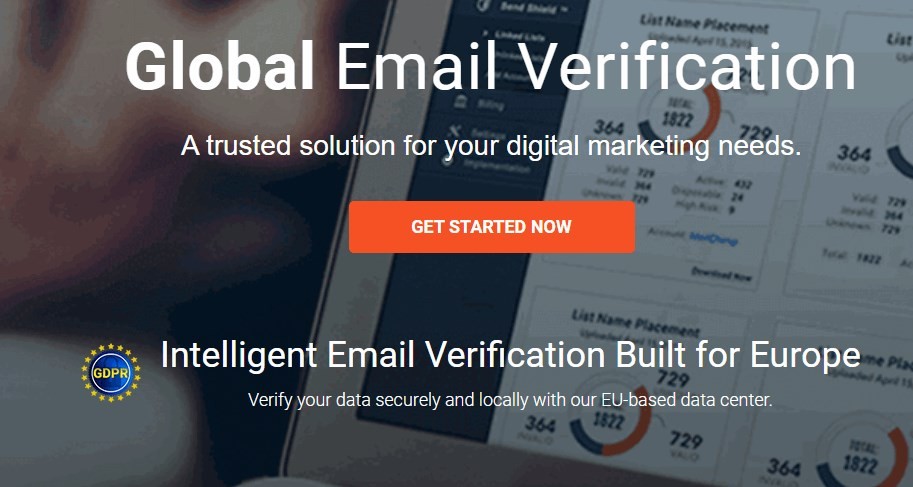 Founded in 2004, Xverify is an established player in the email verification market. The tool helps email list owners minimize spam emails and eliminate hard bounces.
Key Advantages of Xverify
Accurate Email Verification Globally
Xverify offers accurate email verification services all around the globe. It also has a data center in Europe that addresses the needs of European marketers.
Fraud Protection
The fraud protection feature helps you identify email addresses associated with fraudulent entities and identifies temporary accounts.
Deliverability
Xverify can also improve your sender scores, helping your reputation, which can lead to better deliverability.
Hard Bounce Elimination
Hard bounces are deliverability killers. Xverify identifies email addresses that are causing hard bounces and purges them from your list.
Multifaceted Validation
In addition to email list verification, Xverify also checks and verifies phone numbers and postal addresses.
Areas of Improvement in Xverify
Limited Integration
Compared to other email verification services, Xverify offers limited integrations.
Slow
Verifying 300k email addresses may take about 3 hours, which can be a bit long.
Pricing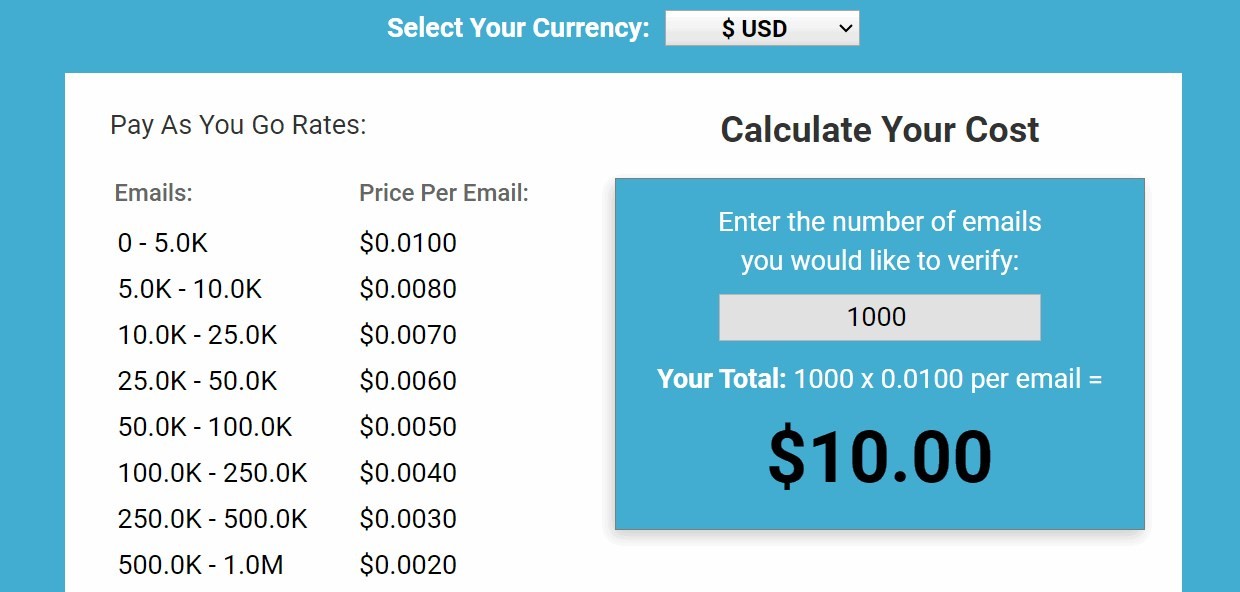 Xverify has a flexible, pay-as-you-go pricing model. The price vaires depending on the number of emails you want to verify. It tends to be higher as the number of emails decreases. For instance, 1000 emails cost $10. This can be a bit expensive compared to other services in the market. Overall, there are no commitments and setup fees.
Verdict
Xverify is one of the oldest service providers in the email verification game. It has some unique features and a simple pricing model. However, a performance boost and some essential integrations could make it even better.
What to Look for in an Email Verification Tool?
When you're deciding on an email verification tool, there are a few important features to look out for.
Bulk Email Verification
First of all, make sure the service offers bulk verification. This simply means that you upload a CSV file with a list of emails and the tool analyzes all the addresses for validity. There are tons of free email verification tools, however, they only allow single email verification at a time.
Real-Time Email Validation
Real-time email validation automatically adds a validation filter at the point of signup. This means the software marks the input email address as invalid whenever someone makes a spelling mistake or tries to enter a disposable email address. Real-time validation keeps your list clean and reduces the need for frequent list verification. So, look for an email verification service that offers real-time email verification as well.
Speed of Verification
You don't want to spend hours verifying an email list, especially when there are efficient tools in the market. Look for a verification service that takes a few minutes to verify hundreds of email addresses on a list.
Catch and Fix Typos
We all make spelling mistakes. But, it's surprisingly easy to misspell an email address, even if it's your own. A good email verification tool will catch and fix any typos, keeping your list correct and valid.
Catch-All Detection
Catch-all email addresses receive all emails sent to them, even if the mailbox doesn't exist. Most email marketers don't want these types of emails on their lists because they can skew their metrics. Plus, they reduce your engagement rates and can end up damaging your sender reputation.
Email Deliverability Expertise
You want to work with a service provider that deeply understands email deliverability. They should have the expertise and experience to understand the factors that affect email deliverability.
Ease of Use
This might not be the most important factor to consider, but you may not want to work on a difficult-to-navigate dashboard. Consider how easy it is to effectively use the email verification service before signing up.
A Flexible Pricing Model
Tools like DeBounce have a flexible credit-based pricing option. This means you don't have to pay for a subscription when you're not using the service.
Frequently Asked Questions