Most consumers won't read your email.
A study by ZipWhip reports that 56% of people receive from 25 to 100 emails a day. In addition, consumers' inboxes are swamped with work-related and promotional messages, so there's a high chance your email will get lost or mistakenly deleted.
But don't write emails off your marketing strategy just yet. All you have to do is to catch the consumer's eye with the spot-on value proposition. And here's where customer testimonials can come in handy.
The problem is, how do you collect and take advantage of client testimonials in your email marketing strategy?
We have all the answers in our brief guide. Let's dive in.
What is a Customer Testimonial?
Before we explore the how-tos, let's cover a definition of a testimonial and analyze its benefits for email marketing.
In marketing and advertising, a testimonial is a spoken or written statement describing the advantages of a product. Testimonials usually come from a customer who is satisfied with a product and gladly endorses it.
There are five main types of testimonials:
quotes
social testimonials (collected from your social media pages)
customer video testimonials (featuring a customer in a video)
long-form testimonials (a client success story or a case study)
group testimonials (featuring several customers in one blog post or video)
In emails, the best two options are quotes and social testimonials.
Testimonial vs. review – what's the difference?
At first glance, it seems that there is no difference between a customer testimonial and a customer review. And it's true; both concepts are essentially about the same – customer experience.
The difference becomes apparent if you consider the way of collecting customer feedback.
Testimonials usually come from customers who have a good relationship with a brand. Then, out of all the testimonials, the brand will only pick those responses that can impact the potential customer's purchase decision. As a result, testimonials are often overwhelmingly positive.
On the other hand, reviews can be both positive and negative. Businesses usually collect reviews from third-party sources – social media, Google, and websites like Yelp, Tripadvisor, etc. Endorsements and reviews can also come in handy in marketing, but brands have no control over them.
Why are testimonials important for your business?
Typically, you will have to collect customer testimonials by yourself. But does your business really need them? After all, it's a long process.
To demonstrate to you the importance of testimonials for your business and to back up our statements above, let's take a look at a few convincing stats:
These numbers are pretty compelling but are only achievable if you collect and use client feedback properly.
How to Get Testimonials from Clients
Before you feature customer testimonials in your emails, you need to gather them. Here are the five most effective ways to get testimonials from customers.
Ask to rate a recently purchased product
If a customer has bought something from you in the past weeks or months, you can email them asking for feedback. This timeframe is usually enough to give your product a try, allowing them to share if they are happy with it.
The easiest way is to ask to rate the product. You can ask a customer to review a specific item, like in the example below: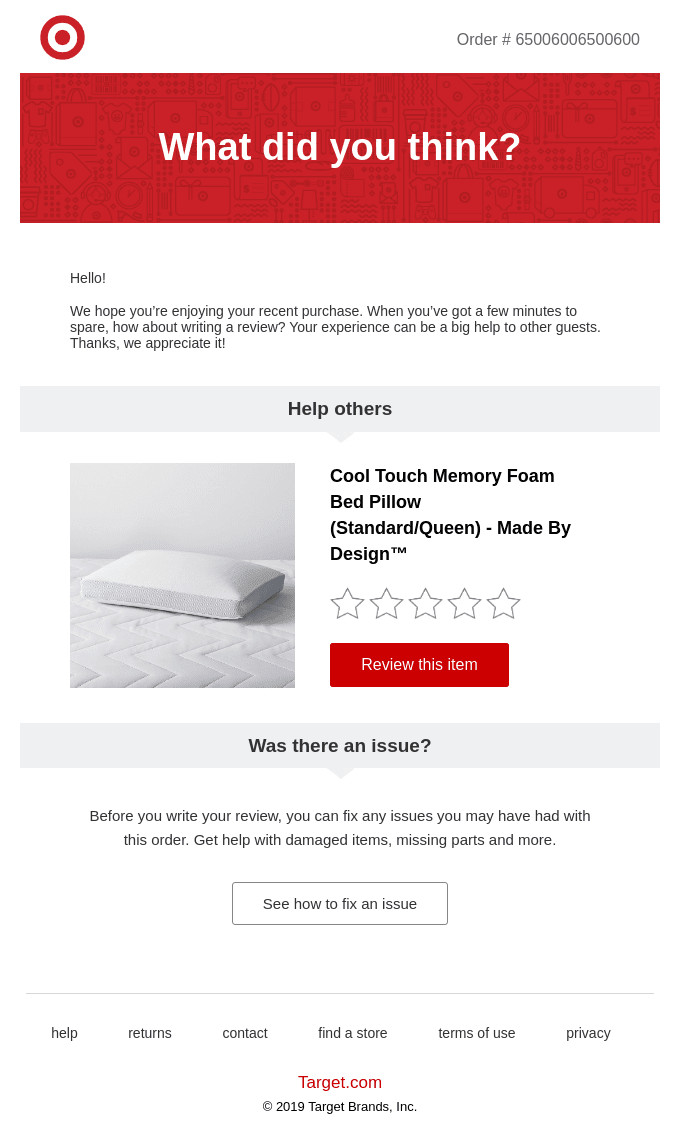 Credit: Really Good Emails
It's also an option to ask them to review all the products from their recent order: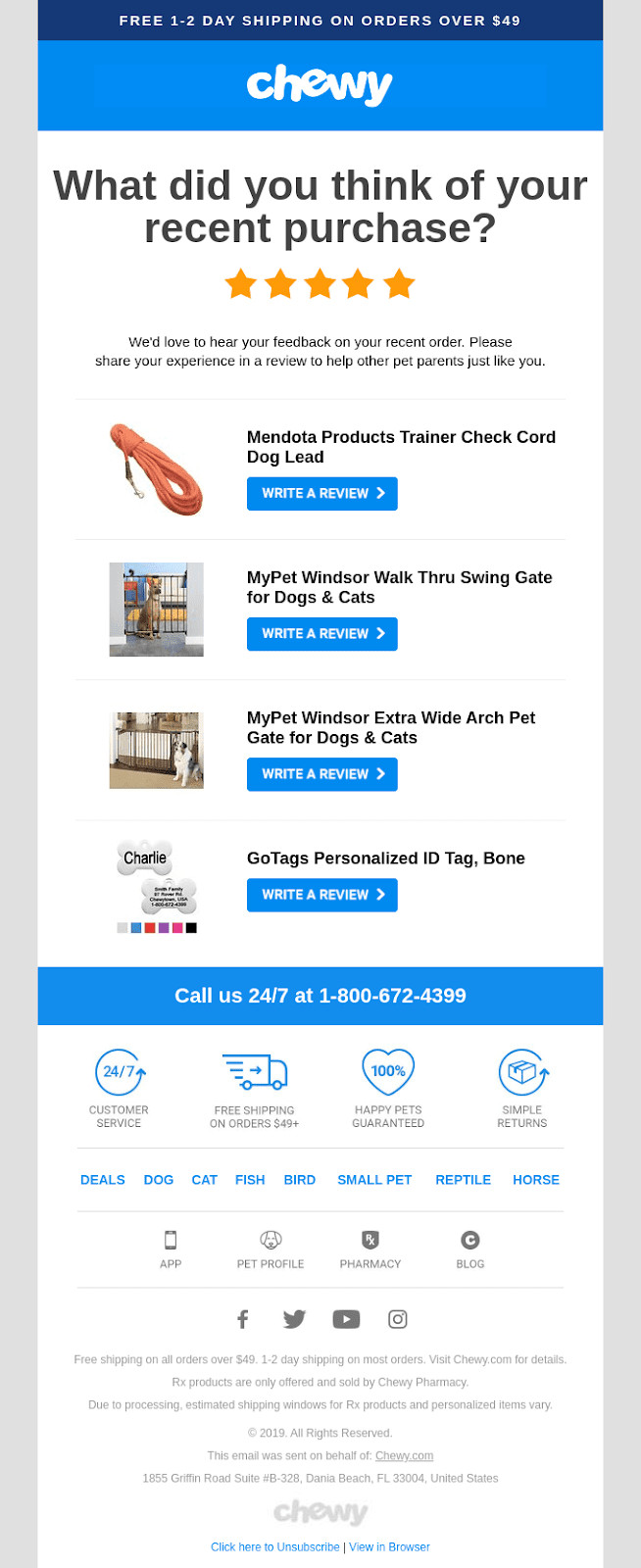 Credit: Really Good Emails
You can use these testimonials to increase sales of a particular product or to promote the items your customers buy the most. These testimonials will also come in handy in ads.
One more way of getting customer testimonials is through social media. If you have active subscribers on Facebook, you can encourage them to leave their feedback in a special section on your Facebook page: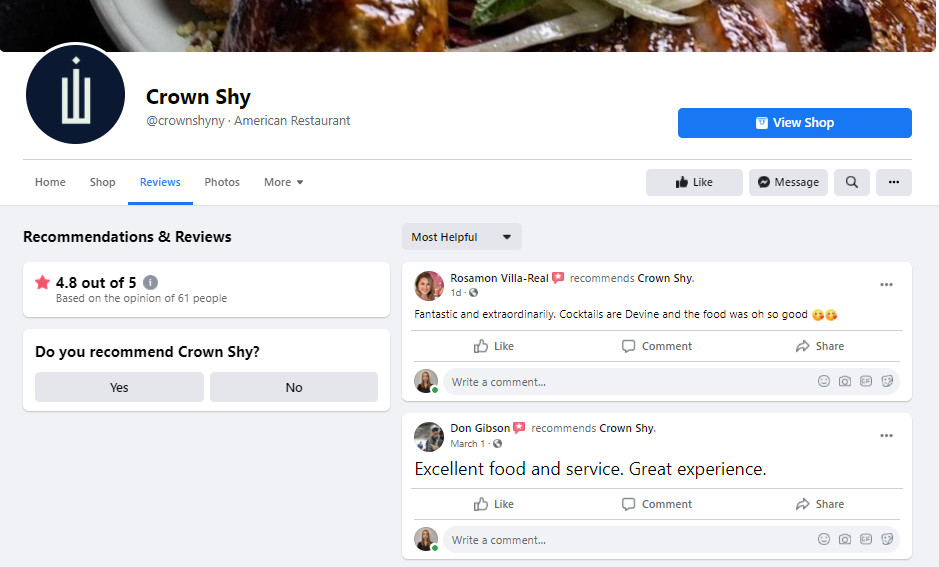 Credit: Crown Shy
The easiest way to track and collect customer testimonials from social media is through marketing automation. This way, all the testimonials will be categorized by date and relevance, making it effortless for you to pick the best ones for your email marketing campaign.
Facebook is not the only platform where you can find customer reviews. You can also search Twitter using your branded hashtag: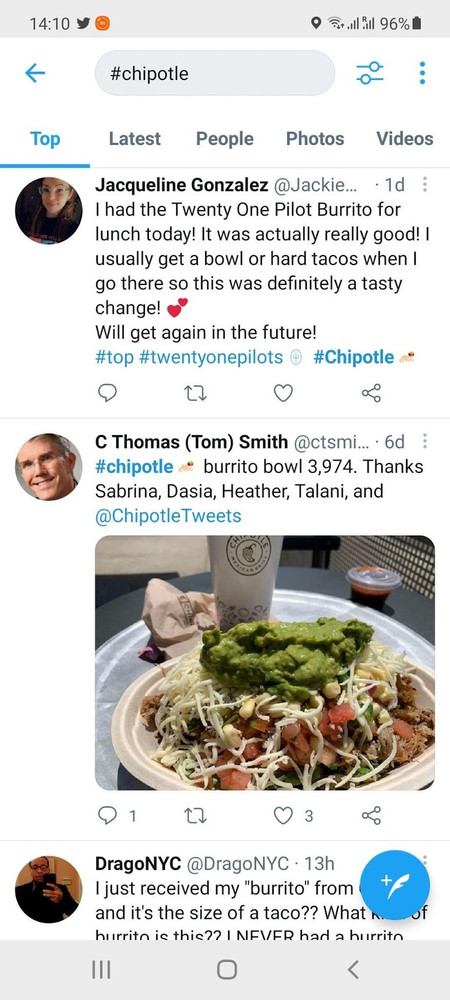 But no matter the platform, make sure you give credit or ask the author of the review for permission to use it as a testimonial in your emails.
Check Google Reviews
Google Reviews are flooded with customer feedback. If you frequently read what people say about your business and see a testimonial that could be useful, you can feature it in your email marketing campaign.
A great thing about Google Reviews (and Facebook has it, too) is that customers add pictures of products they liked. Here, the customer shows their favorite dishes from the restaurant: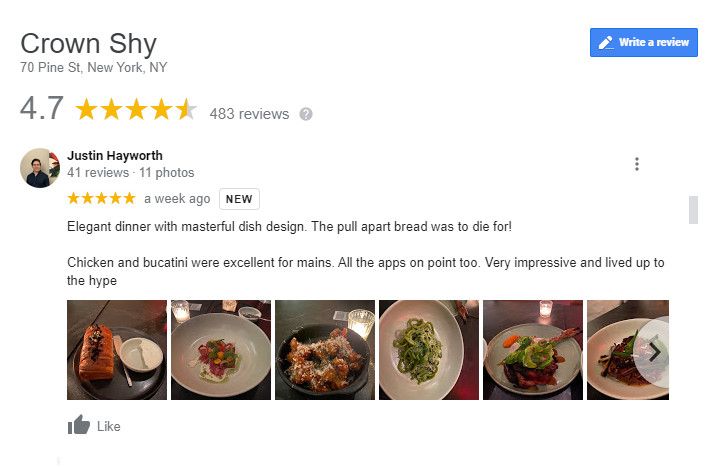 You can browse these reviews to find the products customers endorse the most and use them in your emails. It also makes sense to invest in marketing automation software to continuously collect and track customer reviews.
However, keep in mind that customer feedback from Google and other review sites like Yelp and Tripadvisor have Terms and Conditions, stating that those reviews belong to their owners and are licensed by these websites.
What does it mean?
You can't just take any positive review and use it as a testimonial. Instead, you can contact the review owner and ask for their permission to feature it as a testimonial for marketing purposes.
If the author agrees, you can either add a link to the website where the review is coming from or disclose the author's affiliation with you. It would be a fair way to use the review as a testimonial without violating intellectual property rights.
Set up a customer testimonials page
Brands build customer testimonials pages on their websites to add more credibility to their services. Zendesk, for example, lists several case studies featuring customer testimonials, each talking about a different solution that the brand offers: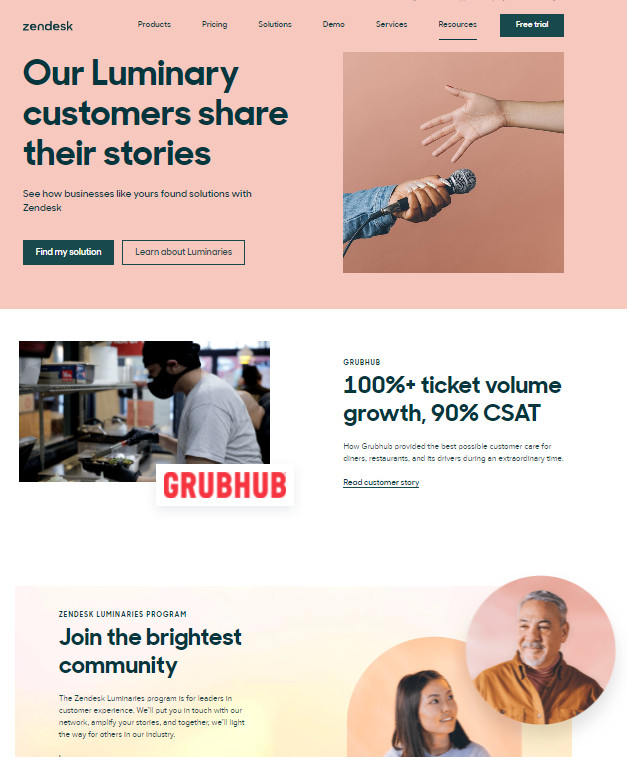 Credit: Zendesk
You can upgrade this page by adding a customer testimonials form to collect your clients' contact information. If a customer shared their phone, you could use a cold calling script to ask if they are satisfied with your product. The same can be done via email, but make sure you explain why you're reaching out for feedback.
Another creative way to get an endorsement is to ask customers to leave a review in the contact form. However, it might become challenging to organize customer testimonials if you get a lot of them.
If you're using WordPress for your website, you can set up a WordPress customer testimonial plugin that will automatically track and collect all the testimonials received through the website. Here are a few plugin suggestions:
WP Forms
Site Reviews
SeedProd
Strong Testimonials
TrustPulse
Some of these plugins also can retrieve testimonials from social media platforms.
Survey your email subscribers
Surveys are a good old-fashioned way of collecting client feedback. Run a quick poll among your email subscribers to see if you can harvest any immediate responses.
For instance, you can ask your customers if they would recommend your brand to their friends and why. Here's an excellent example of such an email from Holo Taco, a nail polish brand: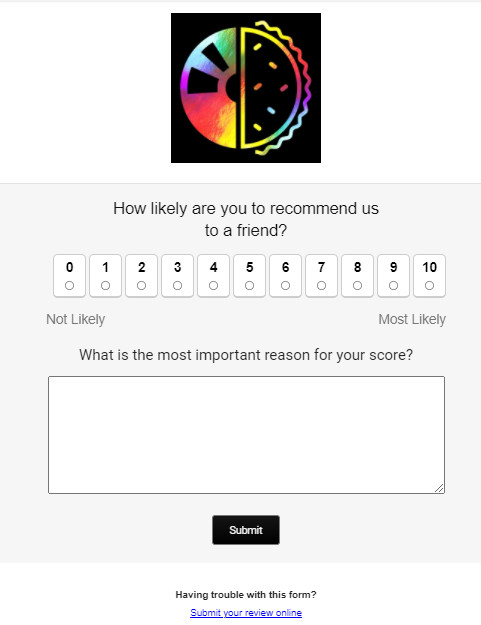 This email resembles the one we talked about in the first section of this chapter, but you can also add an essay question to get a complete customer testimonial.
You can also make such emails a part of your referral marketing campaign. Ask your customers how likely are they to recommend you to their friends or family and offer them something in return – a coupon or a discount. But if you use testimonials from such surveys, make sure to mention that they come from affiliates.
How to Use Customer Testimonials in Email Marketing
Not all testimonials are suitable for email marketing. Some will be a better fit for social media marketing, while others would serve better on a product page. So, organize customer testimonials before you use them anywhere.
What does a compelling testimonial example in email marketing look like?
A good testimonial is result-oriented. A customer's success story about your product is the best tool to persuade others that your services are effective.
Testimonials should answer specific questions. If the goal of your email is to promote a certain product, then it makes sense to use testimonials that describe that product's features and how they helped your clients.
Look for authentic testimonials only. You can ask your customers to write a testimonial, but the best ones come from customers who are genuinely satisfied with your product.
A testimonial should be short. Since you have limited space for testimonials in your emails, look for the ones that are brief and straightforward.
Got some customer testimonials with these features? Here's how you can use them in your emails. We'll also show you some emails with customer testimonial examples for inspiration.
Note: the use of testimonials will depend on the goal of your email marketing campaign. If you want clients to provide a specific type of feedback, explain to them how to write a testimonial you're looking for.
Show that the сustomer's testimonial made a difference
Usually, the goal of a testimonial in an email is to promote a product or boost brand awareness. But we'll start with an unusual goal – using client testimonials to strengthen the relationship with existing customers.
Why and when is this goal applicable?
Suppose you've noticed that people started unsubscribing from you or you haven't seen any activity from certain customers in a while. If they left feedback after purchasing a product, you could use it to show them that their testimonial made a difference and other people felt convinced to begin using that product, too.
G2 runs a similar email marketing campaign on a regular basis to encourage people to keep reviewing software and tech services: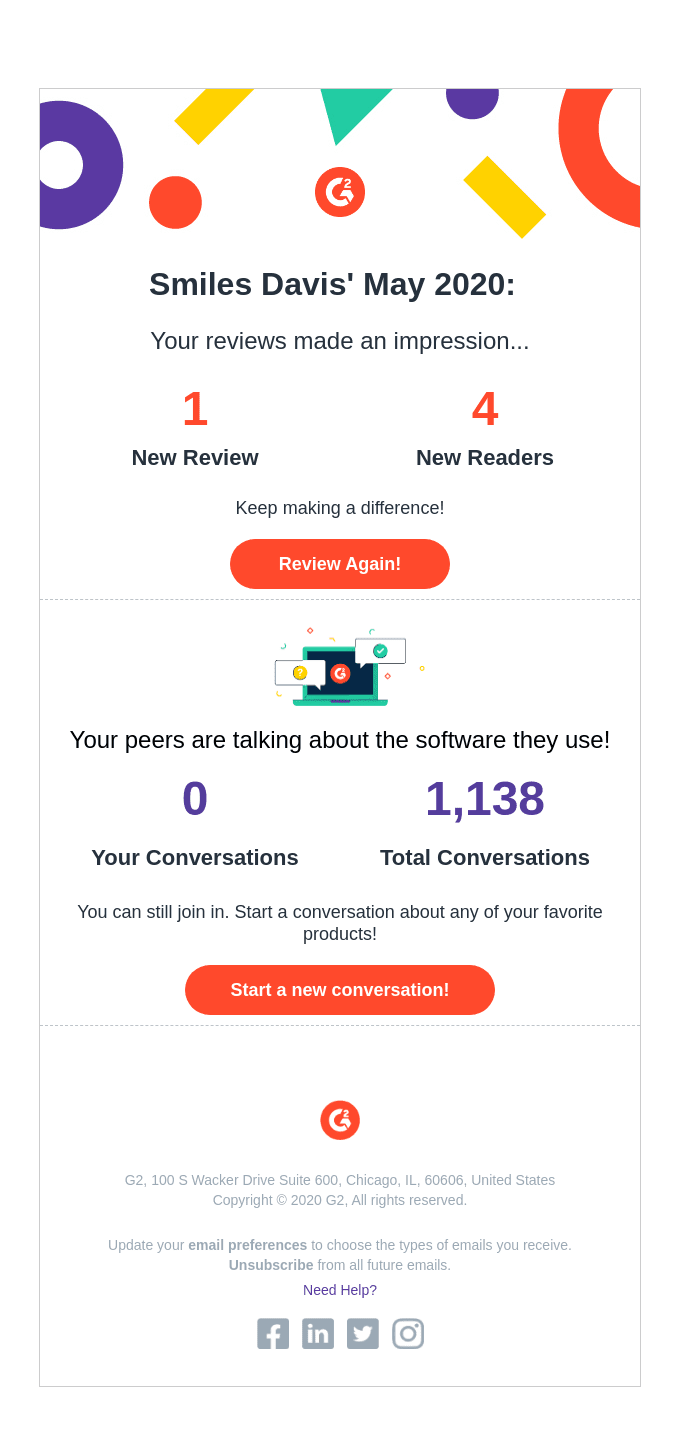 Credit: Really Good Emails
Suppose you're interested in running such an email marketing campaign featuring customer testimonials. In that case, you need to do subscriber segmentation to target people who've become inactive. Here, email tracking software can come in handy – it can help you analyze subscriber engagement and single out those customers who haven't opened your emails for some time.
Boost interest in using a discount
Brands send out emails with discounts quite frequently. But they aren't always effective – not every customer gets FOMO this easily.
So, if your email includes a discount, you need to give your clients and prospects a friendly nudge to use it. Customer testimonials can do this job quite well since their main goal is to ignite curiosity.
Skillshare leverages client testimonials to get customers to subscribe, using a 40% discount on annual membership:

Credit: Really Good Emails
Customer testimonials in tandem with discounts are another excellent way to facilitate email customer relationships. The example above describes the perks of subscribing to Skillshare and uses customer testimonials for extra credibility. There is no FOMO in this email. Instead, there's solid proof that Skillshare is worth signing up for.
Prove product Is worth purchasing
Among best practices to use customer testimonials in email marketing is to prove that your product is worth every penny. You can't describe it better than the following email from YourStack: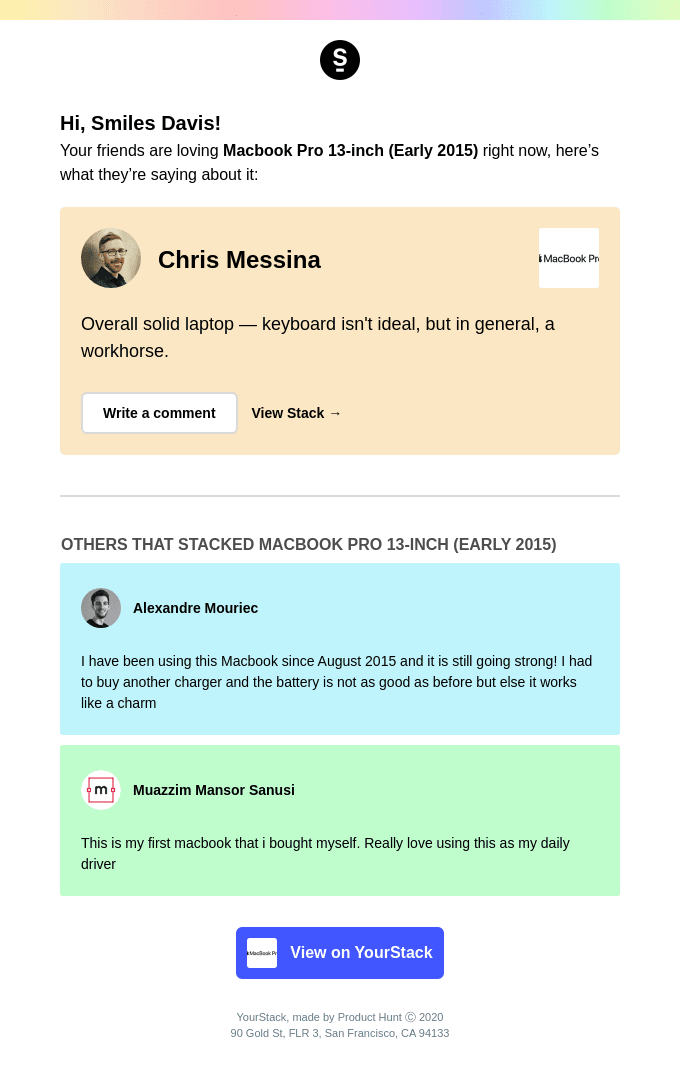 Credit: Really Good Emails
This email highlights the perks of the MacBook Pro using a few testimonials from satisfied customers. There is one neutral review for more credibility, but it doesn't take away the idea that MacBook Pro is a good choice for a laptop.
Such emails can be personalized or used in an email marketing campaign. If you have a few subscribers who visited the same product page but didn't buy it, you can target them through email marketing services and send messages with customer testimonials to reignite their interest.
You can also use this email format with customer testimonials to show the perks of buying from your brand in general.
Make a stronger case for your new product
Launching a new product is always exciting, and customer testimonials can help you make it intriguing for your prospects as well.
You can even use a customer testimonial as an opening line, like in this example from Everlane:

Credit: Really Good Emails
The email also adds a few more testimonials at the bottom to make a good lasting impression of a new product.
If you're using testimonials from affiliated customers to promote your upcoming product, make sure your email mentions it. It's also a good idea to provide contacts of affiliated customers for extra credibility.
How many customer testimonials are enough for an email?
If we look at our previous email examples, they contain three testimonials on average. However, if your goal is to persuade a potential customer, you don't have to stuff your emails with client feedback.
If one customer testimonial makes a good case for your product and is relatable, include that one review. But it would be great if it told a story.
Storytelling works well for brand recognition and awareness. It makes you 22 times more memorable. Why? Because telling a story makes you more human.
Take a look at Calm's email, for example. It has a story of a person named John, who has a hard time unwinding after a long day at work and spending time with his son. There is a high chance a better half of Calm's subscribers can relate to John: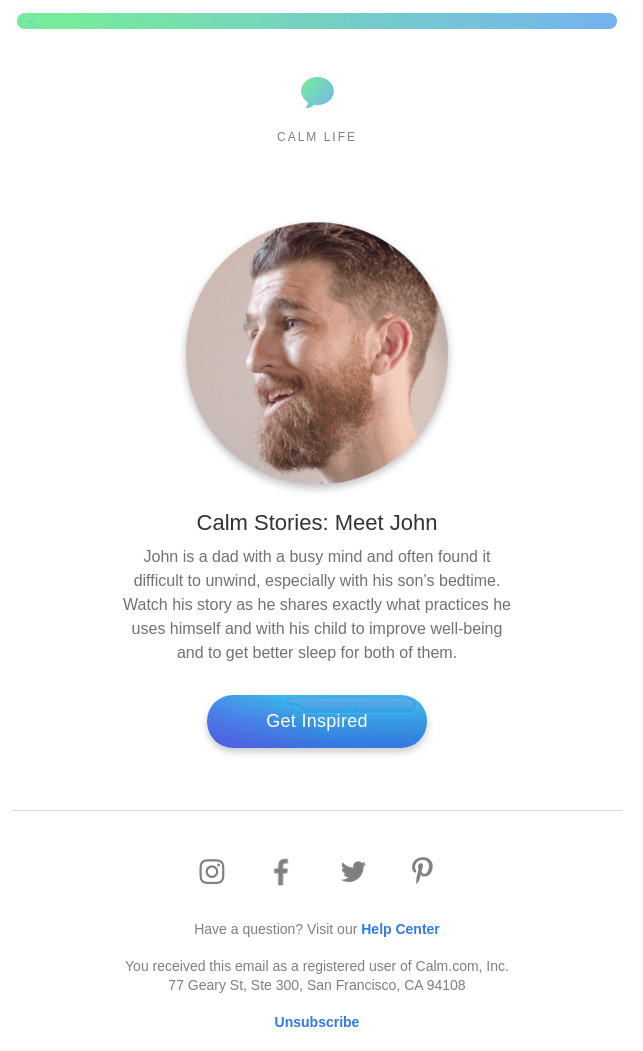 Credit: Really Good Emails
This story ties into a pain point, and that's exactly what you're looking for when using testimonials in emails. If you have at least one such client testimonial, it's a powerful persuasion tool in itself.
Customer Testimonials in Email Marketing TL;DR
Customer testimonials have more uses in email marketing than you might have thought. But, of course, everything depends on your goals. Besides, not every customer testimonial is a good fit for marketing emails.
Let's quickly recap what we've learned here today.
Why do testimonials matter for your business?
Client testimonials make you more trustworthy.
Testimonials impact customer purchase decisions.
Testimonials make your business ranking credible.
Using testimonials helps increase sales.
Testimonials strengthen your relationships with customers.
How to get testimonials?
Ask to rate a recently purchased product.
Browse reviews on social media.
Use Google reviews.
Collect testimonials through your website.
Survey your customers.
How to use testimonials in email?
Show that a customer testimonial made a difference.
Boost interest in using a discount.
Prove that a product is worth purchasing.
Make a stronger case for your new product.
Use a customer testimonial to tell a story.