Nowadays, businesses splash out on elaborate marketing strategies to reach out to prospective consumers and grow their consumer base.
But at the end of the day, nothing beats a good old email marketing campaign.
Although email is among the oldest channels in the digital marketing space, it's far from being dead. Even the expansion of social media hasn't dethroned email as one of the most widespread and reliable channels of communication for marketing.
Here are some email marketing statistics that attest to its effectiveness:
More people (58% to be exact) check their emails as opposed to their social media first thing in the morning.
Email has swiftly become a primary channel for at-home shoppers as email marketing conversion rates went up by 17% in 2020.
Simultaneously, click rates for automated emails increased to 19.9% in 2020.
These numbers relay good news about the state of email marketing in 2022. But you probably won't be able to tell if you don't know what some of these terms and phrases mean in the first place.
In email marketing, phrases like "open rate" and "click rate" are metrics with highly specific meanings. Understanding these terms metrics means understanding the key to a successful email marketing campaign.
What Are Email Analytics?
Email analytics are the guiding force of successful email marketing. They provide a way for you to judge how well your consumer base interacts with your emails. Through email analytics, you receive integral information such as email deliverability, open rate, conversions, and so on.
These analytics are so significant that email service providers themselves offer ways to track this data. Not only that but there are now countless third-party analytics tools that offer better ways to track the monetary value from their email campaigns.
At the end of the day, email analytics is a good method to obtain useful feedback, which you can then use to optimize and streamline your email marketing campaign.
10 Important Email Analytic Metrics You Should Know
Email analytics involve certain metrics or parameters that reveal different information. Each metric measures the rate of a specific type of engagement with the email, such as opening it and clicking on an embedded link.
Some metrics are also concerned with sender behavior, such as email production time and error rate. Others can relay information about the delivery process between you hitting that send button and the email reaching your recipient's server.
Furthermore, some metrics seem to be more important than others, such as open rate, click rate, unsubscribe rate, bounce rate, and conversion rate.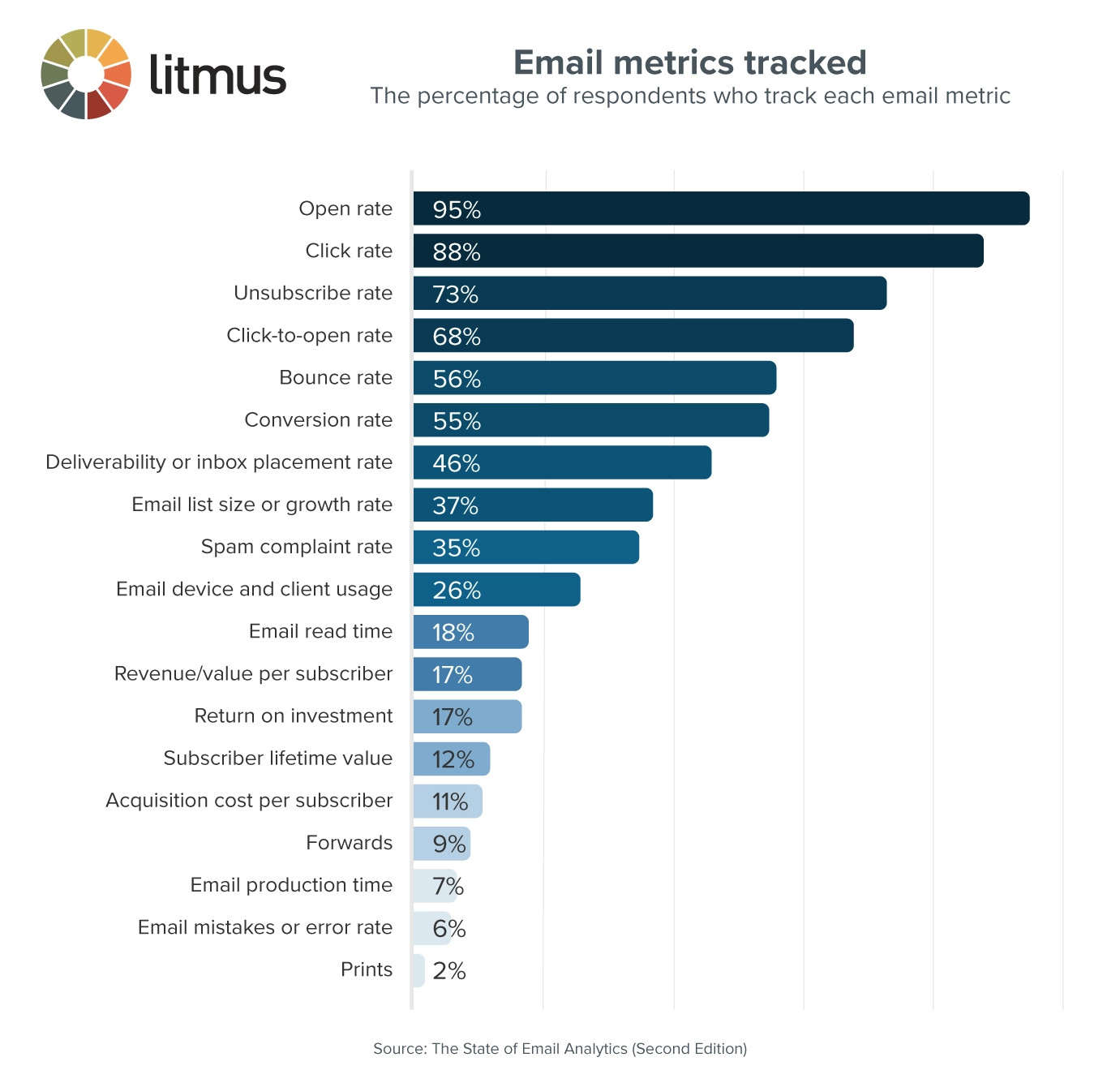 However, there are many other metrics that you can and should use to analyze how well your email marketing campaign is faring. Let's try to understand some of them in more detail.
Deliverability Rate
What is it?
The deliverability rate measures the percentage of emails that you send that end up in the recipient's inbox. This does not include the emails that end up in any other folder, such as junk, spam, or promotions. For this reason, the delivery rate is also called the inbox placement rate.
The deliverability rate is different than the delivery rate, as not all delivered emails end up in the recipient's inbox.
Many different factors go into determining the deliverability rate, which is why it has a high benchmark as well. Whether your emails lead to clicks or conversions, at least 80% of them should reach your recipient's inbox.
How to calculate deliverability rate?

Why is deliverability rate important?
A low inbox placement means that you're simply not targeting the right content to the right audience. It's not enough to avoid spam trigger words or improve your subject lines— deliverability is much more complex than that.
Furthermore, the deliverability rate is important because a lot of other metrics are dependent on it. You should ideally focus on the performance of those emails which manage to end up in your recipient's inbox to narrow down your feedback.
Open Rate
What is it?
The open rate indicates the percentage of your target audience that opens your email.
For example, if your open rate is 50%, this means that for every 10 emails that are delivered, only five are opened.
How to calculate the open rate?

Why is the open rate important?
The open rate helps you determine the effectiveness of different subject lines and track email deliverability and spam rate. Many inbox providers use open rates in their filtering decisions, using it as a proxy for inbox placement.
A good open rate is at least 10%. If your open rate is less than this, you are most likely targeting inactive accounts, or your emails are ending up in the spam folder. It could also imply that you're completely mistiming your emails.
Click-through Rate
What is it?
The click-through rate indicates the percentage of your target audience that clicked at least one link in your email. It considers all the delivered emails, regardless of whether they were opened or not.
There are two types of CTRs: individual and holistic. Individual CTR measures the percentage of people that clicked on a link. On the other hand, holistic CTR accounts for total clicked-on links, including multiple clicks by the same person.
A click-through rate of between 10% to 20% is desirable. However, highly targeted emails can easily exceed 20%.
How to calculate click-through rate?
Why is click-through important?
The click-through rate is a good way to gauge the engagement level of your email. It provides useful insight into whether your target audience is interested in your content.
Click-to-open Rate
What is it?
The click-to-open rate indicates the percentage of your followers that clicked on a link after opening an email.
This is unlike the aforementioned click-through rate, which measures the clicks on all delivered emails, whether they have been opened by the recipient or not.
For this reason, the click-to-open rate will always be higher than the click-through rate.
A good click to open-rate falls anywhere between 20% to 30%.
How to calculate click-to-open rate?

Why is the click-to-open rate important?
The click-to-open rate offers you insight into how your email design, message, and content resonated with your target audience.
Unlike the click-through rate, the click-to-open rate helps you better understand whether the people who opened your email found it compelling enough to take a desirable action.
In other words, it helps you understand whether your email met the expectations set forth by your subject line and email preview. If the content of your email was relevant, then the recipient is more likely to click through a link.
If you find your click to open rate lacking, consider hiring a graphic designer to help you make your emails more visually appealing, or use a graphic design program and do it yourself.
Unsubscribe Rate
What is it?
The unsubscribe rate indicates the percentage of people who opt-out of receiving your emails after seeing them in their inbox, regardless of whether they open them or not.
What counts as an unsubscribe depends on your email service provider or the third-party analytics tool you use. Whether a person opts out from receiving your email directly through the email service provider or your unsubscribe link— it can all count as an unsubscription.
If your unsubscribe rate is below 0.5%, you have nothing to worry about, although a rate of less than 0.2% is standard.
How to calculate unsubscribe rate?

Why is the unsubscribe rate important?
The unsubscribe rate is a useful way to maintain your email list hygiene as well as your email permission practices. When it comes to the health of your email list, an unsubscribe is much better than a spam complaint. Now, at least, you won't be wasting your efforts on non-active and uninterested audiences.
Furthermore, it helps you gauge your audience and understand which content fares well with which segment of your audience. At the same time, it signals you to forgo the content that didn't resonate well with a specific audience.
Bounce Rate
What is it?
The bounce rate measures the percentage of your emails that you sent from your end but did not get delivered into the recipient's inbox folder.
There are two types of bounces, namely hard bounces and soft bounces. Hard bounces occur because of permanent errors, such as invalid email addresses, flagged content in the email, a restrictive DMARC record for your sending domain, and so on. Soft bounces are a result of temporary problems, such as the recipient's full inbox or server outages.
How to calculate bounce rate?

Why is bounce rate important?
The bounce rate potentially reveals something very concerning about your email list: it has too many closed, non-active, and invalid email accounts. More concerningly, it could reflect a questionable acquisition source— like perhaps you bought or rented a list.
But the biggest problem with a high bounce rate is that it's an immediate red flag for your ESP. A high bounce rate results in a low sender score and poor sender reputation. A low sender score, in turn, will result in your emails automatically getting sent to the spam folders.
Conversion Rate
What is it?
The conversion rate indicates the percentage of your recipients who took a desirable action. This action could be anything, from signing up for a webinar to making an online purchase. Hence, the conversion rate depends on the goal of your email.
You may prefer to view conversion rates based on click-through rates instead of the number of delivered emails. Either way is perfectly valid, although the click-through rate allows you to create a direct attribution between conversions and people clicking on your emails.
How to calculate conversion rate?

Why is conversion rate important?
The conversion rate is among the most crucial indicators of a successful email campaign. It allows you to quantify the success of your email marketing campaign based on its goals.
Interestingly, there is no standard for conversion rates, as they differ significantly from campaign to campaign, goal to goal.
Email List Growth Rate
What is it?
The email list growth rate measures how much your email list is growing. More specifically, it measures how much of your email list is growing as opposed to churning (or reducing).
How to calculate the email list growth rate?

Why is the email list growth rate important?
Adding new and active emails to your email list should always be a constant goal. An organically growing email list means that there are more active and engaged email addresses in your list than inactive and uninterested ones.
Even if some people start unsubscribing, all is well as long as you have a positive email list growth rate.
Spam Complaint Rate
What is it?
The spam complaint rate, or simply the spam rate, measures the number of emails that get delivered but are ultimately sent to the spam folder. This explicitly includes only those emails that the recipient mark as spam.
A desirable spam rate falls below 1% across all industries.
How to calculate spam complaint rate?

Why is the spam complaint rate important?
The spam rate is the most straightforward way for the recipient to let their email service provider know that your emails are unwelcome. Over time, a high spam complaint rate can get you blacklisted from a lot of inboxes.
Hence, you want to contain your spam rate as low as possible. Ask yourself: what was it about my email that screamed "spam?"
Maybe the recipient did not sign up to receive your email willingly, or maybe they don't recognize the sender. Or, perhaps they have already unsubscribed but keep receiving your emails anyway.
Subscriber Lifetime Value
What is it?
The subscriber lifetime value measures the value that an individual subscriber brings with them throughout their lifetime on your list. The value that a subscriber brings is dependent on the revenue that they generate for you, which is another metric altogether known as revenue per subscriber.
For example, if your monthly revenue per subscriber is $20, and your subscribers generally remain on your list for 10 months, then your subscriber lifetime value is $200.
How to calculate the subscriber lifetime value

You can play around with the time frames that you use, and you can even calculate an individual subscriber's lifetime value by looking at their specific value instead of an average.
Why is subscriber lifetime value important?
You can use the subscriber lifetime value to guide many of your email marketing decisions. For example, you would only focus on acquiring more subscribers if your LTV is comfortably high, making acquisition efforts worthwhile.
You can even use the LTV per acquisition source to see which sources are fruitful in growing a healthy and profitable email list.
Email Response Time
What is it?
Email response time is the time it takes to respond to emails after they've been received.
How to calculate email response time?
Assuming you don't want to manually gather timestamps and do the math for the hundreds or thousands of emails your team sends every day, you'll need to use a tool that specializes in automatically calculating email response time.
EmailAnalytics
is the most popular tool for doing so.
Why is email response time important?
Email response time plays a huge role in improving sales and providing better customer service. 35-50% of all sales go to the vendor that responds first. And 90% of customers want an immediate response, whereas 60% of customers define "immediate" as 10 minutes or less.
How to Improve Your Email Analytics Using DeBounce.io
Collecting data involving various metrics is the easy part. The next step is much more important and complex: analyzing the data and turning it into valuable information that you can use to improve your next campaign's analytics. Some methods include:
Segment your emails— segmented emails get 14.31% more opens and 100.95% more click-throughs. Furthermore, marketers that adopt email segmentation notice a 760% boost in revenue.
Personalize your emails— use highly personalized subject lines and content. You will find that personalization increases your open rate by 26%. All it takes are small changes like saying the recipient's name instead of simply saying "hello there" or "valued customer." You can add a company's name, logo, images, or animated videos to grab your customer's attention.
Maintain your email list's hygiene— routinely scrub your email list by clearing out closed, invalid, and unsubscribed email addresses. The best way to keep your email list fresh and healthy is by employing the third-party email validation tool DeBounce.
Keep in mind that although benchmarks exist for each metric, they are certainly not conclusive. On the contrary, certain benchmarks can vary from industry to industry and even brand to brand.
Conclusion
Email analytics are to marketers as compasses are to sailors. They allow you to charter the best course for a successful email marketing campaign. These analytics provide valuable feedback, without which your campaign will be directionless, trackless, and ultimately useless.
There are many more metrics other than the ones we discussed in this post. Metrics such as revenue per email and subscriber, overall return on investments, email read time, and email sharing/forwarding rate, hold varying relevance to different businesses.
At the end of the day, don't limit yourself to just a few of the most popular metrics. Instead, include as many as you deem relevant for your campaign's success.