The current rival landscape commands that to survive, you need to continue growing. And so companies operate all kinds of strategies and tactics to maintain this growth.
Focusing on client retention is a priceless long-term solution for raised revenue and sustainable growth, but it's not always simple to encourage that kind of loyalty.
When building your email list, you want to ensure it's filled with the most engaging users who are interested in your business, its products or services, and what you have to say. One great tactic for this is reverse email lookup.
This article will go over what exactly reverse email lookup is, the best tools you can use, and how it can improve email list engagement.
Ready?
What is reverse email lookup?
In our everyday lives, we exchange email addresses with people we meet. But, when managing an online business, we receive email followers without getting to know who they are.
In marketing, we cannot stress enough how important it is to know your audience. Your clients and followers are more than just an email in a database: they are users with different interests, purchasing habits, engagement styles.
Once you get to meet them - you can work on leveling up your email communication and adjusting to their needs.
Simply put, reverse email lookup is a way to find out who an email address belongs to. There are many tools available for you to paste in an email and search for its owner.
You can get names as well as access background information, like phone numbers, social media handles, or alternative email addresses.
How can reverse email lookup increase email list engagement?
There are many different strategies for building an email list. Your approach in building a new list depends on whether you want to recruit new customers, launch a loyalty program, or simply engage your followers.
From creating and distributing lead magnets to adding signup forms to your website and blog, the first step is filling your list with interested subscribers.
However, as your business and email list continue to grow, it can start to get a bit messy. Not every form is going to ask for names along with email addresses. And not every subscriber is going to add a real email address.
You need to keep your email list clean, and one tactic is reverse email lookup. This is great for email verification and ensuring you have real, engaged people on your email list.
The email cleaning list is a powerful method to manage your database healthy and clear of undesired contacts that can corrupt the reliability of your IP and destroy the relationship with whoever is interested in interacting for your business. As people are continually moving, emails are sometimes misremembered or get lost.
Here are three ways reverse email lookup can help you keep your database in order, increase email list engagement and generate more email conversions.
Create a more detailed email list
Depending on your email marketing tools, you can save a lot of information about your subscribers and leads.
Email list building is a very tough assignment. You can't build one lead capture form and await to produce tons of subscribers overnight. Making a robust email list requires a strategy and more patience.
Tools like Mailchimp only allow you to fill out information like your subscriber's email address, first name, and last name.
However, more in-depth CRMs like HubSpot allow you to add tons of additional contact properties like their city, salutation, phone number, job title, street address, website URL, and more.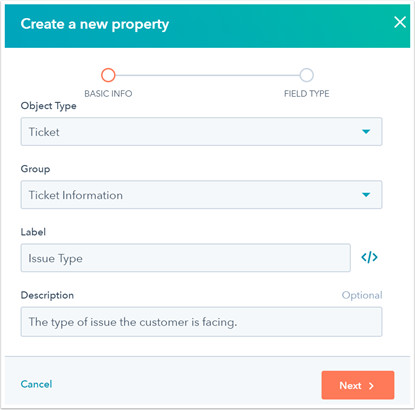 HubSpot users (and many other sales and marketing CRMs) can also create custom contact properties for specialized information your business needs to keep track of.
And you can start finding out all of this information by taking advantage of reverse email lookup. Paste a new subscriber's email address into the reverse email lookup tool of your choice to see what other contact info you can find.
Export those details and import them into your CRM or email marketing software of choice to create a more detailed list.
Having all of this information about your leads and subscribers can help you to qualify leads and close more sales. Plus, it can help your marketing team to create and send more personalized email content – more about this in our next point.
Personalize your email content
Another great way to increase engagement amongst your email subscribers is by personalizing your email content. Personalized emails speak directly to your audience, calling them by their first name and making them feel seen.
Engaging on an individual level with clients is where email marketing is matchless. Curated and deeply personalized email lists can guarantee to stimulate repeat sales for your eCommerce website.
This is a great way to increase engagement and conversions. Especially since it's been shown that personalization can reduce customer acquisition costs by 50%.
Personalization is shown to be very efficient in marketing, in general. Everyone in your audience wants to feel special, and speaking to them on an individual level hits that target.
There are a couple of different ways to do this. First, you can include names in the email subject line to grab their attention and increase their chances of opening your email.
Here's an example of an email I received from LinkedIn, starting their subject line with my first name:

This approach makes it feel like you're speaking directly to each individual and it's eye-catching in their inbox. Your email templates should easily allow you to input personalization into the subject line of any email.
Another method is by starting your email with a salutation, as we see in this example below: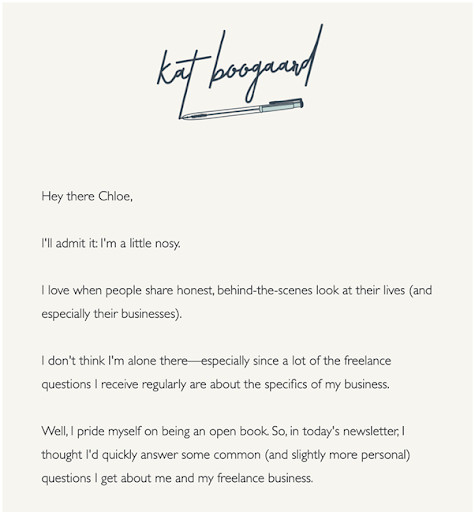 Businesses and organizations use the newsletter to share essential and helpful information with their customers and subscribers. With newsletters, you can have direct access to your audience's inbox, engaging you to share content, boost sales and manage traffic to your website.
But, not every newsletter will give you the results you want.
Creating newsletters as this feels humanizing. You're recognizing your customers as individuals, which leads to increased brand loyalty, email engagement, and conversions.
Creating an email list is imperative to your brand's progress. Daily or weekly contact with your clients will help you increase trust. When you establish trust between your company and your customer, you can trigger them to action. You'll often see top email marketing influencers use this practice because it's so effective.
However, you won't always have all of the information you need to personalize emails for everyone. Some signup forms – like an exit-intent popup – only require email addresses so your leads can sign up as quickly as possible. Other times subscribers won't fill forms out with accurate information.
Using a reverse email lookup tool helps you to fill in the missing pieces so that none of your email personalization attempts go awry. Simply insert the email address to find their first and last names so you can fill out their contact information and speak directly to them in your email content.
Clean your email list
Our last tip for using reverse email lookup to ramp email list engagement is about keeping a clean email list.
You may not know, but email lists decline by approximately 30% per year. Almost one-third of your supporters will never open your emails or click on your call to action button.
Email list cleaning is the process of going through your contacts to check that emails are valid and engaged.
You can use an email lookup tool to help you pinpoint and remove emails that no longer exist. Doing this helps ensure your bounce rate is lower and your open rate is higher, which can improve your sender reputation and increase your engagement stats.
Every email tool will allow you to manually go through your list and delete emails that are no longer engaged, or that your email reverse lookup tool shows you are no longer valid or in use.
Email list cleanliness is crucial for targeting your marketing. You should do cleanup at least several times a year. It means that you need to send emails only to those who are involved. This can improve your open and click rate percentages.
Inflating your email list with email addresses that don't open or receive your correspondence is pointless. And since most email marketing software require you to pay per subscriber, you could also be losing money.
Reverse email lookup tools
While there are different approaches to reverse email lookups, the best way is using reverse email lookup tools.
These tools are agile and powerful because they search social networks and the most distant corners of the Internet to find any connections to the email you are searching for.
If you're ready to start increasing email engagement through the methods we just covered, you need to find the right tool to help.
Here are four easy-to-use tools to check out.
DeBounce
Of course, we couldn't forget about our tool DeBounce. Our tool is great for both finding email addresses and verifying email addresses. Perfect for marketers, you can easily use a tool like this to verify the email addresses on your list.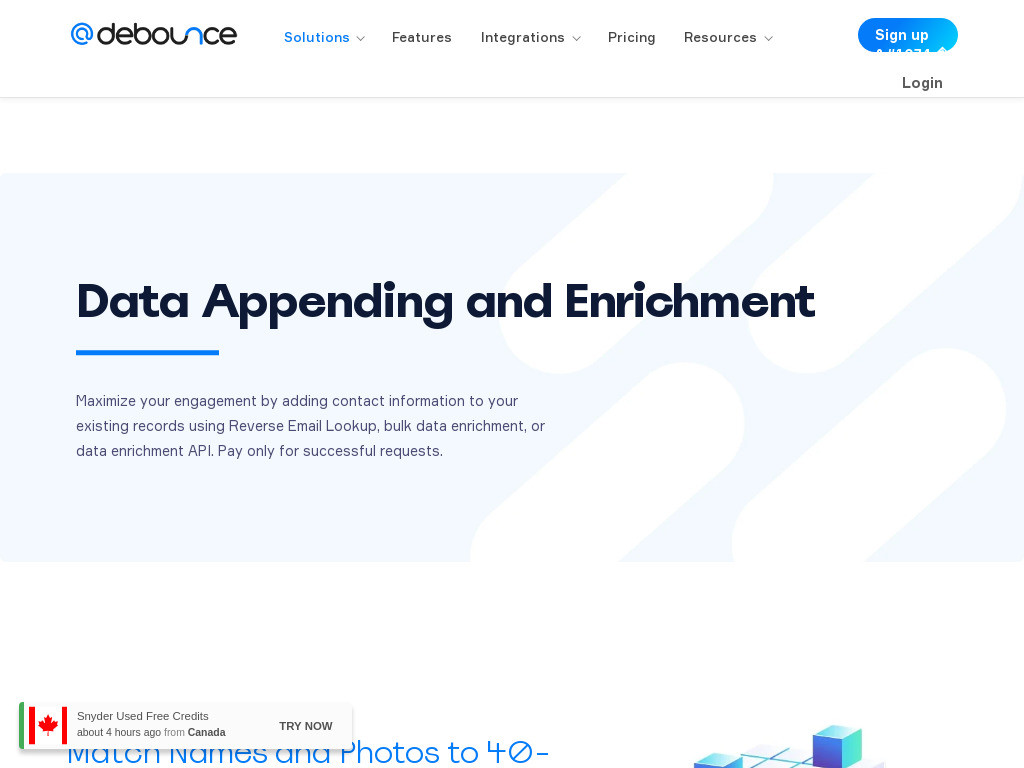 DeBounce can clean your mail list by searching and identifying invalid or spam emails. They make sure that no one on your list gets an unwanted email during validation. And the effect is a clean email list that you can apply productively in your marketing and sales campaigns.
This is a simpler way to clean your email list as you can upload a bulk list of emails for validation, especially because our affordable pricing model allows you to pay for only the searches you use.
CocoFinder
CocoFinder's reverse email lookup tool helps you find names, ages, phone numbers, mailing addresses, and more, helping you to qualify leads, personalize content, and fill out contact information in your CRM.
As stated in their FAQ, using their service is completely legal under the Fair Credit Report Act. And better yet, it's also free to use. The power of CocoFinder is that it is super precise and runs well for your goals.
Simply paste the email address into the search bar and click Start Search to find the information you're looking for.
Recordsfinder.com
Recordsfinder.com is another reverse email lookup tool that can help you find some of the same information as CocoFinder plus social media accounts.
They do more than simply present online public data and allow their customers to access the highest quality information and available databases in an easy-to-use, cost-effective format. All of this is delivered directly to the customer's computer screen in the luxury of their own home.
They offer unlimited search access, so you can work through your entire email list for free.
Infotracer
Another great reverse email lookup tool to check out is Infotracer. Their public records can provide you with tons of information when you paste an email address in the search bar.
They're pretty much a US-centric background check business. Infotracer looks at government records, including criminal backgrounds, court histories, and a few social checks and essential records like date of birth, death, or marriage and divorce status.
You can also take an additional background check by searching for publicly listed licenses, like a lawyer or repairman license.
While their basic email lookup is 100% free, you'll need to sign up for their membership to get a more comprehensive report. However, for the needs we've outlined in this post, their basic search will likely provide everything you're looking for.
How to choose the best tool?
An excellent reverse email lookup tool should work in real-time, be fast, and be scalable. It is incredibly reliable for businesses where you must analyze hundreds of thousands of connections at once.
It must also have a risk score, which will streamline the evaluation process. You should be able to tailor risk thresholds and choose what risk score you want to encourage, analyze or decline at signup or payment.
You don't need to be afraid if reverse email lookup is legal because the answer is yes. The fair credit statement act controls reverse email lookup tools for seeking unknown emails, so there is no need to worry that it will produce privacy security concerns.
Before you choose the right tool for your business, ask yourself what information do you wish to retrieve?
Do you wish to fill in the personal fields and optimize your newsletter campaign?
Do you need info on the social media presence of your audience to target your next ad set?
Or do you simply wish to keep your email list in order and remove the inactive folks from it?
Your turn
To sum up, reverse email lookup can be a really useful tactic for keeping your email list clean and engaged.
Going through your email list manually, even just to sort it out a bit, can be demanding. And when it comes to using the information from this database for other marketing campaigns, things get even more complicated.
Try using a real-time validation tool to make the process easier for your marketing team, grow your engagement, generate more leads, and establish a powerful brand identity for your target audience.