Email marketing is a reliable and time-tested tool: brands send hundreds of thousands of email offers, newsletters, and ads to their customers every day. Email marketing can boost leads, engagement, brand awareness, and of course, sales.
Add to that the impressive marketing ROI email demonstrates: statistical data shows that email marketing generates $36-42 for every $1 invested in it.
To adjust to the ever-changing digital landscape, businesses seek new ways to improve B2C and B2B email marketing strategies, and user-generated content (UGC) is one of the best tools out there. In this article, you'll learn how to incorporate UGC into B2C and B2B email marketing with the help of 7 simple and actionable tips.
What is UGC?
User-generated content is pretty much what it sounds like.
UGC (user-generated contact) is any type of brand-related content created by general users who do not receive material compensation from the brand in question for it. In other words, UGC is generated by people, not brands or professional marketers.
The main types of UGC are:
Reviews and testimonials people write on your website and/or public platforms;
Blog posts and entries;
Images and videos;
Polls and survey form customers fill out upon your request;
Branded hashtags;
Case studies, success stories, and so on.
Why Bother with UGC for Email Marketing?
Brands are increasingly relying on UGC in B2B and B2C email marketing for several reasons:
UGC is VERY cost-effective. Like we said before, it costs you virtually nothing to take advantage of UGC – people often create it out of their enthusiasm. As a brand, you need to incentivize your audience to generate more content you can use in your campaigns. Besides, UGC-based ads lead to a 50% drop in cost-per-click compared to their average cost.
UGC promotes brand credibility. People no longer believe in unrealistic, glossy, picture-perfect ads. Instead, they trust fellow customers and their real experiences with products and services. 86% of Millennial customers claim that UGC is the best indicator of brand quality.
UGC positively impacts purchasing decisions. More than 60% of customers go through product reviews and ratings before deciding whether or not they will buy a product. Add to this the fact that an average user can spend more than 5 hours engaging with UGC daily. Such profound immersion is sure to substantially impact what people want to buy and use.
UGC is an excellent personalization tool. This is especially important if you want to raise your open email rate – personalized emails will help you generate 50% higher open rates.
UGC drives conversion rates up. You can produce up to 73% more conversions via email with the right UGC strategy.
Implementing UGC into Email Marketing
Taking advantage of UGC to boost sales is a winner strategy – now you know why. But let's take it a step further and look at 6 ways to combine B2C and B2B email marketing and UGC to get even better results!
Ask People for UGC Directly in Your Emails
Let's start with the basics – to effectively use UGC in your email marketing efforts, you need to accumulate it first.
That's where you can be direct and open with your customers – simply ask them to contribute.
Create several email templates to collect customer feedback;
Personalize your customer feedback request email;
Let customers know what kind of content you expect from them: written reviews, photos, videos, success stories, etc. Don't be afraid to sound pushy with your requirements. 60% of consumers would like more brands to guide them in what kind of content they want to see from users.
Send customer satisfaction surveys, product satisfaction surveys, etc to your email subscribers. Always leave a free comment section where people can write about their authentic impressions and experiences with your brand.
Regarding the last option, to gather valuable feedback and insights from your email subscribers, it is essential to incorporate customer satisfaction surveys, product satisfaction surveys, and similar assessment tools into your email communication strategy. By regularly sending these surveys, you can gauge the satisfaction levels of your customers and gain a deeper understanding of their experiences with your brand.
When designing your surveys, it is crucial to include a free comment section that allows individuals to express their authentic impressions and share their experiences openly. This section provides a valuable opportunity for customers to provide specific feedback, suggestions, or even praise for your products or services. By encouraging customers to write freely, you create a platform for them to voice their thoughts without limitations, enabling you to capture unfiltered insights.
The comment section should be designed to be user-friendly and easily accessible, enabling respondents to provide their feedback seamlessly. This can be achieved by incorporating an intuitive text box where customers can type their comments, ensuring it is clearly labeled and prominently displayed within the survey.
By including this open-ended comment section, you empower your customers to share their genuine thoughts and experiences, which can uncover valuable information about their preferences, pain points, and areas of improvement. This unstructured feedback can complement the quantitative data gathered from the survey's multiple-choice questions, providing a more comprehensive understanding of customer sentiment.
Analyzing and acting upon the feedback received through the comment section is equally important. Take the time to review each comment carefully, identifying common themes, recurring issues, or positive experiences. This qualitative feedback can offer unique insights that quantitative data may not capture fully. It can help you identify trends, address concerns, and make informed decisions to enhance your products, services, and overall customer experience.
Additionally, don't forget to acknowledge and respond to the comments you receive. This demonstrates your commitment to listening to your customers and valuing their opinions. Whether it's a simple thank-you message or a more detailed response addressing specific concerns, engaging with customers through the comment section shows that you genuinely care about their feedback and are actively working to improve their experience.
In conclusion, incorporating customer satisfaction surveys, and product satisfaction surveys, and providing a free comment section in your email communication allows you to gather authentic feedback from your subscribers. This feedback serves as a valuable resource for understanding your customers' experiences, identifying areas of improvement, and ultimately enhancing your brand's offerings to meet their needs effectively.
Additionally, by actively listening to your customers' feedback and implementing necessary changes based on their suggestions, you can foster a sense of trust and loyalty among your customer base. When customers see that their opinions and concerns are being acknowledged and addressed, they are more likely to develop a deeper connection with your brand and become advocates for your products or services. This not only leads to increased customer retention but also attracts new customers through positive word-of-mouth recommendations, further expanding your brand's reach and success in the market.
Include Reviews and Testimonials from Customers in Email Newsletters and Offers
If you're worn out from generating endless product descriptions to include in your email catalogs and newsletters, we got a much better idea for you: Replace those with UGC.
Customer testimonials and reviews can be even more effective than a traditional copy. These are real experiences and impressions people have with your brand, and that's what your audience will want to see if they consider buying from you.
Collect positive reviews and testimonials from your customers by rating your products, browsing reviews on public sites and platforms, or setting up a customer testimonial page on your brand website. This database will come in handy when you want to enrich your email marketing campaign and add a human touch to it.
However, remember that emails are not very well-suited for longer chunks of text, so if your user reviews and testimonials are lengthy, you can choose the most eye-catching quotes, including descriptive adjectives or CTAs (calls to action) to use in your emails.
If you want some inspiration, take a look at Glossier's email marketing campaigns. The brand organically introduces customer reviews alongside product images and descriptions to make items even more "clickable", thus increasing conversion rates to grow sales.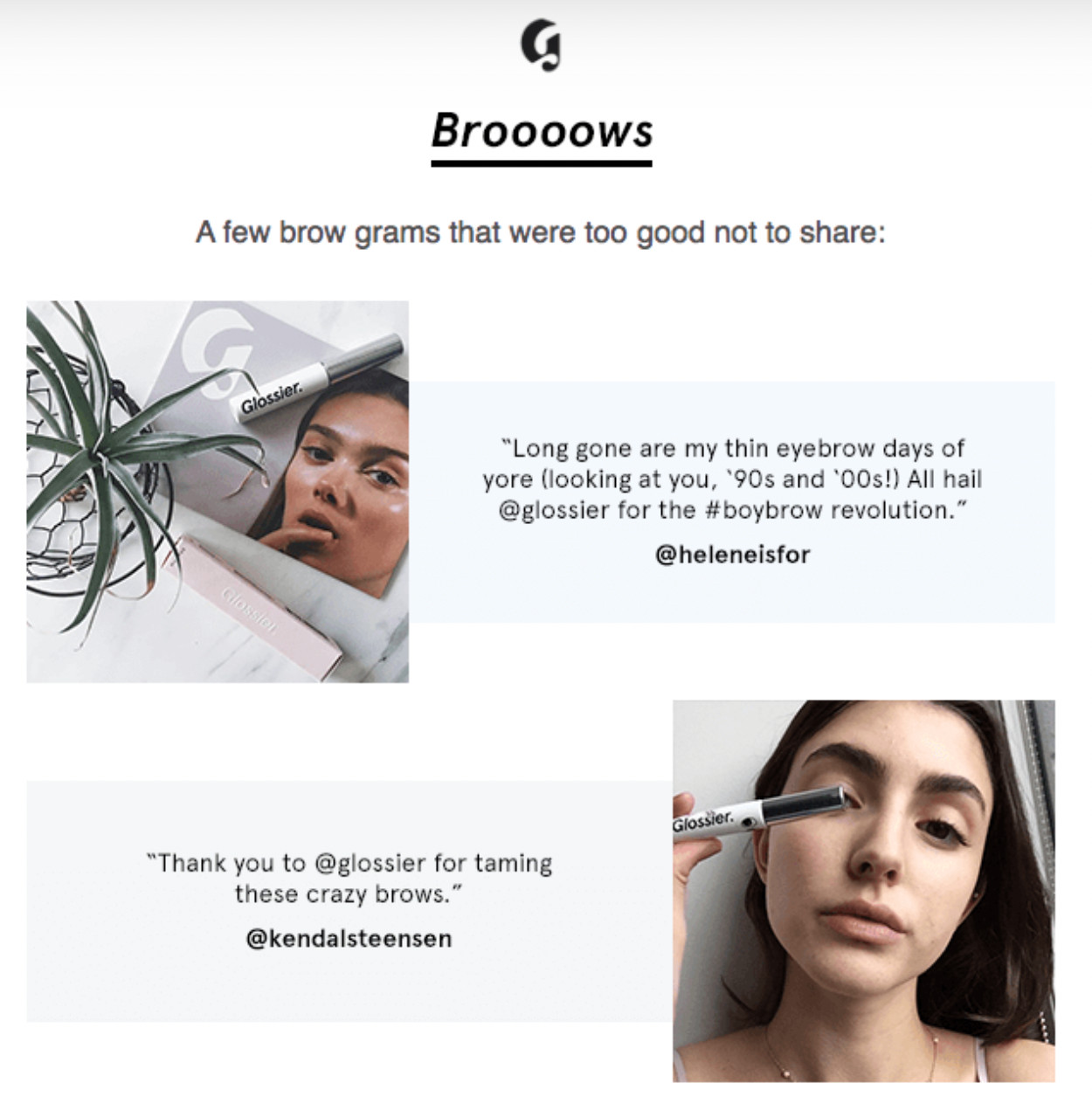 Image source: Glossier email campaign.
Pro-tip: if you can get your most loyal customers to create and edit a video testimonial, that will be another brilliant UGC piece to add to your newsletter or offer. It is especially important in B2B email marketing – businesses are much more pragmatic with their buying decisions, and video testimonials are a very convincing tool.
Use Customer Photos for Visual Proof in Your Emails
Very often email offers, newsletters, and campaigns lack visual diversity and appeal. Many brands use generic stock images to accompany the text, others recycle older product photos from the brand website. It makes the email links less clickable, which ultimately adversely affects your sales.
A much more effective strategy is to include user photos in your emails. They are not only more believable and relatable than stock pics, but they will also encourage more and more customers to generate visual UGC for your brand. After all, who would say no to being featured in the promotional materials of their favorite brand?
When choosing the user images to include in your email marketing campaign, consider several important points:
Go for high-quality pictures;
Opt for the images where your product is shown in a flattering setting;
Create an appealing layout when inserting the images into your email;
Try to renew your image database as often as possible.
For an excellent reference, look at how GAP successfully leverages user-generated images of their clothing in an email offer. The selection of customer photos is presented in a well-balanced and elegant layout, and the product is the center of every picture, although the settings are different.
Below, users see a visible link with a clear call to action – a perfect combination. This choice of UGC will attract the subscribers' attention.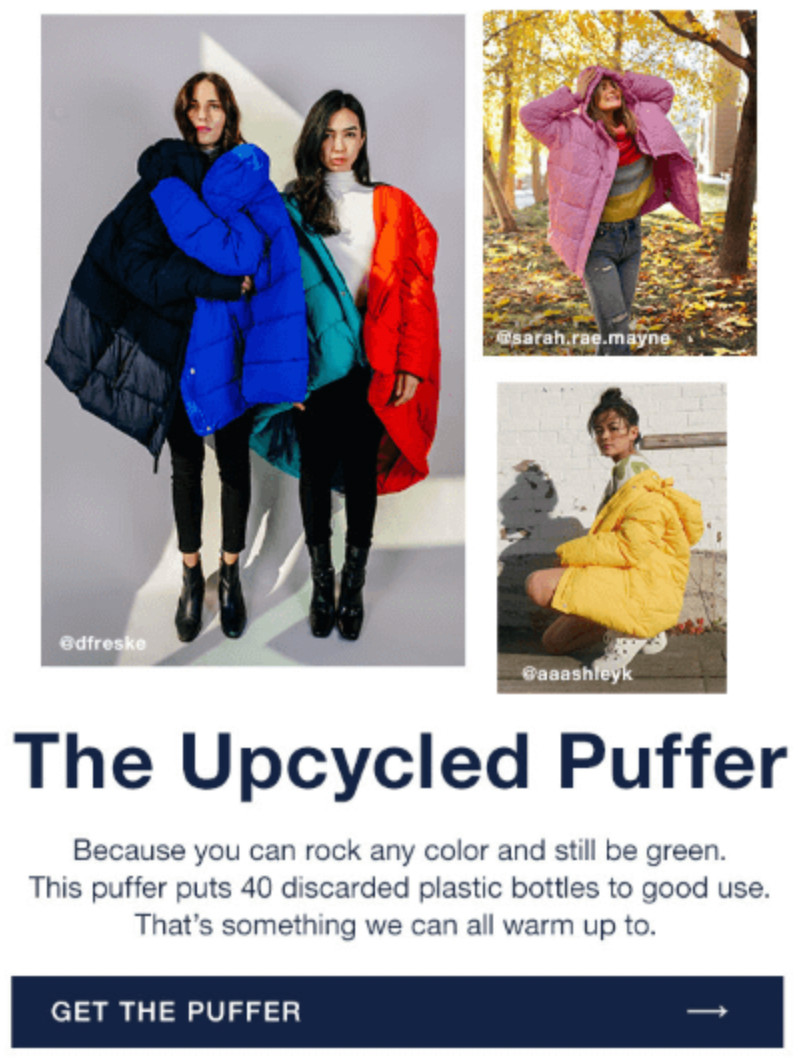 Image source: Gap Email offer.
Important: ALWAYS secure the customer's consent before you use their content in your emails. And of course, include credits under all the images. Your customers will appreciate your recognition of their contribution to the brand.
Add UGC to Abandoned Cart Emails
Cart abandonment is one of the most pressing issues in the world of e-commerce, both for B2C and B2-B companies. It affects pretty much every business niche. According to Statista, 80% of online shopping sessions were abandoned in 2020-2021.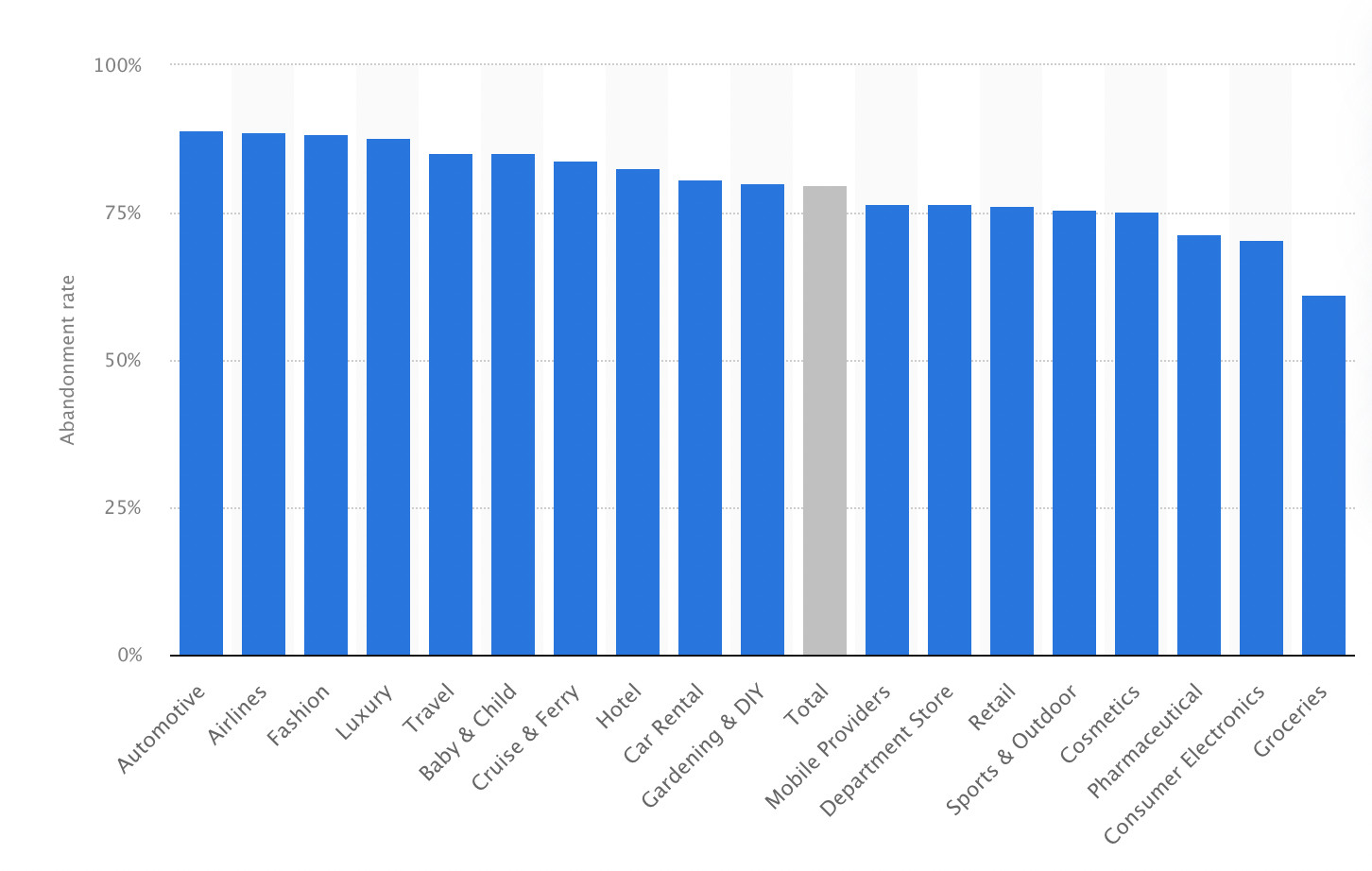 Image source: Statista.
B2C and B2B email marketers use automated emails to remind customers to complete their purchases. To make these letters attractive rather than annoying, including UGC in abandoned cart emails.
For example, include customer photos to accompany the product list in your potential buyer's cart. It will give them extra incentive to finalize the purchase. Besides, UGC promotes social proof and peer validation – two factors that can convince even the least motivated potential buyers to come back to their abandoned cart.
Finally, UGC adds personalization to abandoned cart emails that users often find lifeless and even annoying.
When creating the outline of an abandoned cart email, don't forget to:
Include a visible link to the abandoned cart that is central to the email;
Add a concise and catchy CTA;
Feature suitable, personalized user-generated images;
If you can, offer a buyer a small reward for completing the buying session. It can be a coupon, a discount for the next purchase, etc.
Manicure brand Revel regularly incorporates UGC into cart abandonment emails. The item left in the cart is now accompanied by bright and appealing UG photos that give the customer a feel of how the product works and looks in real life. This is exactly the type of visual incentive that can help the customer finalize the purchase they might have forgotten about.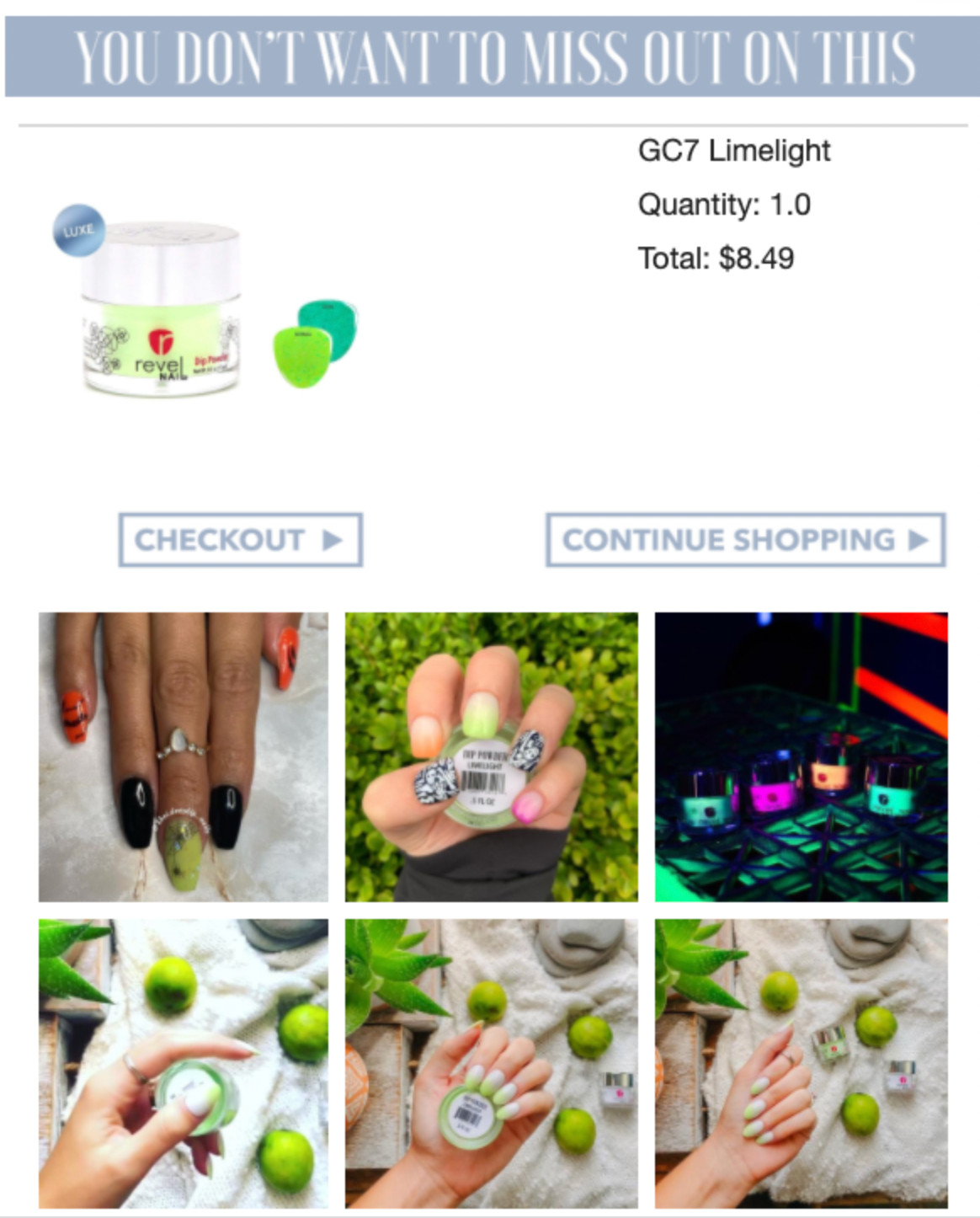 Image source: RevelNail cart abandonment email.
Run a UGC Contest or Challenge in an Email Campaign
Kill two birds with one stone: engage your customers and encourage them to generate even more UGC by organizing a challenge or contest and advertizing it in your emails.
And there's more to it: a UGC contest is the type of interactive communication between the customer and the brand that can boost conversion rates and drive up order value per customer.
UGC contests and challenges are especially useful for brands that don't have a solid customer base yet. If you want to get from a couple of hundreds of customers to several thousand, incentivizing people through a UGC competition is a top strategy. People will likely tell others about the contest and your participants can become loyal buyers in the future.
To ensure your contest or challenge idea attracts as many participants as possible, consider these steps:
Create a strong central concept. What is the goal of the contest/challenge? How does it align with your brand and its philosophy?
What kind of challenge will appeal to your target audience?
What type of UGC will people want to post?
What platforms would be the best to use for the contest/challenge UGC?
What is the reward for the winners?
Announce your initiative in your email and clearly outline both the conditions and the prize for the winning customers. People will be eager to receive your emails to stay on top of the news regarding the contest. Everybody hopes to win, right?
Be creative with your contest/ challenge concepts and make sure your email expresses the cheerful atmosphere of competition.
For example, Famous Footwear leverages UGC by organizing photo contests and advertising them
through email newsletters. The brand's "Feel a little famous" UGC competition attracted thousands of participants and boosted brand recognition – customers were eager to create unique content with the brand's products not only because they were motivated by the prize, but also because Famous encourages free self-expression with their contest concept.
Another great step the brand took was providing the direct submission link in the email to make sure all the UGC reaches the destination.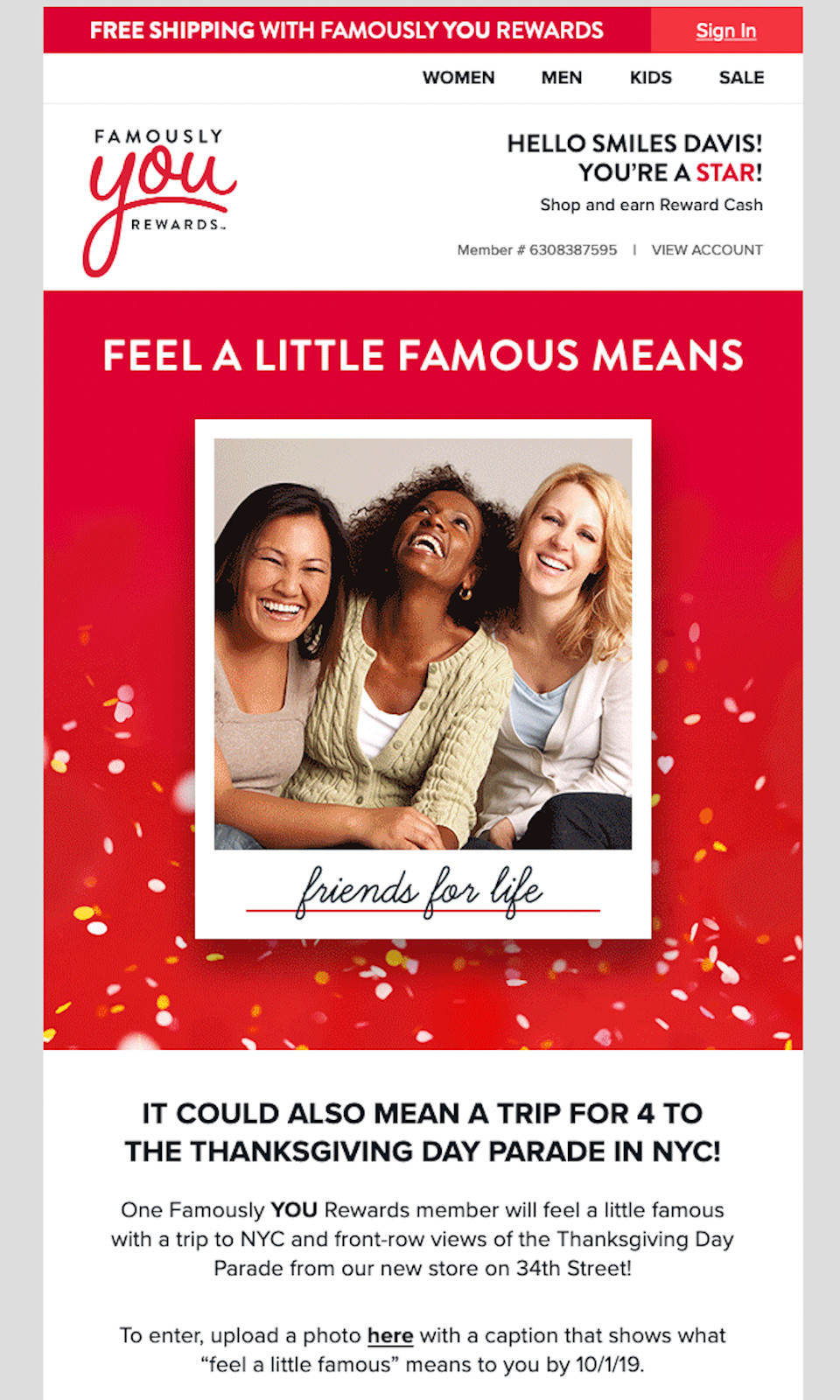 Image source: https://reallygoodemails.com/emails/rewards-member-exclusive-enter-for-a-trip-to-nyc.
Extra tip: don't forget to tell your email subscribers about the results, too! For example, send out a newsletter showing the winners and their content.
Run and Popularize a Unique Hashtag in Your Emails
A hashtag is the jack of all trades when it comes to marketing:
It makes content related to your brand easily searchable across multiple platforms;
It boosts the visibility of your brand;
It can send a strong message to your target audiences;
It engages your followers;
It effectively connects your email marketing content with other types of brand promotion your business uses.
Not bad for a short word or phrase, right?
Leverage the power of hashtags in your B2C or B2B email marketing campaign.
You can advertise and popularize your branded hashtag in your emails to subscribers and announce hashtag campaigns to further engage your followers.
For example, Adidas regularly uses hashtags for various initiatives, challenges, and campaigns and notifies its audience of the campaign launch through emails.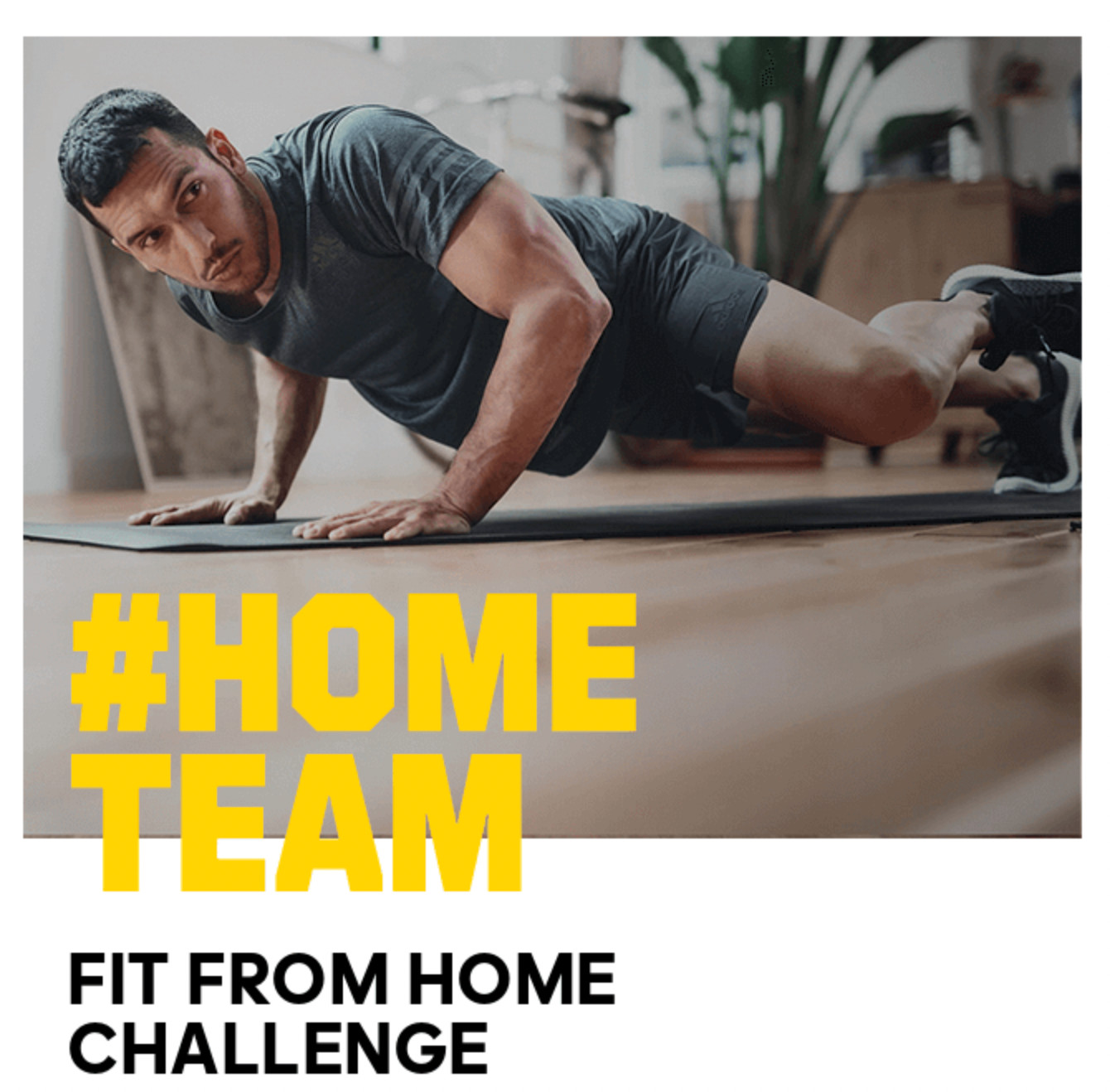 Image source: Adidas email newsletter.
Don't forget to include the link to your webpage or social media where people can learn more about the idea behind the hashtag and participate in your initiative.
To boost the visibility of your branded hashtag, you can combine it with other trending hashtags. For instance, Adidas' #hometeam often goes hand in hand with #sports #athlete # homeworkout, etc. Do your research on popular hashtags relevant to your niche to create the most viral-worthy combinations.
Also, explicitly encourage your audiences to use your branded hashtags when posting content related to your products or services. This way, you'll increase your organic reach, naturally driving your conversion rates and sales up.
Another great way to take advantage of hashtags in your email marketing campaigns is to use them in subject lines. This strategy will help you increase conversion rates and make your emails stand out from the crowd in the subscribers' inboxes.
Extra perk: branded hashtags will make collecting further UGC to use in your future email marketing materials even more convenient. Use the hashtag to browse through content across the social media of your choice.
Choose UGC-Based Email Content Carefully
This last point encompasses all the other tips above.
Sure, UGC is great, but remember that you must be selective with the type of user-generated content you want to include in your email promotional materials. Not every photo, video, or review will do the job.
If you put UGC everywhere in your emails, you risk losing quality and overloading your customers with content. Besides, customers still want to see your brand identity in your marketing materials, and relying solely on UGC is problematic here – not all user-generated materials will go well with your visual aesthetic and style.
So, instead of blindly embedding UGC in your emails, do the following:
Share only high-quality content;
Make sure UGC aligns with your brand's vision, aesthetic, and tone of voice;
Focus on thematic content – don't be random with your reposts and shares of UGC;
Never share content that might be controversial or offensive.
Filtering UGC for your B2C and B2B email marketing campaigns (and all other content channels) is a way to ensure your brand image stays consistent and your customers can relate to your vision and values.
Final Thoughts
As you can see, using UGC is not only about sharing stuff on Instagram. You can effectively introduce UGC in your B2C and B2B email marketing to grow reach, influence purchasing decisions, improve brand credibility, and ultimately boost sales.
By incorporating user-generated content (UGC) into your email marketing campaigns, you can harness the power of authentic customer experiences to enhance your brand's messaging and engagement. Including UGC in your B2C and B2B emails allows you to showcase real-life examples of how your products or services have positively impacted your customers, providing social proof and building trust among your target audience. Whether it's featuring customer testimonials, product reviews, or user-created visuals, leveraging UGC in email marketing helps you establish a genuine connection with your subscribers, driving them to take action and increasing the likelihood of conversions.
Don't get carried away; remember to keep the balance, though. Not every email you send to your subscribers should include piles of UGC. Throw it into the mix whenever appropriate to keep the customers engaged rather than exhausted from the volume of similar material.