A couple of factors determine whether your recipients will click on your email or not. However, the most important of these is your email sender name. Your adopted email sender name is literally a shorter version of your brand reputation. This is why you should not take email sender name best practices with a pinch of salt.
This guide will discuss the importance of sender name in email marketing, as well as the best practices currently in use. The information provided will help you to decide the right email sender name best practices for your brand correctly.
So, without wasting time, let's get to it!
Introducing Sender Name in Email Marketing
Sender name or from name is what your contacts see in their inboxes when they receive an email from you. Do not confuse this with the sender address or the from address or email. The latter usually include an @, alongside a domain name.
There are just 20-30 characters of a from name – the exact length is determined by the device, browser, and the adopted email client.
4 Aspects of Sender Name
Contrary to the popular opinion among email marketers, getting your sender name right can make or mar your KPIs. According to a recent survey carried out on American Consumers, only 42% of recipients considered the sender name before choosing to open an email or not. Once your sender name does not appeal to them, your efforts in crafting a perfect subject line are futile.
Fortunately, unlike the subject line, you can retain the same sender name for all your emails. This is why you must put in serious efforts to optimize it and choose the most effective variant(s) for your brand. The first thing that tells your recipient about you is your sender name. Every successful sender name has four aspects;
Trustworthiness
Brand recognition
Consistency
Segmentation
Trustworthiness
Every recipient, including you, gets concerned about the legitimacy of the email they just received. To verify or debunk their fears, they go ahead to check the sender name first. From this, they can decide, in a split second, if the email is spam or not. So, you must appear trustworthy at that point.
How do you this? Use your legitimate company name! It is as simple as that. It must be a real name – either an employee's name or the company's name. Do not use an email address or an impersonal title like [email protected].
It is also best not to send from an unprofessional domain. Avoid sender email addresses that come from AOL, Yahoo, or Gmail. Such messages are considered unethical and illegitimate most times, so they end up in the spam filter.
Brand Recognition
Once you have proven to be trustworthy, the next task is brand recognition. Now that your contacts are convinced that you are legit, they want to see if they know you. And your sender name must be able to give a resounding conviction on where and how they know you.
The effective way to do this is by including the brand name in the from name. For instance, if an employee is sending the email on behalf of the company, the trustworthiness rule demands that they use a real name. Let's take Joe as an example here. Now, to infuse an element of brand recognition, Joe must add which company he is representing. So, the sender name becomes "Joe from FastMedia."
Some email client truncates sender name longer than 30 characters. Hence, always put the most important information first in your sender name.
Consistency
Consistency is not the third facet by mistake – it is because it reinforces brand recognition. What is consistency? It means once you have a sender name that is trustworthy and delivers brand recognition in one piece, you should stick with it.
This will make your brand recognition spontaneous and faster. Changing your sender name now and then may damage your reputation with your contacts.
Segmentation
Once you have taken care of the first three segments, i.e. a trusted sender name that brings spontaneous brand recognition consistently, you are good to go. Segmentation, as the fourth aspect, is just a compliment that perfects the whole arrangement.
By segmentation, we mean you should use different sender names for various email types. For instance, if it is a regular ad campaign from the company name, use the company name, i.e. "Company." If an employee is sending newsletters on behalf of the company, use another sender name, something like "Joe at Company." Segmentation ensures that your contacts do not mix up the email types and the source.
Best Practices for Sender Name in Email Marketing?
Under this section, we will examine the four most used email marketing templates for the sender name and see where and how each works best.
Company Name
The company name is the most-used sender name. It is just the name of the company and nothing more. It is the most popular sender name option among brands because it is suitable for building trustworthiness and brand reputation.
Company name as the sender name even works better for e-commerce businesses and B2C sales campaigns. Considering that most contacts on your email list are there because of their interest in your brand, you should use your brand name as your sender name to match that energy.
While you can send emails from "Team Company," it is advisable to remove the word "team." You do not want your sender name to be so long that the brand name is truncated in the display field. B2Cs understand this, hence, the choice of their brand name as their sender name.
There is a personal touch that comes with sending from "Team Company." You are telling the recipient that the message is a collaborative effort of dedicated team members of your brand.
As you can see, for instance, Time Doctor uses the company name to send its emails: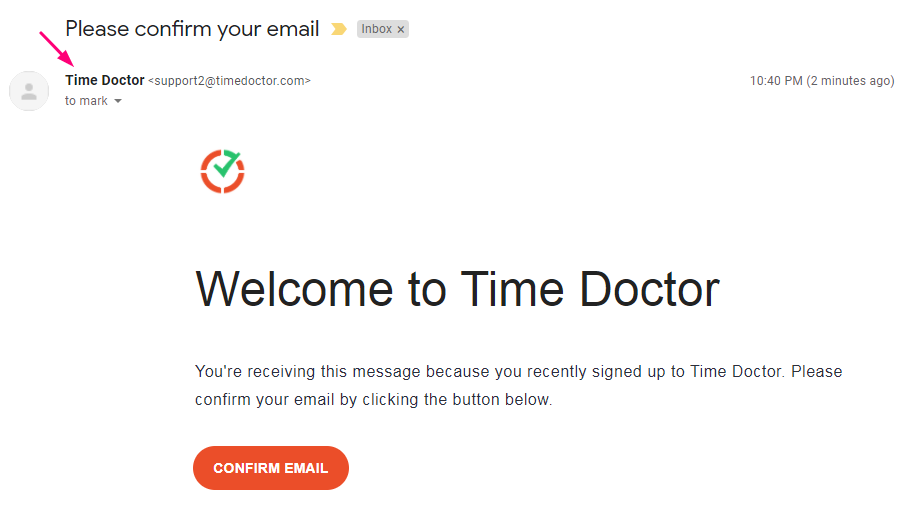 First Name at Company
This is another form of sender name that adds some personal touch. When you send from a certain employee on behalf of the Company, the sender name follows this format – First Name @/from/at Company. For instance, Joe from Facebook, Martha from Google, or Jordan at KingMedia.
This option is standard among B2B businesses, because;
First names are short and personal.
It boosts relationship selling – a crucial aspect of B2B business. So, when a lead receives a message from an individual marketing team member, they are more open to creating personalized relationships with them.
It allows them to introduce their team members. Clients get to know who they are dealing with, making them feel relaxed and comfortable.
There are some sectors where using only the first name may not convey enough formality. In such cases, you may be forced to use the full name and company name. While this appears better, the downside is that the sender name becomes too long. Consequently, you may have the company name cut-off from the whole by some email clients.
So, except you know that your contacts are already used to your full name, do not risk truncating your sender name by using a full name. No element is more important than the company name in your sender name.
Full Name
Using the full name as your sender name is another option. However, it is only applicable if you are using your full name as your brand name. This scenario is common among entrepreneurs that send out newsletters or does any other form of personal marketing, for instance, tutorial videos, how-to tips, and similar knowledge materials.
Genre/Service Type
Use this sender name formula if you want your subscribers to know the type of message or service presented in the email they are about to open. For instance, "Bank Name/Transaction Summary" – showing the summary of the latest transaction the receiver just made, or "TransferWise/Updated Rates" – introducing the new transaction rates to the recipient.
Recipients can decipher the type of information contained in the emails they receive when you use different sender names for different types of email.
Also, your sender name may be a blend of the brand name and another piece of info that tells recipients more about the content of the email. This works fine for alerts, transactional notifications, or any other automated mailings. What matters more is meting your recipient's expectation of an automated email. If you are a large company dispersing automated mailings, it is best to use the sender name field for the message type being sent. You will probably have several automated emails as part of your email marketing, so using your first name or company name helps to maintain that personal touch.
Are There Implications for Breaking These Sender's Name Rules?
Over time, we have seen brands run successful email marketing campaigns without adhering to the rules above. Perhaps, they were able to get away with it because they were smart and consistent about the non-adherence. Let us consider the following from names from a successful fashion brand's (Shinesty) marketing campaign.
options@shine.
choice@shinest.
dad@shinesty.
smith@shines.
now.have.it@shin.
sneakers@shine.
You will agree, from a glance, that these sender names are out of context. Which rules did they break? Let's find out together.
Trustworthiness
Remember the trustworthiness rules we discussed earlier? These sender names violate all of them! The sender names are not only unprofessional but also lacks any atom of trust. Here are some of the red flags:
Lowercase letters were used all through
The sender address appears like an email address
The company name is truncated
Inappropriate language use in the sender name field.
It is intriguing to note that despite these flaws, this works excellently for the Shinesty brand. The brand has removed every element of professionalism in this email marketing campaign. Instead, they took a marketing feature that people hardly consider essential, i.e., the sender name, and transformed it into an avenue to brand themselves unusually.
The lowercase letters and the absence of spacing are signs of informality. So, they had more pixel space to play around with, in the display field. From all indications, it is clear that the brand disagrees with the need to be professional or trustworthy when it comes to marketing.
For them, standing out is the winning strategy.
Brand Recognition and Consistency
Most recipients of these emails will consider them spam at first glance. The brand name is truncated, and the unusual run-on names are enough reasons to make this conclusion. However, recipients may be drawn by their unusual use of the sender name field. This will prompt them to open the email and the content does the rest of the job.
If this continues for a long time, recipients are forced to tailor their expectations to such sender name misfits and funny content. This is the brand's way of building their brand recognition – they condition subscribers to always yearn for this type of unusual outlandishness.
So, despite doing the unreasonable, they are consistent with it, and this has built their brand recognition impressively. These sender names are created in line with a particular pattern – [email protected]. Once you see a sender name with this pattern, you already know Shinesty is the sender.
Segmentation
You will notice a form of segmentation in these sender names – each sender name is adopted for a different campaign. Despite being silly, each sender name carries more information about the topic of the email campaign into consideration.
Conclusion on the Shinesty Email Marketing Campaign
This email marketing style is not universal or ideal for every brand out there. Although it brings the desired results for Shinesty, there are no guarantees that it will work for you. This approach, so far, has worked for Shinesty's target group.
Again, even when Shinesty decided to break the rule, they were smart, confident, and consistent about it. It resonates with their brand message of selling the "the most outlandish collection of clothing the world has ever seen." It is fine to break the rules, but while at it, be consistent and ensure that your brand voice is projected.
Final Thoughts – How do you choose the ideal sender name that suits your brand identity?
Irrespective of the sender name pattern you are going for, you must know the following;
Your reason for choosing that pattern
If and how the chosen pattern resonates with your brand
If the sender name is not too long to be truncated y your email client
Remember, the first part of your email that your contacts check is the sender name. So, getting it right is crucial to a successful email marketing strategy.