When it comes to Online Marketing, Newsletters make a very important part of it. Today I Aabhas Vijay from smtpservers.co will cover all about newsletters in this article. Let's discuss how to do it efficiently. I will tell you how to do it step by step in the post below, and I will suggest the top tools. I have listed the top 20 Email Marketing methods that will assist you to have a perfect newsletter.
What is a Newsletter?
A newsletter can be referred to as an email that consists of news relating to a brand, company, or blog and is usually conveyed by a company. Each newspaper generally has distinctive content. But that content normally consists of valuable information that would intrigue the readers, for eg, information relating to offers, latest product launches, detailed posts about all products, etc.
What shapes a newsletter the most, is its subscribers. These are people who have earlier shown interest and are potential customers. Subscribers have previously subscribed to the list because they were curious about getting information. Hence, they make the most targeted customers.
The newsletter can be sent as per the requirement or strategy of a company. It can be distributed every day, weekly, quarterly, etc. Often it also depends on the launch of the latest products.
Email-Marketing
Email marketing is a compelling tool to develop a healthy connection with customers. The email that the company creates is passed in the inbox of customers, it creates an insight into personal communication and is more effective than any other marketing approach. But you should know the difference between passing on information and spamming. Later might result in dropping potential customers. You can always use SMTP Services that are free, to reach your customers. If you are new to this domain, You might want to know what is SMTP? Click and find out in our complete guide.
The Advantages of Newsletter
It is the most

effective strategy

to directly communicate with your clients. Through email, you are capable of notifying them about all the latest updates and news that are crucial for your brand.

People basically use email quite often throughout the day. Hence, the information you are trying to communicate can be read timely.

The price is considerably affordable, you can also use free email services to send small campaigns for free. Like

ConstantContact

or

Sendinblue

You can offer discount coupons on the products that your client has visited earlier or you can send them a discount on their birthday, anniversary, etc.

Email marketing can draw traffic to your website

. Your emails will instantly land in your subscribers' inbox. If they get attracted to the content of the newsletter, they will click on it and it will lead them to your website.
The Disadvantages of Newsletter
Your list is helpful when you have potential subscribers. Hence, you need perfect strategies to make it serve efficiently. Your every email content should be engaging, only then it will work.

Most of the companies complain about not getting good open rates. If you deliver an email the user must open it. Otherwise, it goes futile. In most cases, the open rate is not more than 10%. You should control your open rate for better outcomes. Use

catchy subject lines

so that the user is lured into the opening and reading your email.
How to Make a Newsletter
Having some basic knowledge will help you in the better formation of your newsletter. Before starting your newsletter, you shall ask yourself the following questions yourself.
You should be clear about the objective while designing the newsletter. The purpose can be different each time, e.g., it can be the launch of the latest product or service. Email is an excellent way of informing your subscribers about anything. Hence, be sure about what you are about to send.
Are you sure about your target audience?
Email marketing is an important tool to develop social relations with your clients, and you can create many segmented lists of subscribers such as clients, consistent clients, possible clients… The list of subscribers who were interested in your previous mail might not be the correct audience for your current mail. Hence, try to segment your list smartly as per your audience requirement.
There are many tools available that you can use. Some of those tools can be highly professional. But it is always recommended to begin with a free one. As soon as you get hold of tools and are sure about their working, upgrade to higher professional and paid tools. Check out our guide to autoresponders.
Steps Involved in Creating a Newsletter
Enhance the database:


The first step you need to take is to upgrade your database whenever you use a tool. Through this step, you will be able to add new contacts to your data list. Targeting new customers is as important as maintaining old customers.

Your subscribers' list should be according to the subject of your mail:


You cannot just send an email to every person available on your contact list. This would be nothing more than merely spamming your subscribers with unnecessary information that they might not need. Hence, every time you're planning to send an email, make a new list. Keep in mind the subject of your mail and select potential subscribers' list.

Your templates should have professional touch:
The platform you will use to design your newsletter will provide you with already existing designs. These designs are generally made by professionals and they will enhance your content more.

Your template should be a representation of your brand. Use elements that would describe your brand like, color, font, etc. Portraying your brand through your newsletter will positively impact your readers.

Attach a catchy subject to your email:


This is a very important part of your email; the subject is the first thing that your recipients interact with. Write an attractive and to-the-point subject line.

Your content should be short and interesting:


If you are undergoing low opening rates, the length and quality of your content can be a major concern. When a reader is reading your content, he should feel informed about it. Most receivers want to read an email that is short and interesting.

Time is money!
Time is important. You need to save your time to deliver more newsletters to the inboxes of your targeted customers. To fix your errors, you can save time by adopting instruments such as Grammarly, Hemmingway Editor, and TrustMyPaper

. This will also make your work more credible.

Add a tool to unsubscribe:


As a sender, you have a responsibility toward your subscribers' to provide them with an opportunity to unsubscribe. You can add an unsubscribe option while designing your newsletter. Make sure it is available to the readers easily.

Add appropriate pictures:


Include images that are in accordance with the subject of your content. This will help you engage more audiences. Including images tends to attract more opening rates.

Enter links:


Having URLs in your email will expand your reach. This will intro

duce your reader to your website and can. You can direct them to appropriate landing pages. It will spike your traffic as well.

Keep track of your Shipping:


The top Email Marketing tools will let you send a test email. You will need this test to know that everything is working fine, the links will give the review for the content and grammatical command of your email.

Managing the shipment:


To get the best results, smartly manage the delivery of your emails. You can make your emails drop in your user's inbox at the time your subscribers are most active. Most of the top email marketing firms provide the stats for the time when a user has opened your email. Once you know the

best time to send emails

, you can send you the next email at the time when it was opened the most.

Study statistics:
To have favorable results, you have to keep the track of the statistics you are getting. Trace the results of your email, and compare them. You can match your current and previous results. The things you generally should care about are open rate, clicks, unsubscriptions, devices, etc. These stats will help you in strategizing your next move.
Best Tools to Send Newsletters
So now that we know the basics of newsletters let's move on to the best tools to send your newsletters -
MailChimp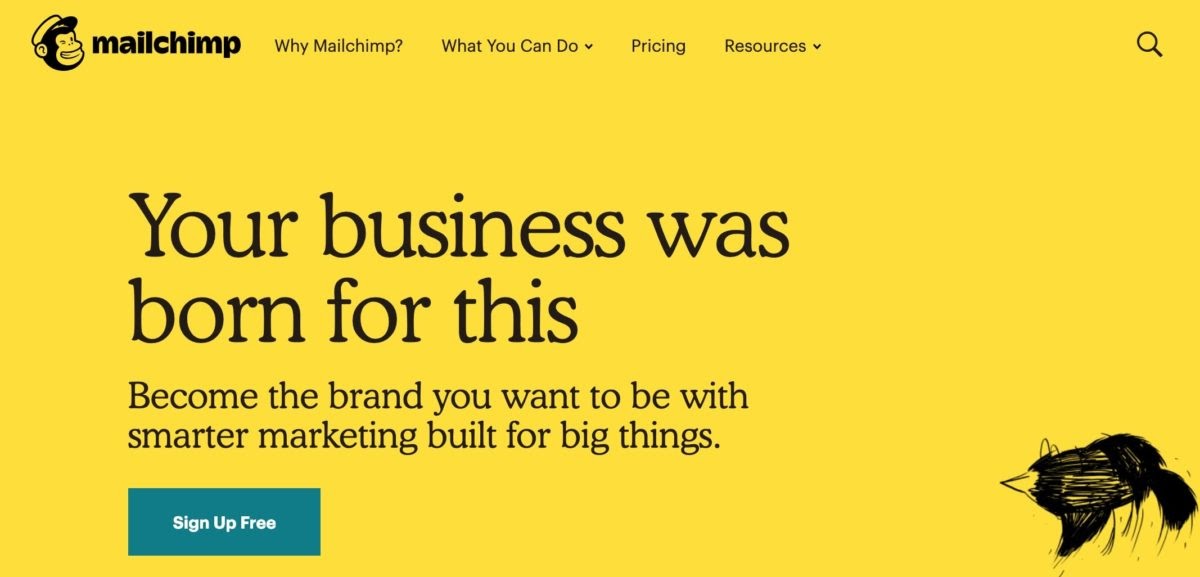 MailChimp is the top dog among email marketing providers. With more than 12.3 million active users and a market share of around 60%, it is by far the most popular newsletter software worldwide. And there are three main reasons for this:
MailChimp is easy to use
There are integrations for pretty much every third-party tool (pop-up plugins, course platforms, page builders, shop systems, etc.)
It's free up to 2,000 contacts.
Therefore, it is ideal for everyone who just wants to send a circular email every now and then to their customers, potential customers, or members of their own organization.
However, MailChimp also has disadvantages:
It is partly inflexible and the range of functions will eventually reach its limits.
For E.g. Subscribers are not able to register themselves twice on the same list (which is disadvantageous if you want to offer your existing subscribers to register on a waiting list or similar).
Tagging (classification) according to interests and the development of automation based on this is only possible in part and is very laborious.
It is also completely in English and only offers English support.
Advantages
Very good newsletter editor
Easy handling
Clear and modern user interface
Up to 2,000 contacts can be used free of charge (with limited functionality)
Creation of landing pages possible
Creating autoresponders
You can even create your own website (since the end of 2019)
Interfaces to pretty much every imaginable third-party tool (pop-up plugins, course platforms, page builders, shop systems, social networks, etc.)
Two-factor authentication possible (with 10% discount!)
Disadvantage
The user interface is in English only
Support is only in English
No complex automation possible
Creating automation is z. T. awkward
Automatic tagging (e.g. on the basis of activity, specific actions or entry in a specific newsletter form, etc.) is not possible
In the free payment plan, the MailChimp logo is displayed under every email
Aweber

The Aweber newsletter service is the right choice for you.
In terms of the user interface and the range of functions, it is hardly inferior to the US provider Mailchimp and in my opinion, it is the best Mailchimp alternative.
It is also clearer and easier to use. MailChimp can be a bit confusing at first, some settings take longer to search.
The Aweber newsletter templates are, admittedly, a bit old and need to be updated again.
In addition to sending individual emails, the software also offers time and action-controlled campaigns, autoresponders, RSS campaigns, and A / B split testing, which means that it offers all the functions you could want for simple email marketing.
You can send free emails Up to 500 subscribers, then the plans start with $16.15 per month if paid annually, if you choose a monthly plan you need to chug out $19 per month.
Advantages
Easy to use
Clear user interface
Creation of autoresponders and simple automation possible (with drag & drop!)
Good newsletter editor
A / B tests possible
Server location all around the world
Agency solutions available
free webinars and extensive help center
Disadvantage
The inability to make changes in segmentation while sending an e-newsletter
Cheaper alternatives available
The templates are a little outdated
Especially if you win your customers online or even run a purely online business (e.g., have an online shop, are a coach, sell online courses, etc.), you will eventually get in touch with simple tools like Aweber or MailChimp. But what about complex automation?
A small example:
Let's say you offer two free e-books as freebies because you want to address two different target groups with your mentoring offer:
7 Marketing Tips for Small and Medium Businesses
8 rules to win more customers as a freelancer
While there will surely be an overlap, not all of your newsletters are relevant to both audiences. That's why you want to separate them in your contacts. With MailChimp or Aweber, this is possible but involves a lot of fiddling. This is where so-called tag-based tools come into play:
ActiveCampaign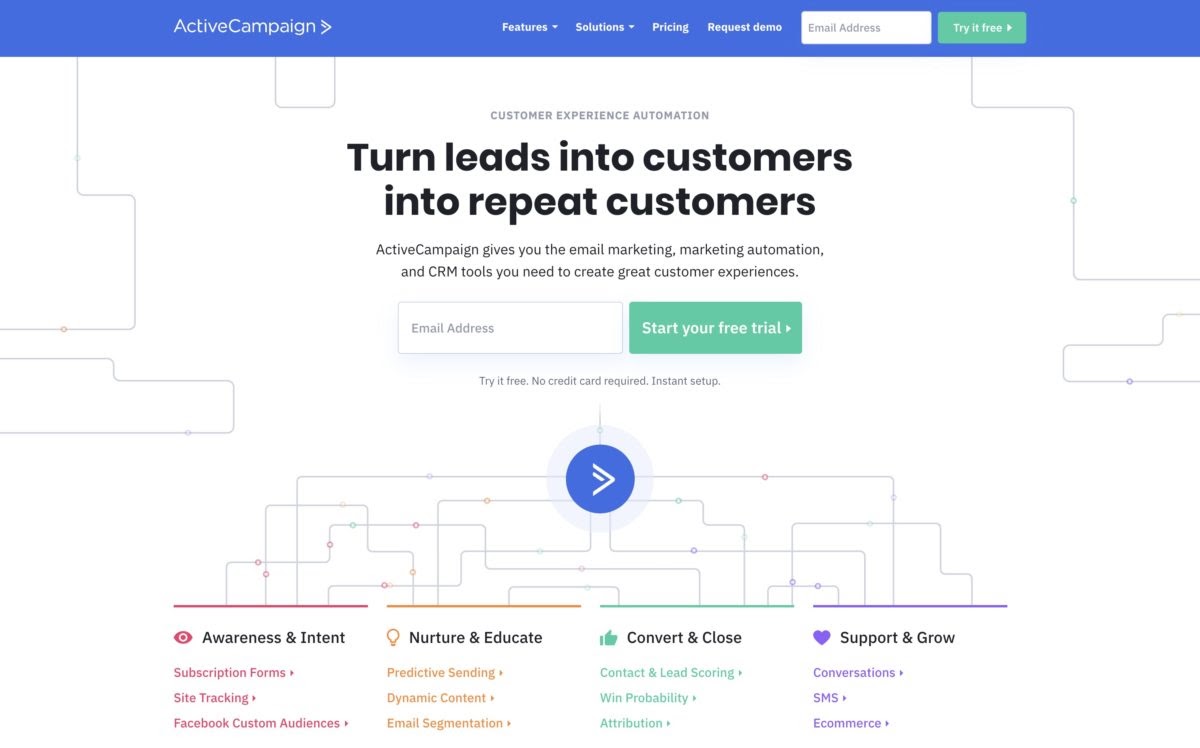 I switched from MailChimp to ActiveCampaign in early 2019. And that had a decisive reason:
While I was very satisfied with the support, operation, deliverability, and the newsletter editor at MailChimp, I missed two aspects:
Aspect # 1: Better segmentation
I wanted to be able to sort my subscribers into interest groups in order to send newsletters in a more targeted manner.
In my opinion, creating relevant content that is tailored to the individual is the be-all and end-all in online marketing.
With ActiveCampaign, for example, it is possible to assign tags to people based on different actions.
By clicking on links in emails, opening certain emails, downloading certain freebies, or participating in free courses divided into tags: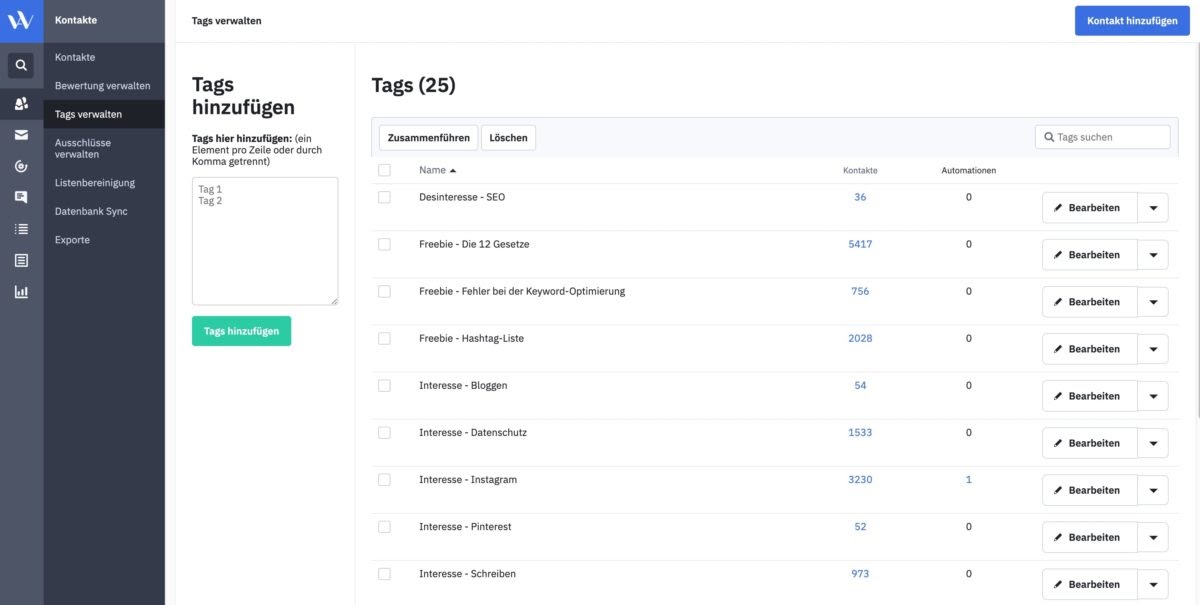 Aspect # 2: Simpler automation with more options
Automation is horror at MailChimp. You can create automation, but there is a lack of functions and setting up is unnecessarily complicated.
With the newsletter system from ActiveCampaign, however, the creation of automation is easy and thanks to the visual workflow editor.
Complex automation with numerous branches is also possible without any problems.
What I also like very much:
All automation functions are available from the Lite tariff from € 9 per month (€ 111 for 10,000 contacts). With other software, you have to dig deeper into your pocket for a similar range of functions.
Of course, not everything is perfect with ActiveCampaign either:
The newsletter editor at MailChimp is better and more reliable than the one from ActiveCampaign, which can be a bit tricky at times.
All in all, however, I am very satisfied with ActiveCampaign and do not regret the change.
Advantages
Clear and easy to use user interface
Good newsletter editor
High adaptability of templates and opt-in emails
Easy creation of automation using drag & drop
Complex automation possible
Tagging based on actions (e.g. link to click in e-mail or purchase of a specific product)
Contacts filling out a form can be tagged
Lots of automation templates
There is the possibility to import automation
Lots of integrations
Inexpensive lite tariff from € 9 per month (includes unlimited automation!)
Advanced CRM, advertising, customer journey, and machine learning functions in the Plus and Professional tariffs. Here is a guide that I found on CRM software
Free transfer service from the old newsletter software to ActiveCampaign
Send an unlimited number of emails
Disadvantage
Newsletter editor sometimes a bit sluggish, sometimes it also loses the formatting
Reporting could be more extensive
no extras like landing page builders, webinars, website builders, or the like
Choice of newsletter templates could be better
GetResponse
GetResponse is one of the larger e-mail marketing providers with over 350,000 customers.
Starting with simple autoresponders in 1998, the Polish newsletter service has developed into a major player in the newsletter and email marketing sector.
The e-mail marketing tool convinces with a modern and clear interface, a large range of functions, and many integration options.
It is much cheaper than Aweber and MailChimp:
GetResponse's basic tariff, which is roughly comparable to the standard tariff from MailChimp, costs just € 59 per month for 10,000 contacts.
Indeed:
If you want to create a lot of or more complex automation, ActiveCampaign is the better choice.
Advantages
Clear and modern user interface
Very nice newsletter templates
Easy to use newsletter editor (drag & drop)
Multi-lingual support
Creation of landing pages and auto-funnels (combination of landing page, email series, and advertisements)
Connection to Facebook Ads
Simple CRM with visual sales pipeline (from the Plus tariff)
Scoring and tagging of contacts (from the Plus tariff)
Automations with a visual workflow editor (as with ActiveCampaign)
Lots of automation templates
Webinar tool included (from the Plus tariff)
Best value for money of any email marketing tool
Creation of surveys possible
Chic and easy to create opt-in forms
Disadvantages
The creation of automation is not as easy as with ActiveCampaign
User interface not as clear as with ActiveCampaign
Only 5 automation workflows possible in the plus tariff
Webinars are limited to 100 participants in the Plus tariff