If you want to send 1~10 emails per day to your friends or colleagues, your own host/server SMTP will do the job perfectly. But the case is different if you are going to send 1000 emails per day. If you use your own SMTP, there is a high chance of IP blacklisting and all your emails will land in spam folder. This is why the bulk SMTP servers are created. They are built to deliver large number of emails without the risk of blacklisting.
In case you want to deliver a huge number of emails per day (for instance 50K per day), free SMTP providers are not a good choice, because a reputable ESP usually provides a small number of free credits per day or month. It is better for you to switch to a paid service.
I think you now are asking, what is the difference between SMTP servers? Absolutely, the most important factor is deliverability. It means the power of inboxing your emails which is directly depending on their IP reputation. The second important factor is delivery speed. Assume you are going to send a "reset password" link. It is better to deliver the email as soon as possible.
We tried to make it easy for you to make a decision. We have compared 10 most reputable SMTP providers offering free plans. Let's begin.
1. Mailjet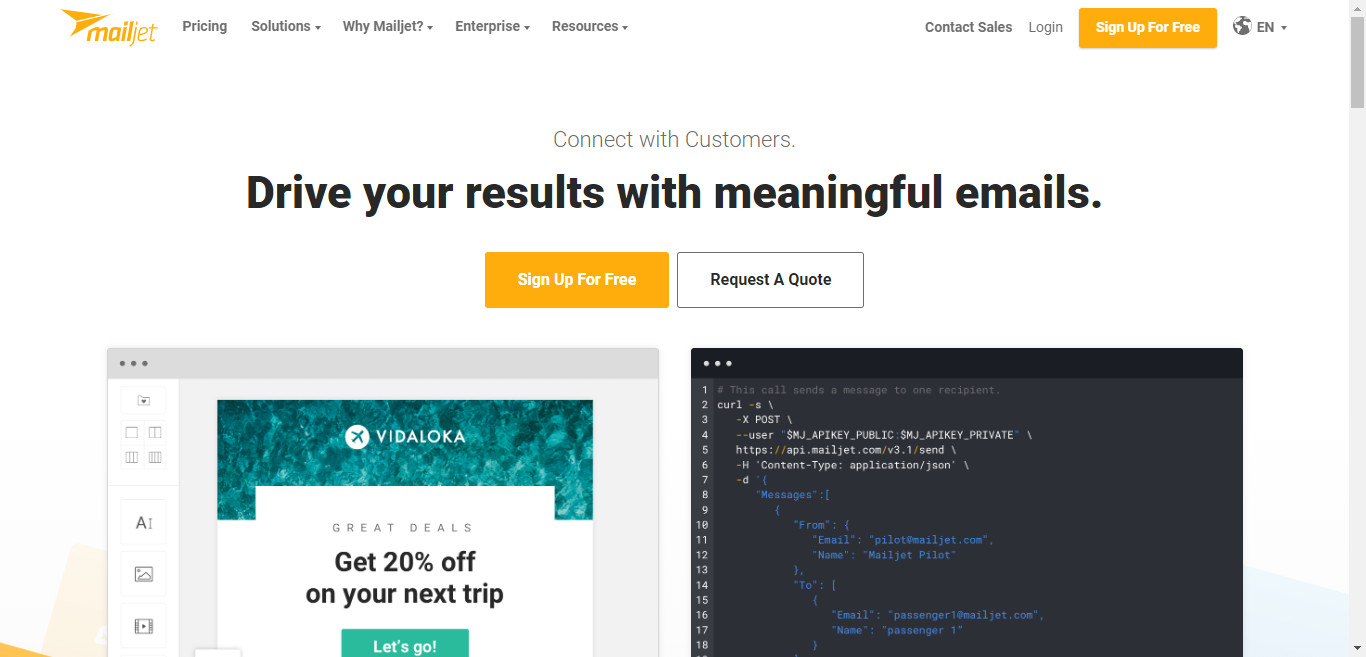 Mailjet is an email marketing company based in Paris providing both Bulk and Transactional emails. They have more than 130K customers in 150 countries. If you want to choose them, you must know that their inboxing is great, but it is a bit hard for you to pass their initial evaluation. They have strict rules and if your sending history does not meet their standards, there is no chance for you to use their services.
Features
Unlimited Contacts
APIs, SMTP Relay, Webhooks
Advanced Email Editor
Advanced Statistics
SMTP Limits
This free SMTP provider has a limit of 6,000 emails per month and 200 emails per day.
2. Pepipost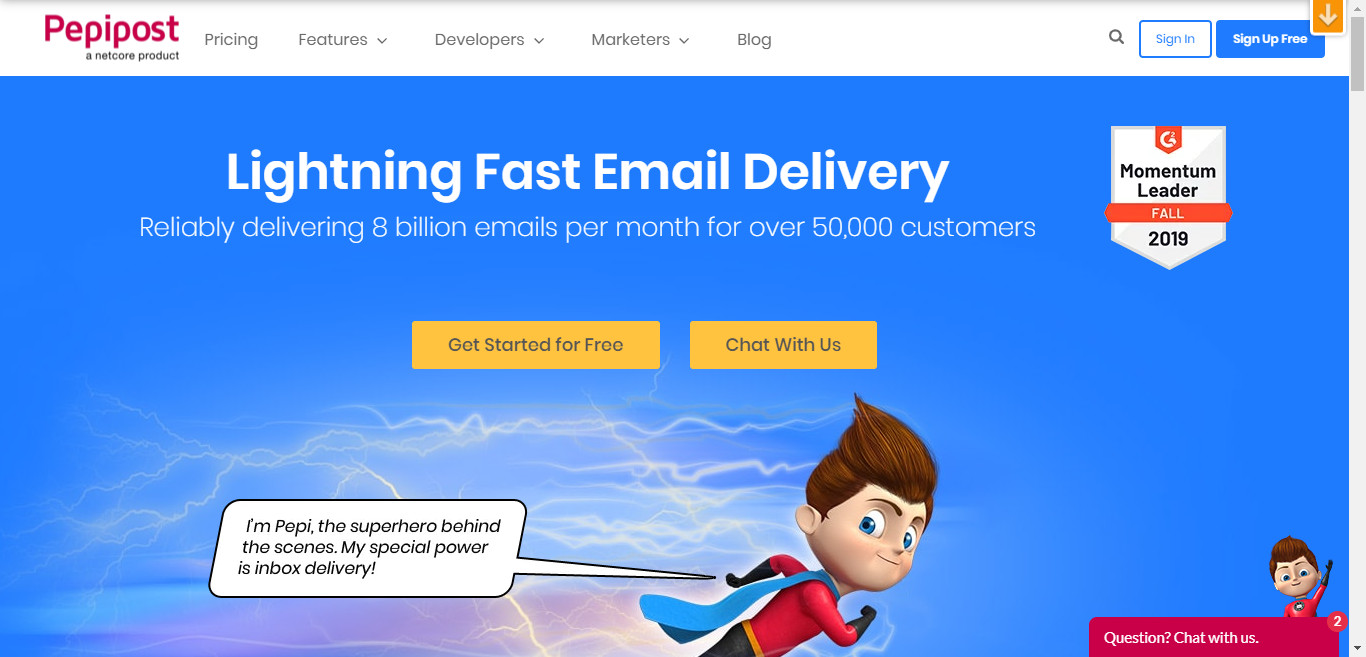 Pepipost is an email marketing company based in India. There is something interesting with their platform. They do not charge you for the emails you recipients open. This is really interesting and I think their pricing model will help them to attract more customers. Like Mailjet, they provide both bulk and SMTP (and API) services.
Features
SMTP
Email API
Artificial Intelligence
Email Marketing
Webhooks
Subaccount Management
SMTP Limits
You can send up to 30K Emails free for first 30 days, then 100/day free, forever.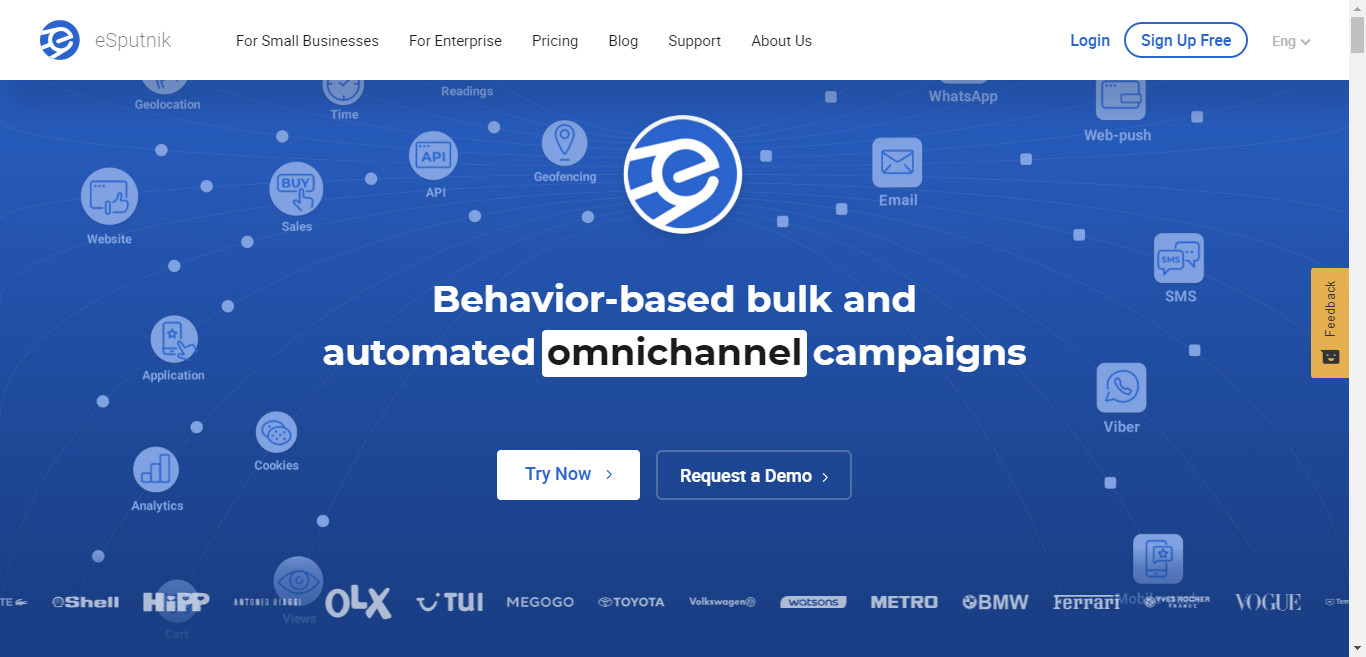 eSputnik is an omni-channel marketing platform which provides Email Campaigns, SMS Campaigns, Viber Campaigns, Web Push Notifications, and Mobile Push Notifications all in one platform. eSputnik does not offer SMTP, but you can send email campaigns using their web-based marketing platform.
Features
High inbox rate
Email Tracking and Analytics
Drag-and-Drop Email Editor
Artificial Intelligence
Geo-Marketing
Advanced Segmentation
Multilingual Campaigns
API Integration
Product Recommendations for Website Visitors
Sending Limits
After a sign-up, you receive 2,500 emails and 10 SMS to test the service. Also, you can send unlimited emails to up to 500 contacts, free forever.
4. Mailgun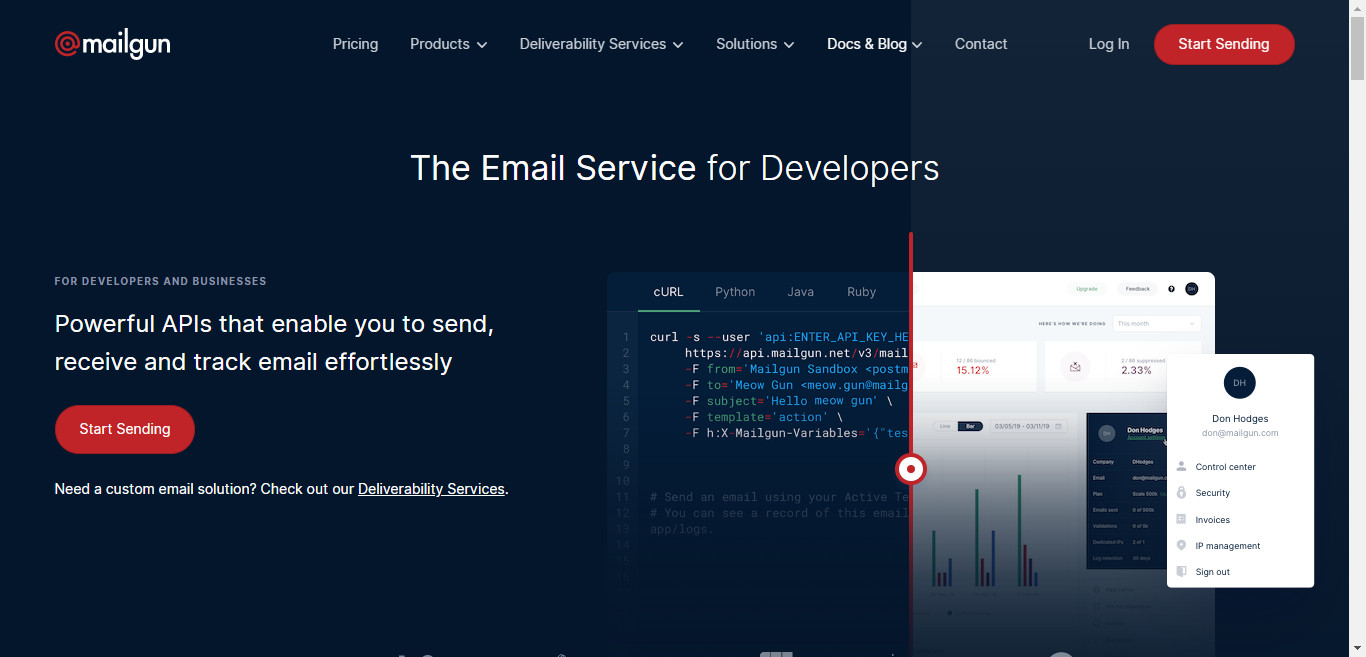 Mailgun is an email service for developers. Their main focus is on Transactional emails. However, you can send bulk emails too. They have more than 150K active customers from all around the world. There is one interesting feature they offer and I think you have not heard it before. They can send more than 1,200,000 emails in only one minute. If you are in hurry to deliver a tremendous number of emails, Mailgun is the best option.
Features
Email APIs, SMTP Relay, and Webhooks
Suppression Management
Email Tracking and Analytics
99.99% Guaranteed Uptime SLA
5 Days of Log Retention
Detailed Documentation
Limited 24/7 Ticket Support
SMTP Limits
You can send 5,000 free emails per month for 3 months, then only pay for what you send.
5. Gmail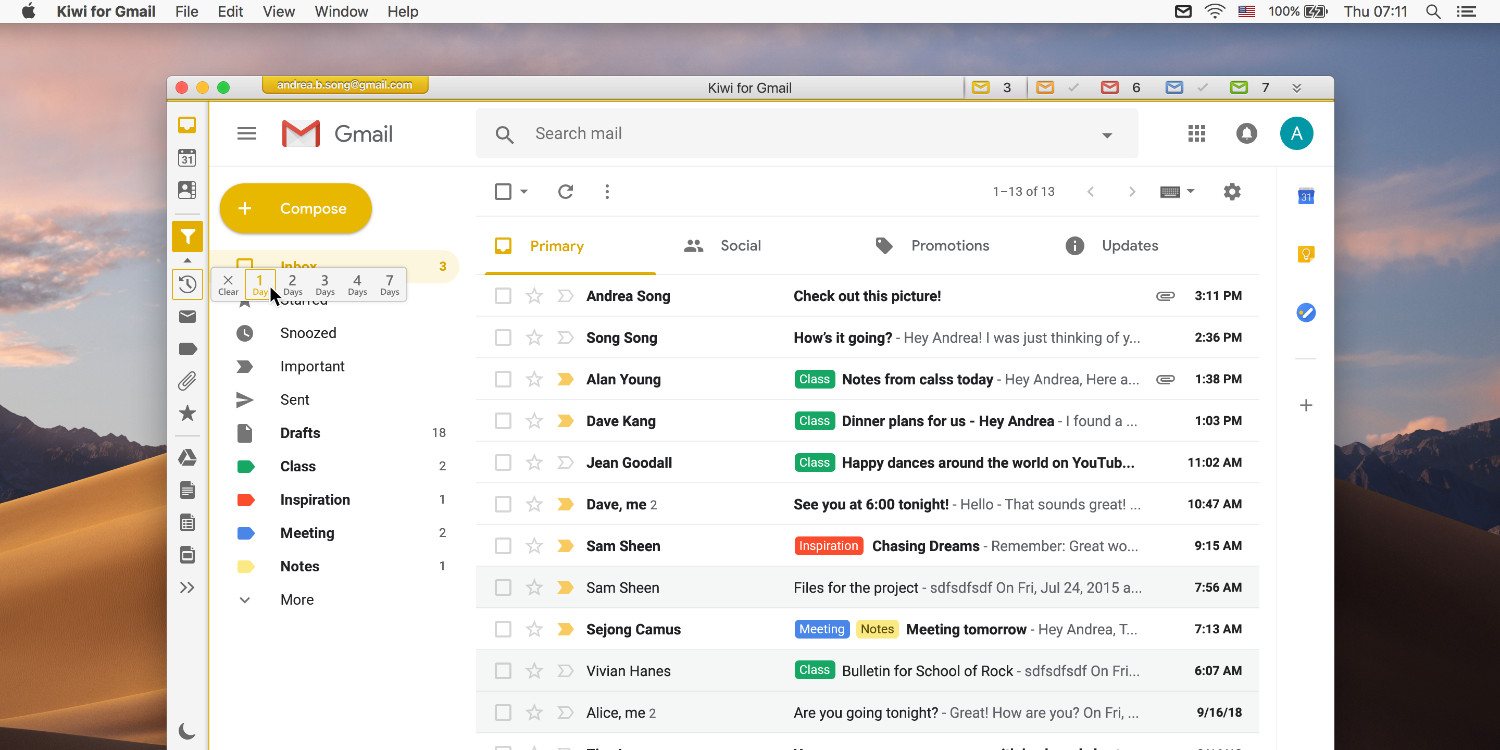 I think you already heard about Gmail 🙂 (Everyone does). Gmail is a wonderful free SMTP provider which allows you to send up to 500 free emails per day. Obviously, your emails will be send from a @gmail.com address, not your website domain and this is the main difference with the other free SMTP providers. But Gmail guarantees ~100% inbox rate.
Features
SMTP
Very high inbox rate
Completely free
SMTP Limits
You can send 500 free emails per day.
6. SendGrid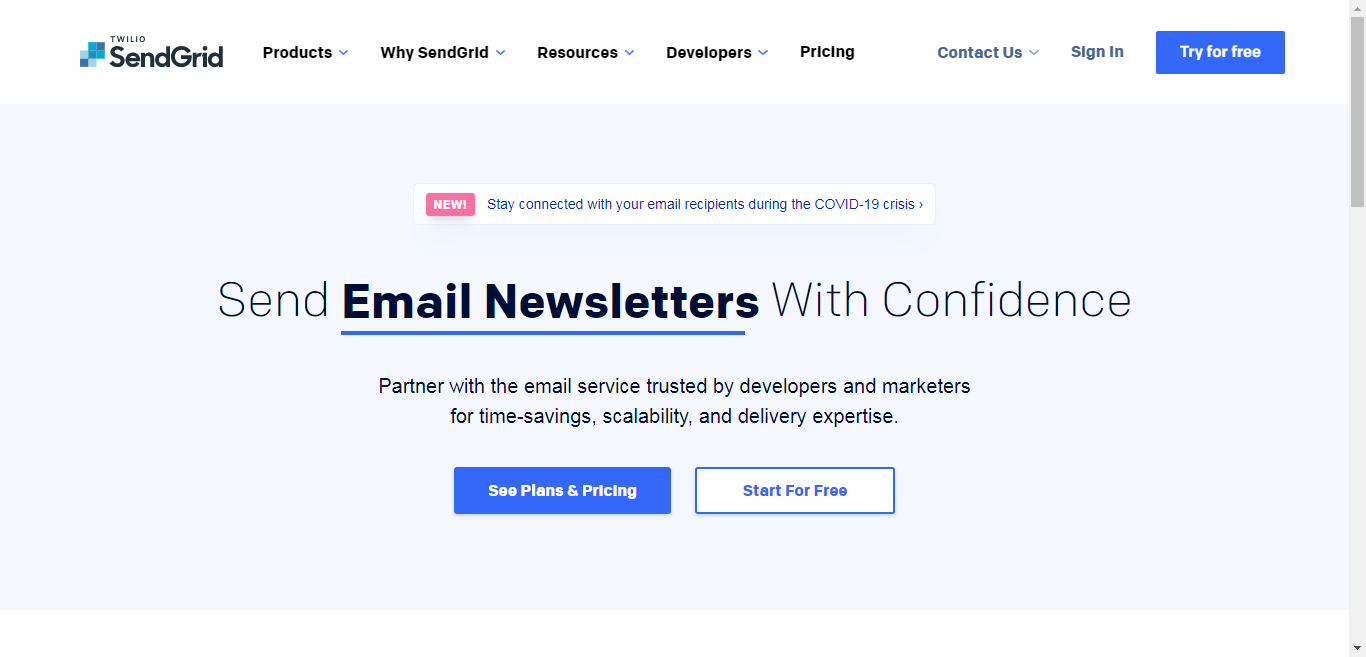 SendGrid is between top 5 companies in email marketing. Recently, their company have merged with Twilio and has added some more features for its customers. Their SMTP delivers the emails very fast and it is a very good choice for customers that want to deliver the transactional emails in less than 5 seconds.
Features
APIs, SMTP Relay, and Webhooks
Delivery Optimization Tools
Dynamic Template Editor
Insightful Analytics
Ticket Support
SMTP Limits
You can send 40,000 emails for 30 days, then 100/day forever.
7. SendPulse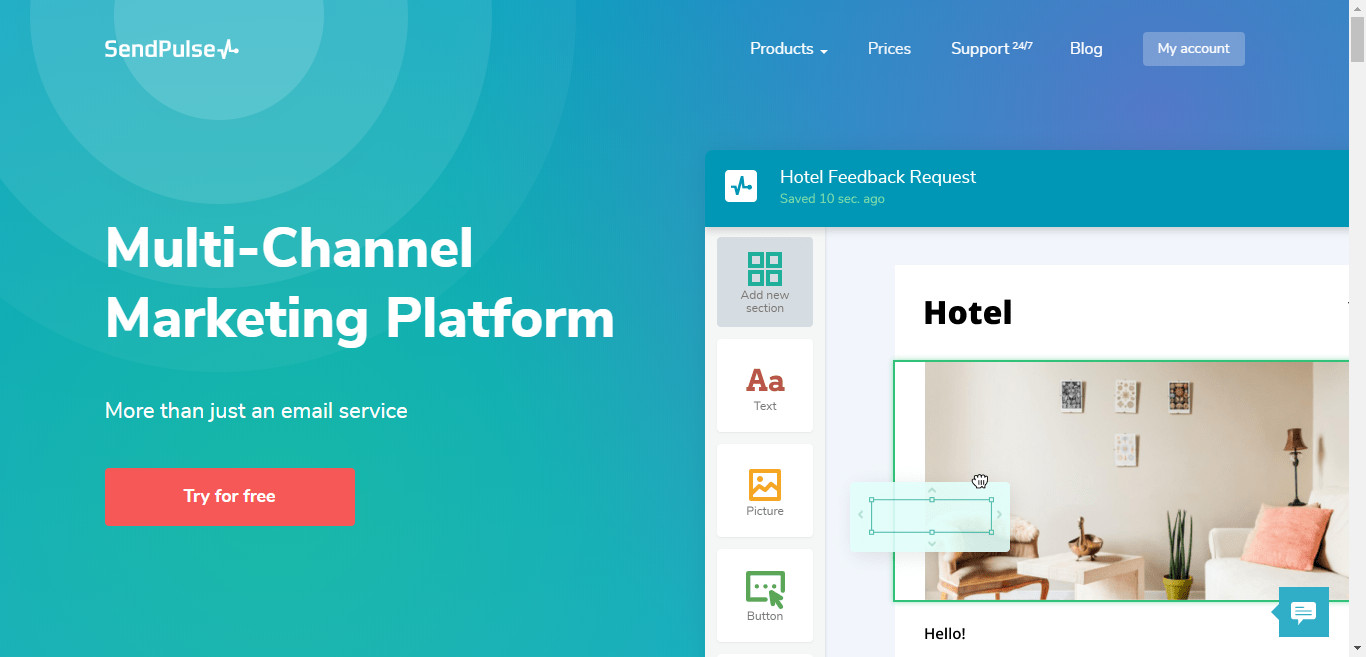 SendPulse is a Multi-Channel Marketing Platform that offers many services like Bulk email, transactional emails, SMS, push notifications, chat bots and more.
Features
API
SMTP Relay Dynamic
Insightful Analytics
SMTP Limits
You can send 12,000 free emails per month and 50 emails per hour.
8. Sender.net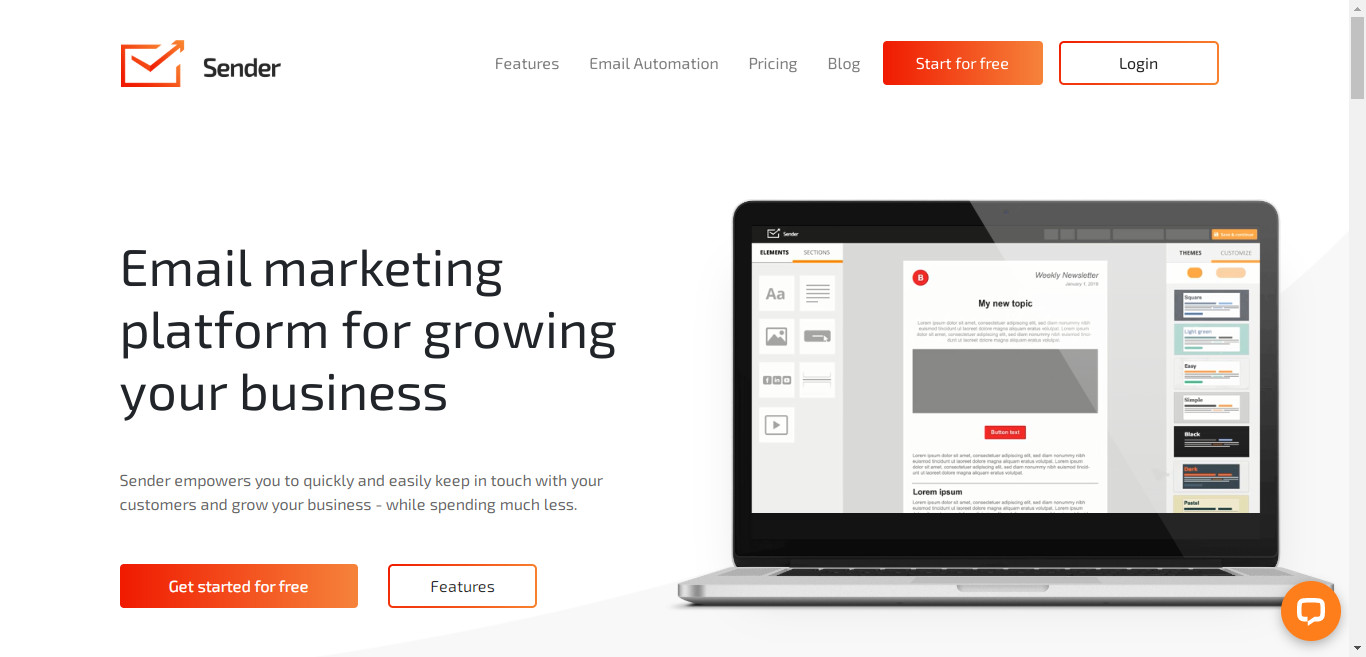 Sender.net is a wonderful tool providing a high deliverability email marketing platform. It also provides a completely free push notification service. Sender empowers you to quickly and easily keep in touch with your customers and grow your business - while spending much less.
Features
High Deliverability
GDPR Compliant
Unlimited users
Subscription forms
Web-push notifications
Mobile responsive templates
No long-term commitments
SMTP Limits
Up to 2,500 subscribers, Up to 15,000 emails/month, All features included. No credit card required and cancel anytime.
9. Sendinblue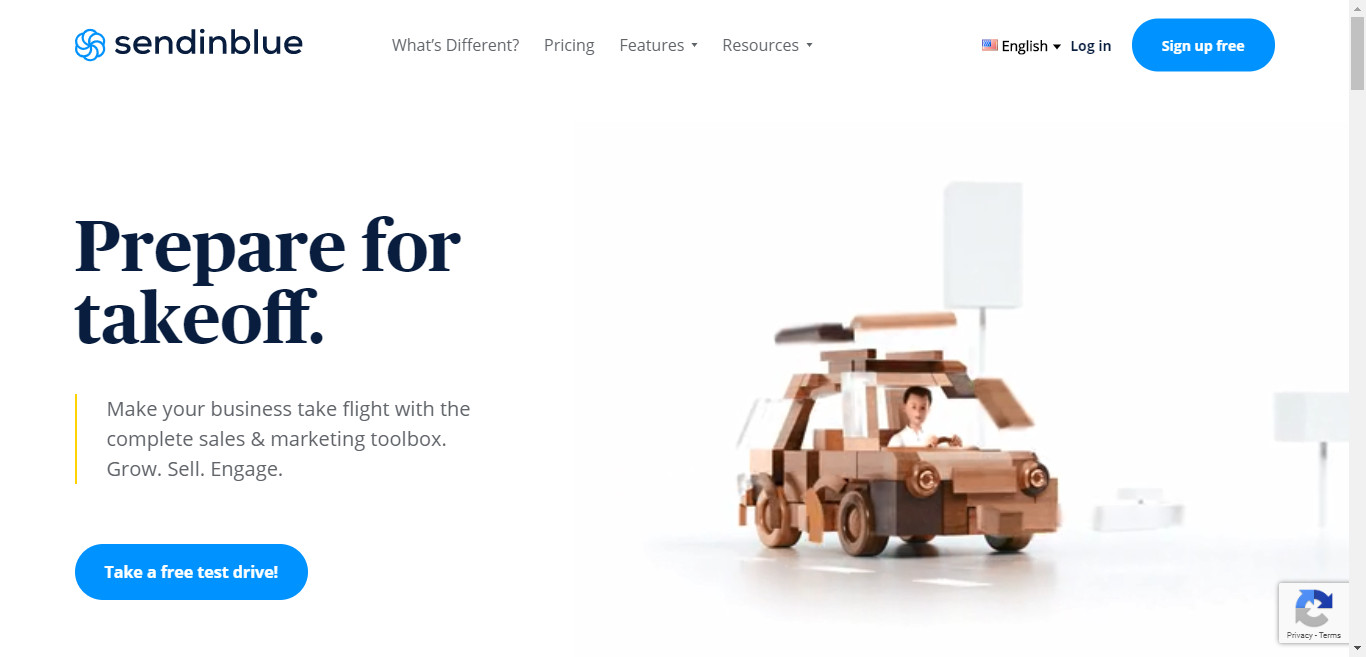 Sendinblue is a SaaS internet company which offers Email, SMS, Facebook, Chat, CRM, and more, all-in-one platform to help you grow your business through building stronger customer relationships. In recent years, their company becomes popular among ESPs and based on their website, they have ~80K customers around the world. In email marketing section, they provide both bulk email service and transactional emails.
Features
Unlimited contacts
Mobile-friendly email designer
Email template library
Email & SMS personalization
SMS marketing
Unlimited contacts & details
Advanced segmentation
Customizable signup forms
Sales CRM
ChatTransactional email and SMS sending
Core API features
Advanced templating language
Workflow editor
Page tracking
Real-time reporting
API & plugins
Email support
SMTP Limits
You can send 300 emails per day and 9000 emails per month. You may also check SMTP server free to find your desired free SMTP provider.