Did you know that 58% of people check their emails first thing in the morning as opposed to checking social media?
More people care about what's in their email inbox than seeing who commented on their recent ski trip to Vail. And for a good reason. While social media is a great time, email is where people go to gain value. It's where they go to see if an invoice got paid, to catch up on work updates, and to learn something new from their favorite brands.
With email taking the world by storm, it's no wonder brands are getting serious about email marketing. But the truth is email marketing isn't always straightforward. Delivering exceptional campaigns takes time, strategy, and, more importantly, the right tools. With every brand fighting for a spot in their target audience's inbox, how can you be sure your emails will captivate your audience? How can you be sure your emails will nurture leads into loyal customers?
Great copywriting with the help of AI writing tools? Check. Personalized content? Check. High email deliverability rates? Check. But what about the machine that will be orchestrating your email marketing strategy for you? That's what we're here to help you with today.
In today's article, we're giving you the skinny on WordPress plugins and how you can use them to up-level your email marketing efforts. We're also sharing ten WordPress plugins you can use to transform your email marketing campaigns. Ready to learn more?
Here's what we're covering today:
What are WordPress Plugins?
A WordPress plugin is a type of software that plugs into your WordPress website to add functionality or extend existing functionality on your site. With WordPress plugins, you can create just about any website you can think of — from portfolio sites to online stores and more.
You can also use plugins for other site details, like:
Allow visitors to book online appointments with you
Supercharge native comments
Add a WhatsApp button on your site
Create contact forms
Connect your website with Google Analytics
And, of course, you can also use plugins for email marketing. From growing your email list to using push notifications to notify subscribers about your latest newsletter, plugins make email marketing more efficient. Let's explore this a bit further in the sections below.
What is Email Marketing?
Email marketing is a direct marketing channel brands use to promote their products and services and connect with audiences. Let's take a look at some of the reasons brands use email marketing. Businesses use email marketing to build relationships with leads to convert them into long-term customers. By sharing valuable, personalized, and relatable content, brands can nurture leads toward conversion over time. Brands use email marketing to nurture existing customers, too. After all, is it best practice to chase after new customers when you can't even hold on to your current ones? By paying attention to existing customers' pain points and solving them better than any other brand, businesses can nurture — and keep — their customers for years to come.
From sharing sneak peeks of their money mastery program to marketing spring sales and discounts, brands use email marketing to advance their promotional efforts organically.
Why Should I Use WordPress Plugins for Email Marketing?
WordPress plugins make email marketing directly from your website simple and effective. Rather than building an email campaign from scratch elsewhere, plugins allow you to create, send, and manage lists directly in your WordPress dashboard. This integration saves time and effort.
Email plugins seamlessly sync your subscribers with your WordPress user database, automating newsletters from your existing blog posts and site content. Customizable templates and shortcodes mean you have full control over design and branding.
Plugins also provide metrics for tracking campaign performance through insights like open rates and click-throughs. This data helps optimize lists. Capturing leads is easy too, with contact forms, popups and signup tools included with many plugins.
As your lists grow, reliable plugins handle large-scale sends without burdening your server. Their functionality eliminates costs compared to standalone email providers, allowing you to leverage your existing WordPress site investment.
10 Best WordPress Plugins for Email Marketing
And finally, the moment you've been waiting for. Let's take a look at ten WordPress plugins you can use to streamline your email marketing efforts.
1. WordPress Email Validation Plugin by DeBounce
DeBounce WordPress Email Validation Plugin is the best tool for validating emails on WordPress forms to ensure they exist before submission.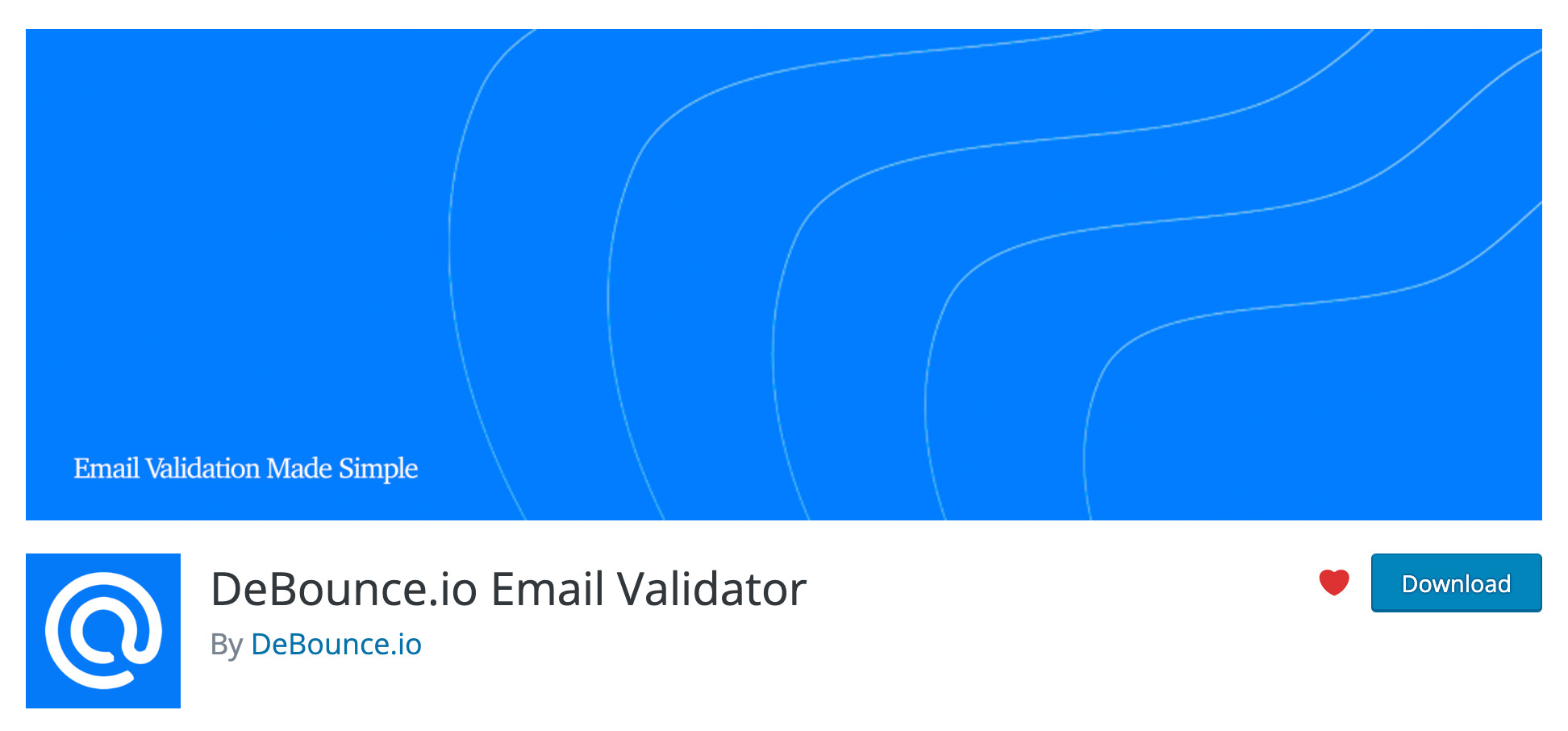 With our plug-in, you can build a reputable list that's free of spam and invalid emails. You can also prevent email-entry mistakes to increase open rates and protect your sender's reputation.
This plugin integrates with most form builders and works perfectly with WordPress registration forms.
Moreover, our plugin uses a multi-layer checking process with every email. From DNS validation to mailbox existence checking, our validator plugin makes sure every recipient is good to go before you ever send them an email.
2. Brevo Subscribe Form And WP SMTP
If you're looking for a WordPress email marketing plugin that offers advanced segmentation and automation functionality, then you'll love SendInBlue Subscribe Form and WP SMTP.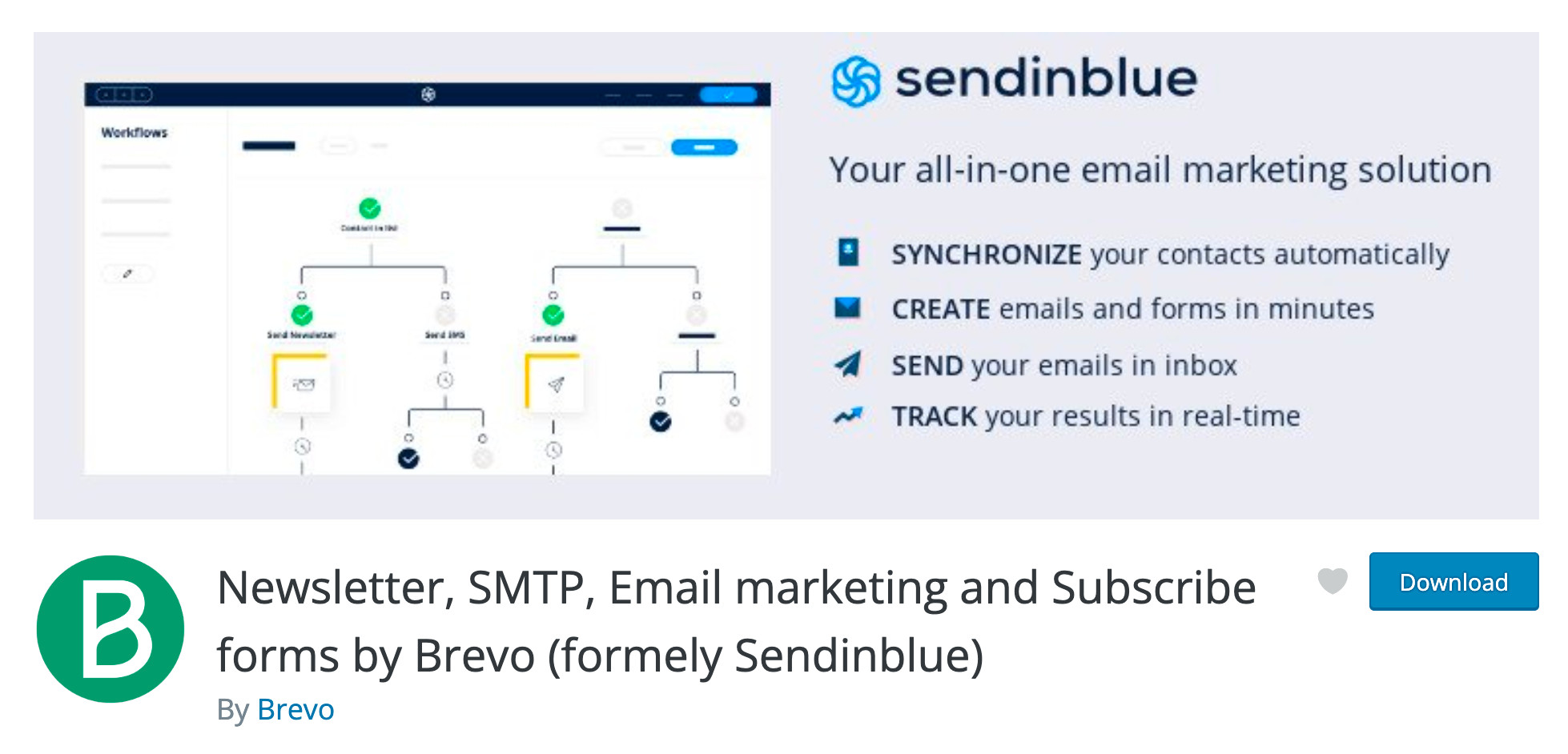 This plugin allows you to run your entire email marketing strategy from inside your WordPress dashboard. You need to sign up for Sendinblue's email marketing service to use the plugin, but it's free if you need to send 300 or fewer emails per day. The plugin also offers paid plans with higher limits, starting at $25 per month for 20k emails and $65 monthly for 100k emails.
3. Newsletter
If you're looking for a plug-in to help you carry out targeted campaigns and provide plenty of segmentation potential, then Newsletter is the plugin for you.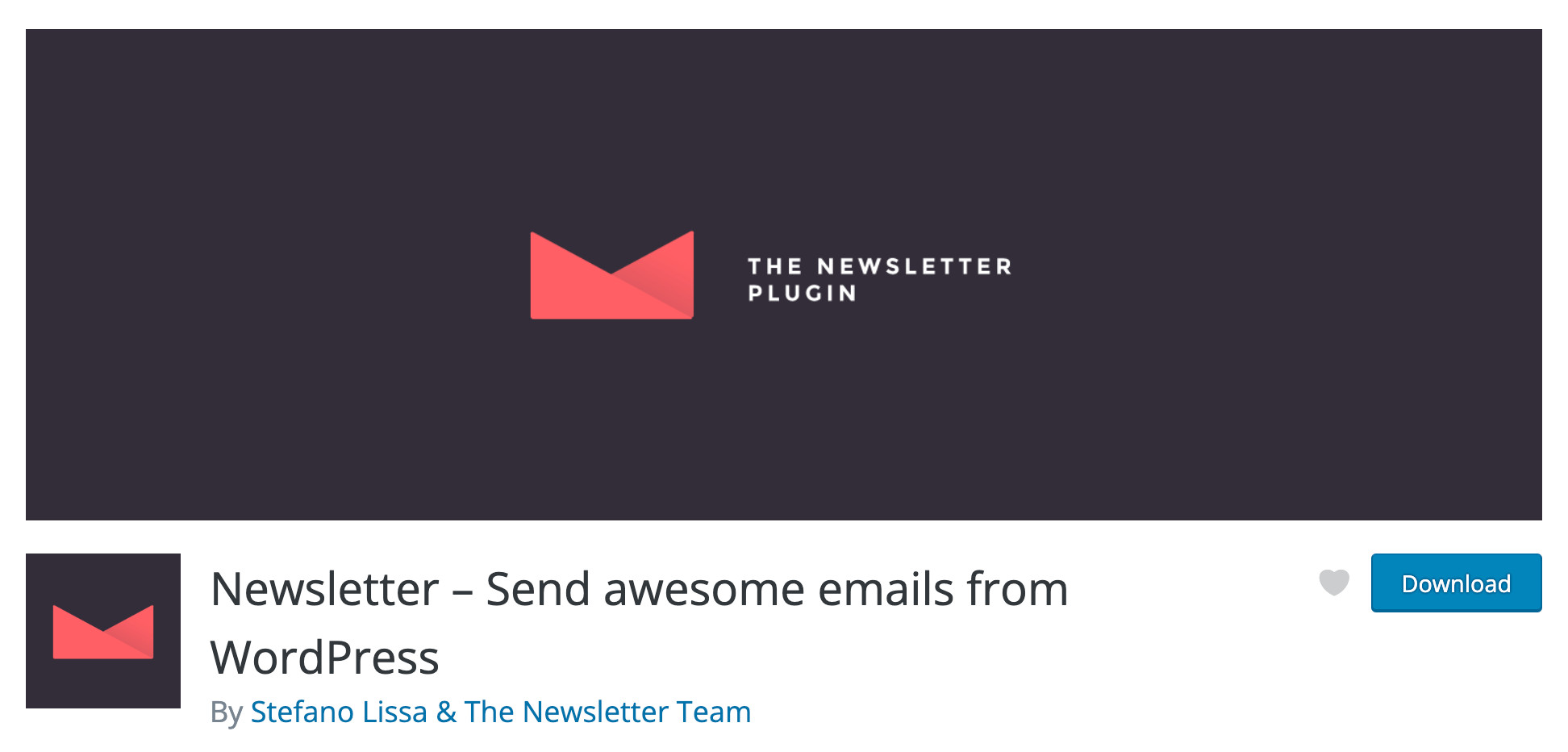 Once the Newsletter is installed on your WordPress site, you can immediately start collecting emails and sending newsletters without a complex setup.
The newsletter also has other noteworthy features, like the ability to collect email addresses using a customized page, widget, or form, along with a responsive drag-and-drop system to create newsletters without the complexity of multiple tools and gadgets. Our favorite benefit of using this tool is segmenting your list by the audience and tailoring your messaging for each group.
4. MailPoet
MailPoet is a complete WordPress solution you can use to schedule, create, and send emails from your site. You can also manage your lists, send automatic signup notifications, and create a subscription form to embed on your site.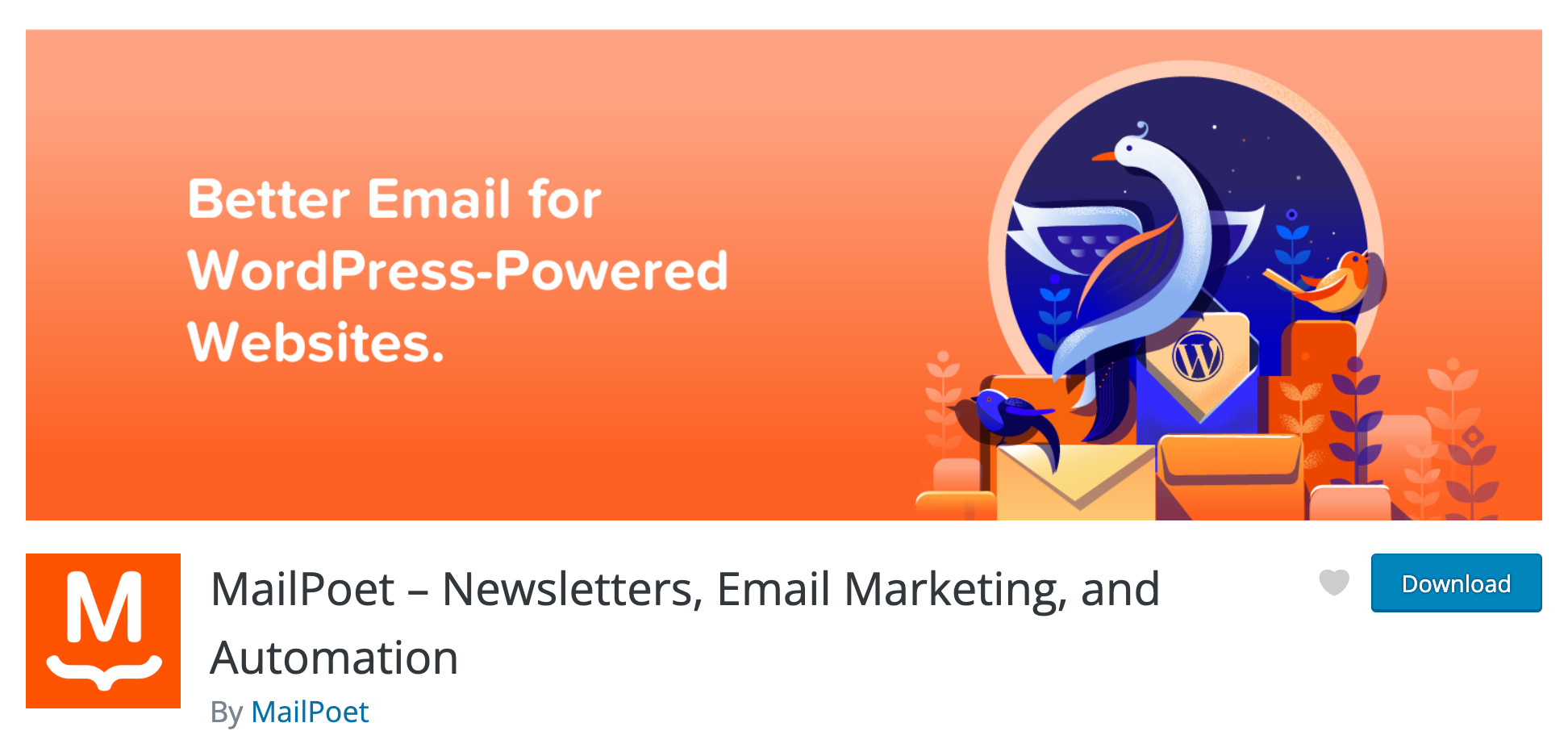 With MailPoet, you can start with the free plugin and then pay for more features as you need them.
Some other noteworthy features of MailPoet include the ability to set up multiple subscriber lists and send welcome emails. You can also choose from various starter templates or build your emails from scratch.
5. OptinMonster
Grow your email list and boost subscribers by using OptinMonster's plugin, which offers static forms and pop-ups.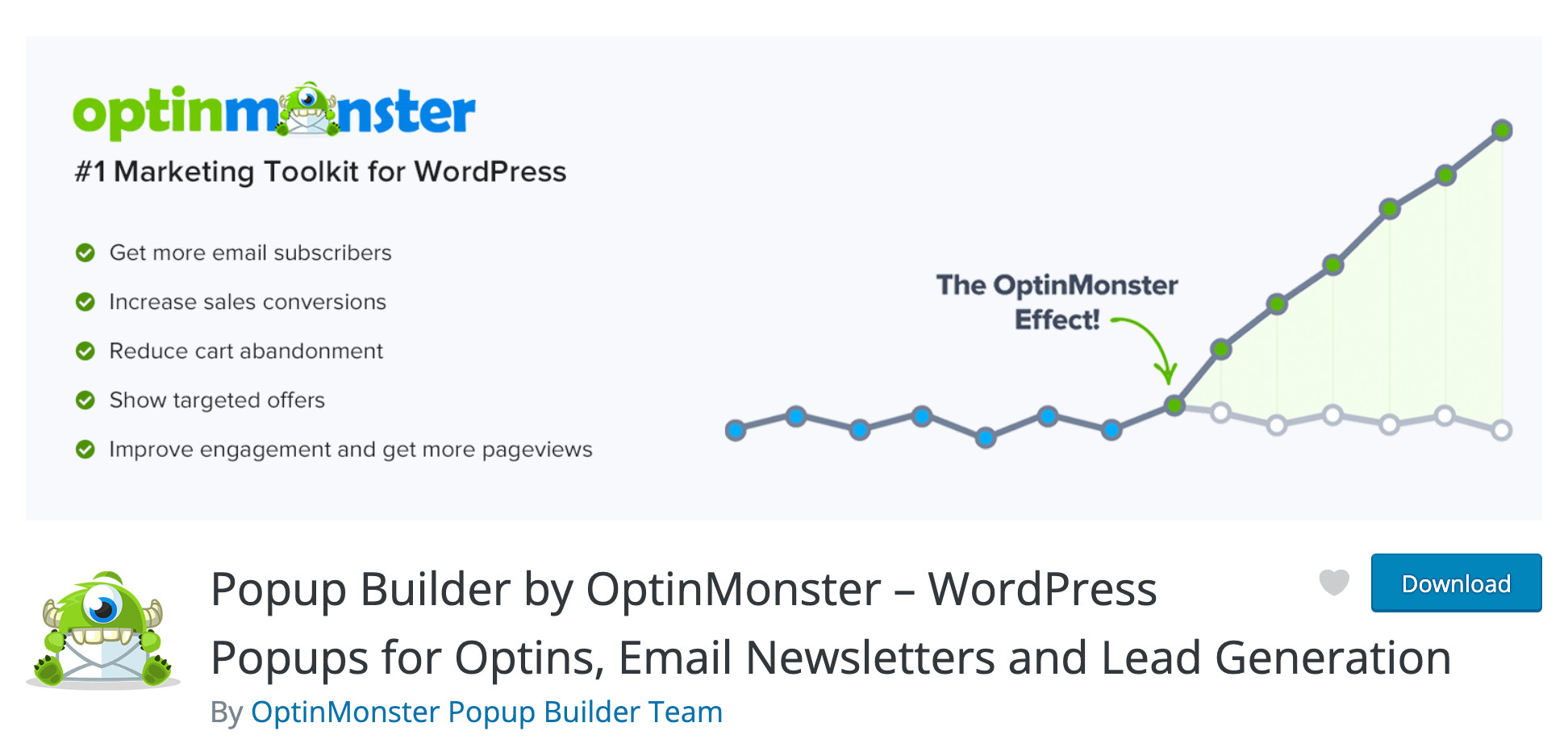 You can use the tool's drag-and-drop editor to build forms from scratch or choose from their pre-built templates. If you're looking to implement pop-ups to support your marketing strategy, then OptinMonster might be your tool. The best feature OptinMonster has is its retargeting abilities.
With OptinMonster's detailed targeting options, you can reach users who are getting ready to leave your page and ask them to join your email list before they go. You can also use the information you collected in the form and their user behavior to send personalized emails and begin nurturing them into conversion.
6. MailChimp for WordPress
The MailChimp plugin connects your site to MailChimp, a popular email marketing service. If you're already a MailChimp user, you can use the plugin to beef up your list.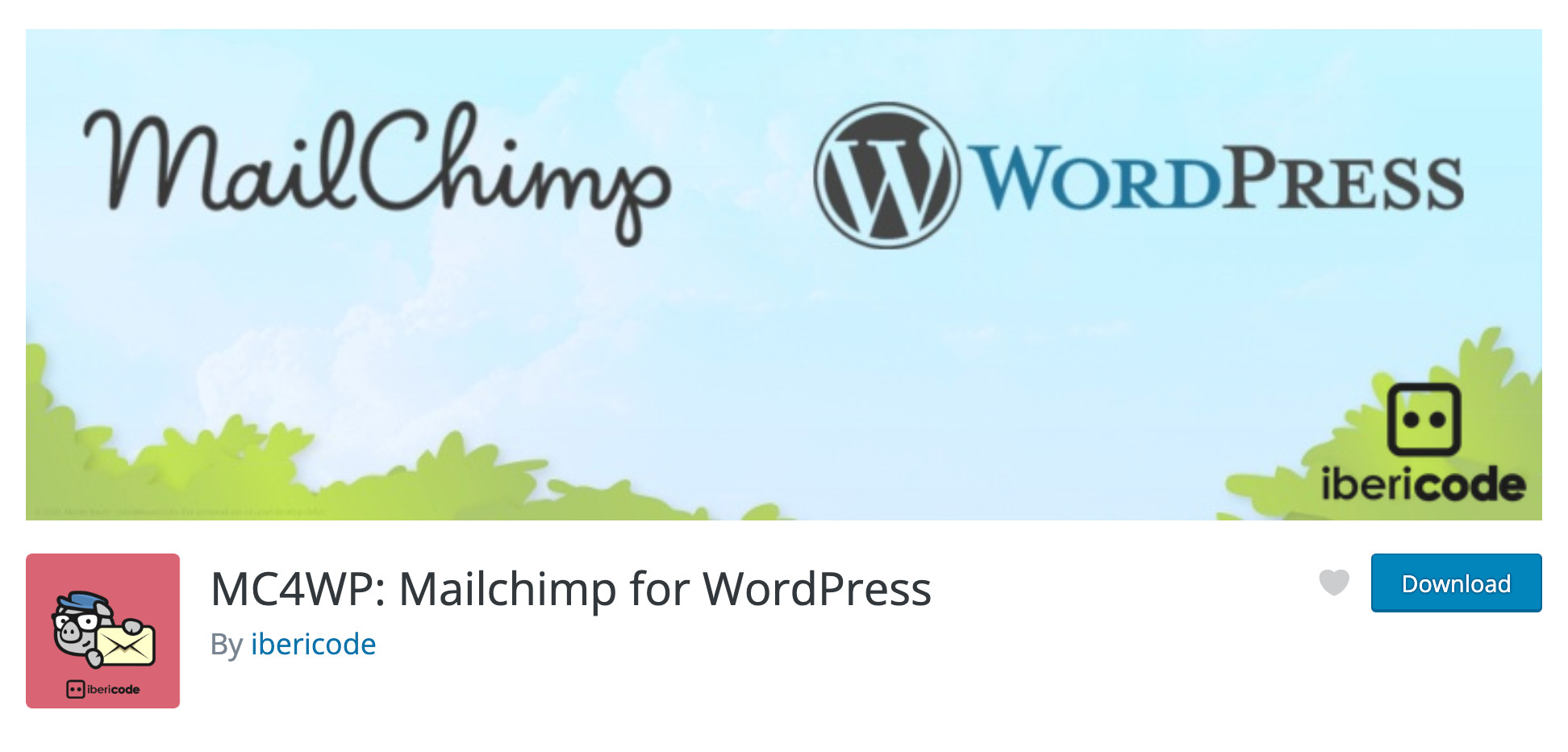 If you're not a MailChimp user, but you're interested in creating highly customized and complex campaigns, then signing up for a plan could be worth it to you. MailChimp plans start at $10 per month, depending on how many subscribers you need.
MailChimp is also one of the most feature-rich email marketing services available on the market, so if that's important to you, then consider giving it a go. Some other key features include the ability to send automated notifications when subscribers join your list and view detailed reports — but you'll need a premium plan to use these features. A couple of noteworthy features included in the basic plan include creating custom sign-up forms to embed on your site and the ability to integrate MailChimp with a wide variety of eCommerce plugins and form builders.
7. Sumo List Builder
Sumo List Builder is a WordPress tool suite that offers social sharing, email marketing, and analytics. With its "Smart Mode" popup technology, you can customize the list builder's actions to fit your needs. You can also choose from a selection of customizable pop-up forms, pre-made templates, and mobile display capabilities.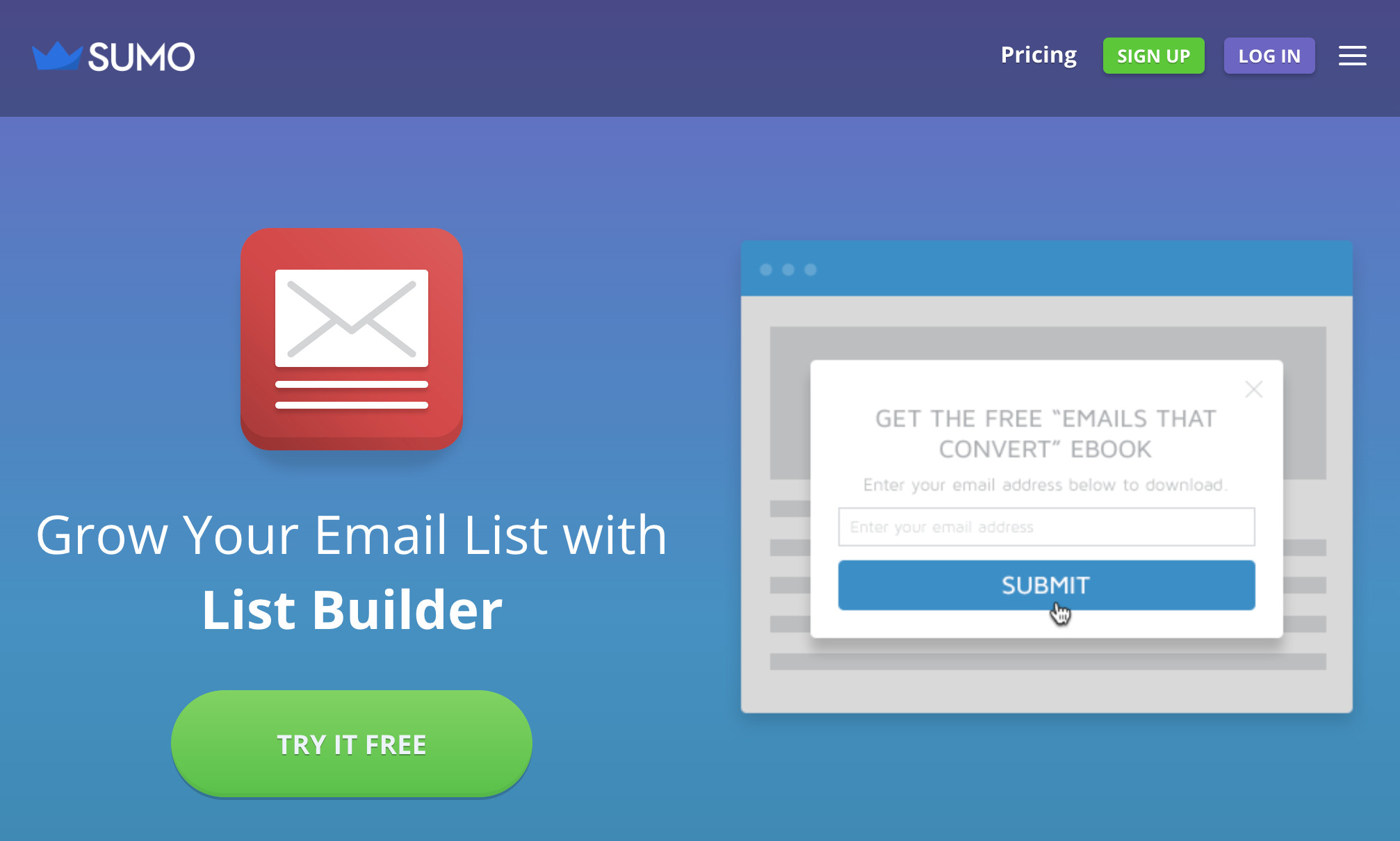 While you can't send emails using this plug-in, if you're looking for a simple interface that allows you to tweak your list as you see fit, this might be the plugin for you.
8. HubSpot WordPress Plugin
HubSpot WordPress plugin is more than just forms and pop-ups. The plugin can collect submissions from any form on your site and automatically add those leads to your CRM.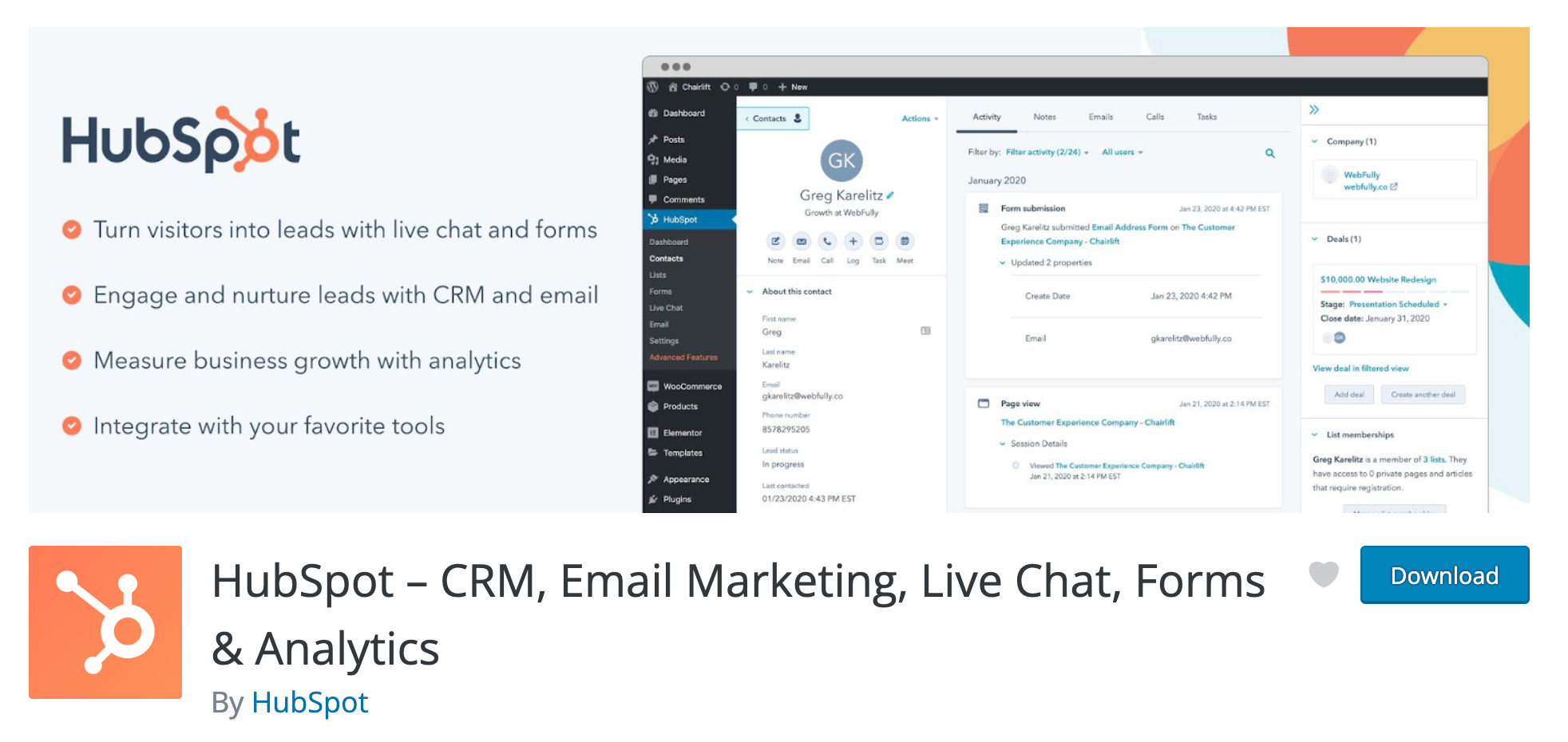 When users submit their information on any of your pop-ups, you can automate simple kickback emails to stay in touch and deliver what you promised. If you upgrade to a paid version, you can also email those contacts immediately. The plugin offers bots you can deploy to answer any simple questions site visitors may have.
You can even use a live chat tool to engage with site visitors and generate leads from your conversations.
9. Sumo
Sumo offers many features, including welcome emails, automated drip campaigns, pop-ups, and options to help you grow your business. With the plugin's share button, you can allow any site visitor to share your content on social media. If you run an e-commerce website or have an account with WooCommerce, Sumo may be a great option.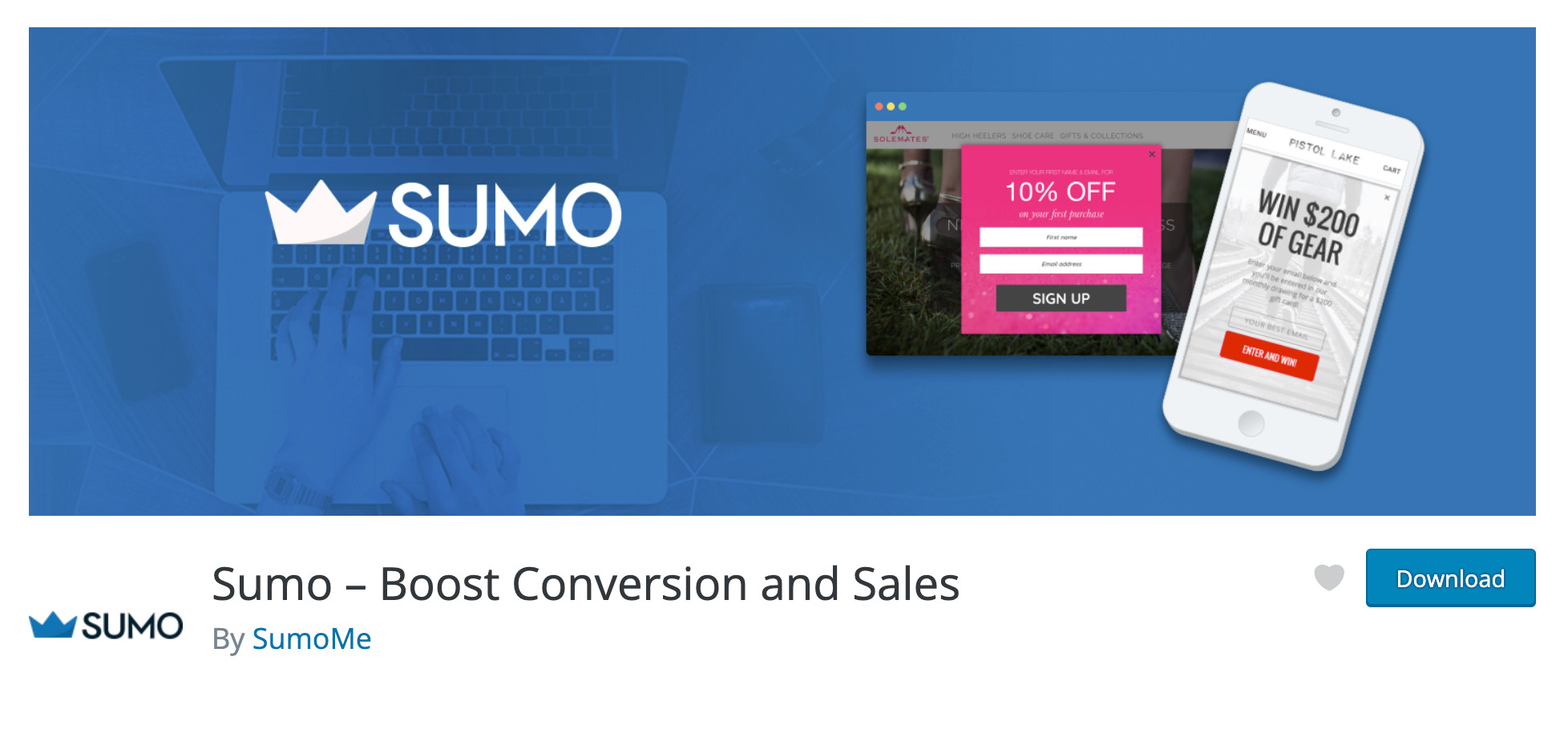 With the WooCommerce integration, you can create unique offers and discounts to increase your order value and decrease abandoned carts. Our favorite feature Sumo offers is its free customer support and one-on-one onboarding, which can help you make sure you're getting the most out of the plugin.
10. Email Subscribers & Newsletters
Email Subscribers & Newsletters is a unique plugin that lets you notify subscribers when new blog content is available.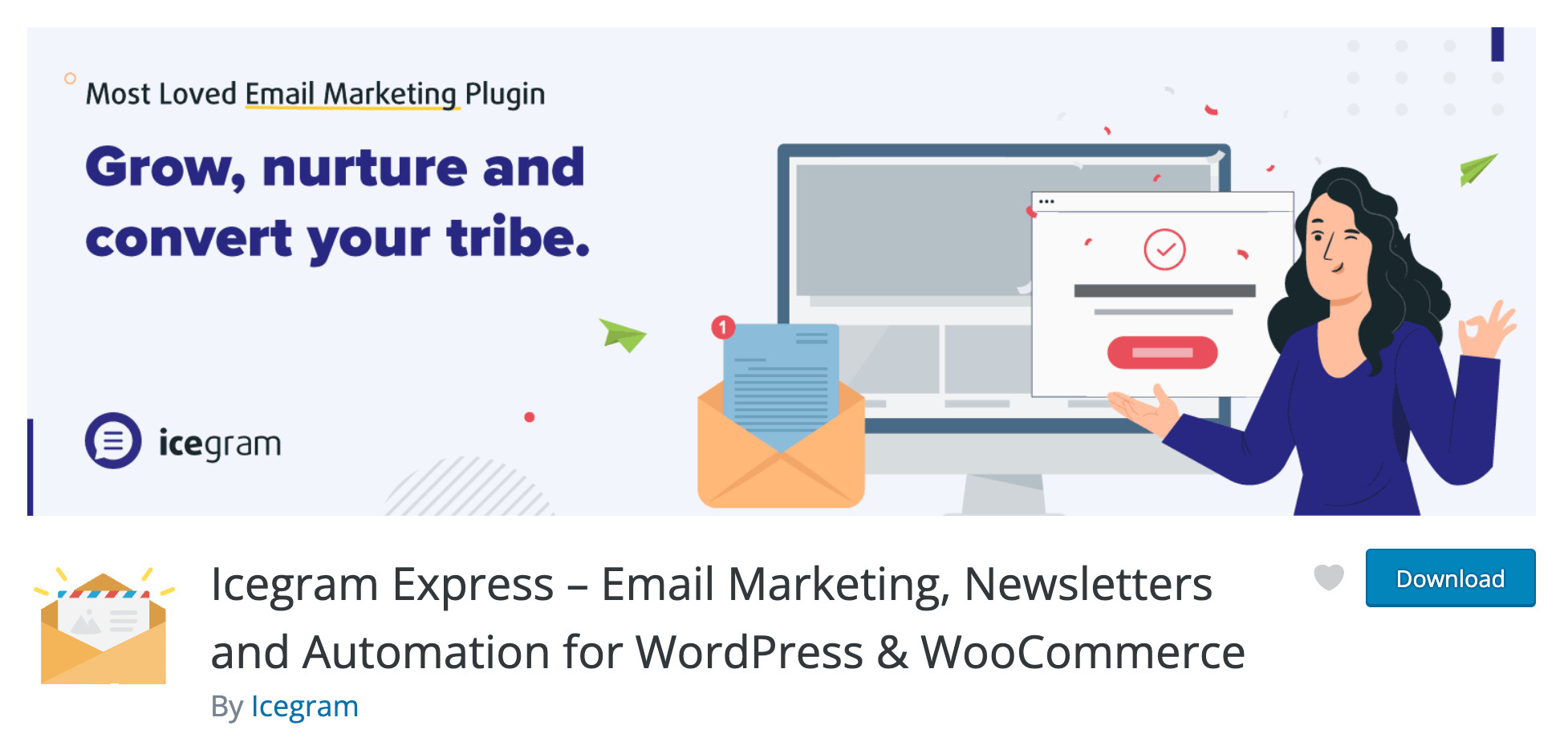 You can use the plugin to add a subscription box to your site and receive a notification whenever someone signs up for your list. You can also notify subscribers that a new post is ready or create a custom newsletter showcasing your content. The plugin also offers double opt-in functionality, ensuring you're only reaching out to subscribers who've confirmed their email addresses and subscriptions. You can add captchas to your subscription box to prevent bots from harming your email lists. Another bonus of using this tool is the option to use its list cleanup and spam testing features.
If you're looking for a plugin to help you easily notify subscribers about new blog content and protect your lists from spam, then you'll love Email Subscribers and newsletters.
Wrap up
With more people checking email over social media first thing in the morning, it's no wonder brands are taking email marketing seriously. While social media serves its purpose, email is where consumers go when they're looking for value. It's how they keep up with work updates, ensure correspondence is sent on time, and catch up with their favorite brands.
Though email is a preferred line of communication, email marketing isn't always easy. With so much to do, how can you manage email marketing as efficiently as possible?
The answer: by using email marketing WordPress plugins.
WordPress plugins are the key to orchestrating your email marketing strategy without getting overwhelmed with countless platforms. Are you ready to use WordPress plugins for email marketing? Leave a comment below, letting us know the top three plugins you're most excited about using.
Love our WordPress plugin option? Then head to this link to download your Email Validator today.